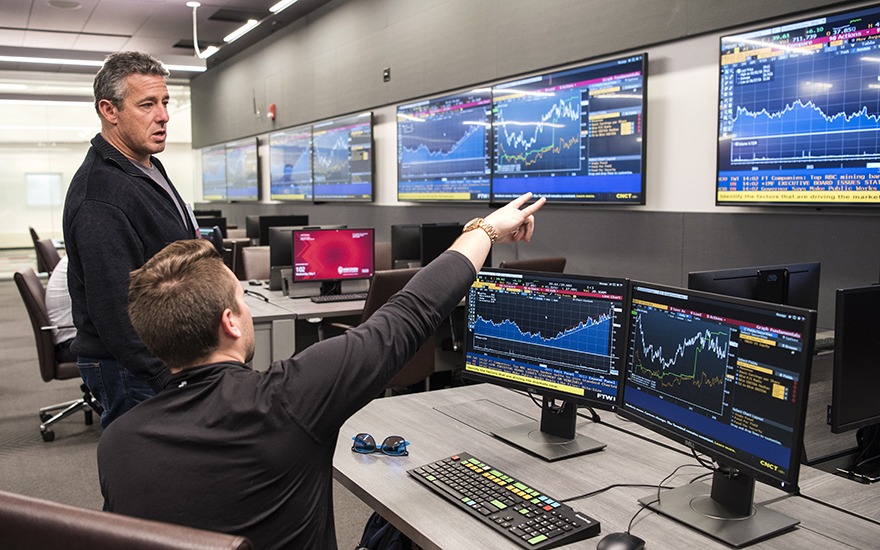 Active learning—a form of learning in which instructors aim to engage students more directly in the learning process—is a trend nationally and at the University of Wisconsin–Madison. New spaces that encourage active learning are opening across campus, including the College of Engineering's Grainger Engineering Design Innovation Laboratory and the Wisconsin School of Business' Learning Commons. Though it just opened in May 2018, the Learning Commons is just one illustration of WSB's long-held values around collaboration, innovative teaching methods, and inspired learning opportunities.
Ron Cramer, senior instructional designer and learning technology consultant at WSB, describes how the Learning Commons project "happened at the confluence of a number of things."
First, Cramer says, the School was already starting to implement this idea of "flipping the classroom," which was in line with the campus educational innovation effort. "For faculty, this meant blending your course by providing lecture materials and readings online and outside of the classroom," Cramer explains, "so that in-class time could focus on students being engaged in activities, collaborative group work, and more personalized attention from the instructor."
WSB also started digitizing its library materials, taking the flat shelf space for books and re-envisioning it as locales where active learning could take place. Last, the School could see that its popular collaborative learning classrooms were heading toward full capacity, Cramer says. "The Learning Commons classrooms and the Finance and Analytics Lab helped take some of the strain off of those two heavily scheduled rooms."
With alumnus Ricky Sandler (BBA '91), CEO and chief investment officer at Eminence Capital, donating the lead gift for the Learning Commons, the School's vision became a reality. Sandler believed in creating an inspiring and technology-rich environment for the School's students, one that would foster collaboration and innovation.
Now in its first full semester of use, faculty and students are using the Learning Commons for innovative teaching, learning, individual study, and group projects. Highlights of the space include the Finance and Analytics Lab, the renovated Huber Undergraduate Computer Lab, five active learning classrooms, and 10 breakout spaces for student study and collaboration.
Finance and Analytics Lab: Synthesizing real-time data
Marisa Palmer (BS '99) a senior lecturer in the Department of Finance, Investment, and Banking who joined WSB earlier this year, is one of the first instructors to utilize the 45-seat Finance and Analytics Lab (FAL) with her investment banking course. Like Sandler, Palmer brings extensive Wall Street expertise to her teaching role, including holding executive positions with Lehman Brothers, Tudor Investment Corporation, and Adkins, Matchett & Toy.
One of the standout aspects of the FAL, Palmer says, is that it's equipped with state-of-the-art technology and software, including real-time financial data like Bloomberg, FactSet, and S&P Capital IQ. For all of the coursework, "we only use real companies' financials," Palmer says. With Bloomberg, for example, "this is what any trader on Wall Street has on his or her desk."
Palmer says it's critical that students not only familiarize themselves with the data but also know how to find and incorporate it into forecast models and company analysis, just like they would need to in a real-world finance position. During the first week of the course, she designed a "10-K scavenger hunt" (the Form 10-K is an annual report that companies must file with the U.S. Securities and Exchange Commission) where students sought answers to 55 questions using company reports, Bloomberg technology, and the other databases available in the FAL.
Other FAL assignments have included projects like a Chipotle case study, which Palmer says was particularly timely with Chipotle in the news. The FAL is outfitted with wall-mounted monitors that connect wirelessly with laptop computers, so as the semester progresses, Palmer can select a student screen to share progress examples with the rest of the class or team members can present findings and updates.
Maura Skelton (BBA '19), a double major in finance and risk management and a student in the new Nicholas Center Analyst Development Program, says the time in the lab "truly enhances" her learning experience.
"I have two finance classes in the lab, and the ability to use the computers and various programs such as CapIQ and Bloomberg—accessing market data in real time—makes each class much more interactive and engaging," Skelton notes. "Through the courses taught in the Finance and Analytics Lab, I have been able to create fully functioning financial models for Chipotle and Whole Foods, both assignments that would have been much more difficult without the ability to access the Finance and Analytics Lab."
 For instructors, the physical layout of the FAL also opens up new opportunities. They can move around the classroom, going beyond the traditional "sage on the stage" style of lecturing at the front of the room. As a former trainer of finance industry executives, Palmer feels right at home moving around the classroom—and her Fitbit is proof. "Any day I have had a lecture, I've hit my ten thousand steps," she says.
Active learning classrooms: Fostering collaboration
Five active learning classrooms allow for collaboration and flexible configurations for study. Since the launch of the Learning Commons, the classrooms have hosted courses ranging from finance to marketing to supply chain, as well as Full-Time MBA interview training, the Erdman Center for Operations and Technology Management's applied activities series, and an interactive course taught be Stuart Flack, UW–Madison's 2018 Interdisciplinary Artist in Residence.
Yang Wang, an assistant professor in the Department of Risk and Insurance, says the open space in the active learning classrooms makes for a more creative learning environment.
"Students are able to work more collaboratively during group work because we can change the physical layout of the classroom," Wang says. "They can access the technology through their own devices and use the wall-mounted whiteboards to talk through an idea or brainstorm a problem."
One of Wang's students, Cole Daniel Sebald ('18), a Capstone Certificate in Actuarial Science candidate, agrees.
"It's nice to have so many options in this classroom, from multiple whiteboards to the wirelessly accessed TVs. It's not only a great way to learn from the professor, but it becomes immensely interactive when the class can all participate by showing their work through the big screens," he explains. "This is not one of those classes that thrives with PowerPoint alone. Using the room, we work together to learn through doing. The active learning classroom makes it much more possible."
A space for creativity
The biggest challenge Palmer sees with the FAL right now is demand: with just two class periods a week in the lab, it's hard to fit in everything she'd like to try in the space. But the time the class does have gives students hands-on practice and the kind of creative, engaging environment that makes inspired learning happen.
"I think one of the things I loved about finance and about working in the industry was that I was always solving or thinking about complex issues," Palmer says. "At Tudor Investment Corporation, where I used to work, they said to be a great investor, you need a healthy dose of left brain and right brain. I think we sometimes think of finance as 'plug and chug,' but it's actually a lot more creative than that," she explains, adding that it requires connecting disparate pieces of information and bringing them together into a whole that makes sense.
"It's about synthesizing information about a real company operating in the real world—what you predict will happen, how it will perform, all of these different factors. I love being able to share that excitement with our students; to me, that's what's really fun about teaching."
Cramer says providing that creative learning space for faculty and students like Palmer and her class is exactly what the Learning Commons Committee envisioned from the very beginning.
"The School assigns students a significant amount of collaborative group work, and we should be doing so," Cramer explains. "It's a critical part of their business education and professional futures. But we also need to support that work through our learning environments. We need to reduce barriers to collaboration, improve access to necessary tools and technologies, and let faculty and students manipulate these spaces in the ways that best engage their innovative energies and abilities."
"Collaboration and innovation are core values here at the Wisconsin School of Business," says Barry Gerhart, interim Albert O. Nicholas Dean. "The Learning Commons provides our students with the tools and space they need to explore these values as they grow into the future leaders of the business world."
---