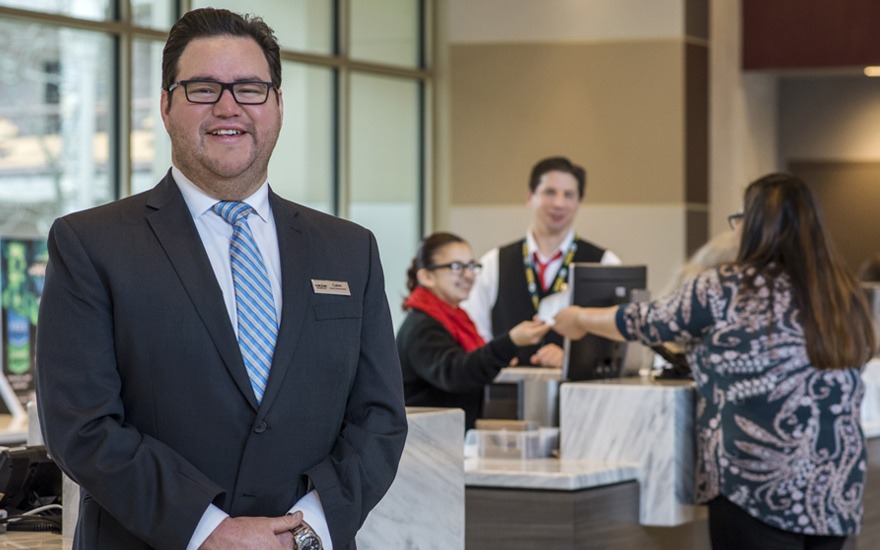 The Wisconsin Evening and Executive MBA programs at the Wisconsin School of Business support, educate, and help advance the careers of professionals living in Wisconsin.
From insurance to manufacturing, to higher education and health care, the MBA programs' students come together from wide-ranging industries to grow their skills and earn their degrees while they work.
Every graduating class sees major results: 89% of students from the evening program's 2016-2018 graduating classes got promotions or new jobs within three months of graduating. Many students get promoted during the program.
The organizations students work for benefit from having educated employees who can immediately transfer classroom learning to their job, making their teams more forward-thinking and productive.
Collaborating to build Wisconsin's workforce
The programs' successes are founded on collaboration. Students build tangible business skills from UW–Madison's world-renowned faculty and test their abilities through hands-on projects. Students learn from the professional experiences of their classmates and work together in situations that mirror the workplace.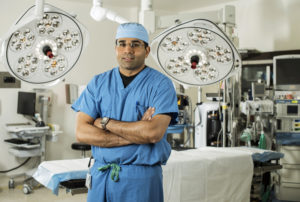 Neel Karne (MBA '19), a surgeon for the Beloit Health System, joined the Wisconsin Executive MBA Program to gain skills to take on leadership roles within his organization. He wanted to contribute more to the health system's discussions around policy and finance, and his MBA is helping him make an impact.
"The field of health care is rapidly evolving, and I need to stay ahead of the curve," says Karne. "My Wisconsin Executive MBA is now giving me the tools to work through business problems and communicate effectively with different stakeholders in my organization."
"Values-Based Leadership is by far the best course I have ever taken," adds Karne. "The course was so applicable to my daily work that after every class meeting, I would write down ideas that I could set in motion as soon as I got back to work the following day."
"My Wisconsin Executive MBA is now giving me the tools to work through business problems and communicate effectively with different stakeholders in my organization."
—Neel Karne (MBA '19)
New perspectives and preparing for the future
Calvin White Eagle (MBA '20), had been thinking about an MBA for seven years before enrolling in the Wisconsin Evening MBA Program. He says his classmates have given him a new perspective on business and helped him in his role as training and development director at Ho-Chunk Gaming Wisconsin Dells.
"It's been great getting to know them and realizing that they face many of the same hurdles that I do," says White Eagle. "Listening to them share their experiences of how they overcame challenges has really helped me in my career by applying some of that knowledge and wisdom to my job."
As a Native American, White Eagle points to the future of his tribe as a key factor in obtaining a graduate business education.
"I believe I have the capacity and the drive to have a positive impact on my tribe's future," White Eagle says. "I want to help ensure my tribe's future is secure for generations to come and growing my business skills will help put me in a position to do that."
Energizing leadership
The ability to make real-time improvements to her leadership was an important part of the Wisconsin Executive MBA Program for Pamela Petz (MBA '18). As a manager of 200 employees at Great Wolf Resorts, Petz was eager to take stock of her leadership abilities and work with experts to build new skills to apply to her work.
She credits the program's "360 evaluation" project with providing her the feedback she needed to immediately make changes to her management style and improve her team. "I was hungry for this type of uncensored feedback and can already tell it's improved my team dynamic," says Petz.
Building skills and community
Students in the Wisconsin Evening and Executive MBA programs take courses in management, finance, marketing, economics, and operations. They also have personal career coaches who help them create five-year plans and assist with career management.
After graduation, students take advantage of the Business Badger network throughout the state and around the world. Having worked closely with a cohort of professionals in the classroom, alumni also have a tight-knit community to last a lifetime.
"We are not only peers but have all become close personal friends," says Karne. "We share each other's accomplishments and support each other."
---