Srinivas Tunuguntla (MS '17, PhD '22), a doctoral student in the Department of Marketing at the Wisconsin School of Business, is the recipient of the University of Wisconsin–Madison's Genevieve Gorst Herfurth Award. The award recognizes a doctoral student in the social sciences who has demonstrated outstanding research and scholarly writing accomplishments while a graduate student at UW–Madison. The winner is selected by campus' Social Sciences Divisional Committee and receives a cash prize of $1,000.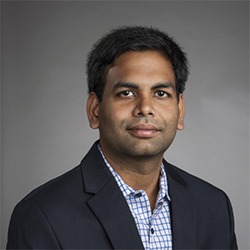 Qing Liu, UW Foundation Chairman Orr–Bascom Professor and an associate professor of marketing, wrote in her nomination letter that Tunuguntla "demonstrated outstanding research and scholarly writing accomplishments" via his sole-authored paper, "Display Ad Measurement Using Observational Data: A Reinforcement Learning Approach." The paper is currently under review with Marketing Science, one of the field's leading academic journals.
Liu observed that "Srinivas' research contributes to the literature in marketing and social sciences by developing a novel inference framework that integrates the fields of causal inference and machine learning. Recent research has shown that the modeling assumptions implicit in standard econometric approaches can significantly bias parameter estimates, especially in dynamic settings such as online advertising. Machine learning methods address these biases by remaining agnostic to the data generating process. However, because their objective is prediction, off-the-shelf versions of these tools cannot directly evaluate the causal impact of marketing decision variables. Srinivas' research focuses on resolving this tension between prediction and inference, developing methods that preserve the causal relationships between variables while remaining agnostic to the underlying probability distributions."
Liu noted that Tunuguntla's framework—which is based on theories from psychology, statistics, and microeconomics—is generalizable and applicable to multiple contexts, and holds implications for fields beyond marketing, including health care, education, and energy management.
Tunuguntla's research pipeline is robust. It includes a first-authored publication in the Journal of Marketing Research, a co-authored publication in the Association for the Advancement of Artificial Intelligence, and three working papers (one co-authored, two sole-authored) in progress to be submitted in the next 12 months. He has also presented his research at various conferences and symposiums, including the Informs Marketing Science conference, Marketing Dynamics Conference, and the Haring Symposium.
Tunuguntla received his bachelor's degree in electrical engineering from the Indian Institute of Technology Madras and a master's degree in computer science from UW–Madison.
Tunuguntla will join Duke University as an assistant professor of marketing following his graduation in May.
---