When Kim Woodbury (MBA '23) started researching MBA programs several years ago, she looked for one that would allow her to maintain work-life balance and stay in her full-time job. Today, she's among the first 40 graduates of the Wisconsin School of Business' flexible, hybrid Professional MBA Program (PMBA), which launched in Fall 2021 and will confer degrees to the inaugural cohort this month.
WSB's professional MBA "did not disappoint" says Woodbury, a senior staff project manager in strategic portfolio and project management with Thermo Fisher Scientific in Milwaukee. She achieved her personal goal of completing her MBA in two years "thanks to the structure of the courses, the expectations provided by professors, the willingness for feedback from the program office, and—most importantly—the students in my cohort."
"Many of the PMBA's courses, like Business Strategy, Negotiations, Organizational Behavior, and Design Thinking, have content that tie in themes from my current industry experience with aspirational career goals of mine," she says. "I'm excited to apply what I've learned in the classroom towards the next chapter of my career development."
A flexible format that prioritizes community
The program's hybrid flexibility ensures that students don't have to choose between their current career and obtaining a degree. Online classes meet every Wednesday night, and students come to campus one weekend a month to learn in the classroom and connect with other students.
Every PMBA cohort starts as a team, building community in the first year while completing the intentionally designed core curricula.
In the first semester of their first year, students take an eight-credit Functional Core that grounds them in fundamentals: marketing, operations, financial accounting, and finance.
During their second semester, students embark on a 12-credit Leadership Core of six courses: Managerial Economics, Organizational Behavior, Negotiations, Data to Decisions, Project Management, and Business Strategy.
Zach Ryan (MBA '23) says while he'll miss connecting each month with the friends he made during class weekends, he'll continue to enjoy the professional benefits the program made possible.
"Since enrolling in the professional MBA program I've been promoted internally twice. Applying the learnings from the classroom have helped accelerate my career growth."
In addition to classroom learning, PMBA students benefit from personalized career services, including one-on-one coaching to help students map out strategies and define their career trajectory.
Badges offer customized learning
Once students complete their first year, they can then uniquely customize their curriculum, both in topics and in pacing. Students earn badges comprised of three courses—a three-month unit of coursework in a chosen business discipline.
"From a program design perspective, we needed something that was more than a class, but less than a certificate," says Enno Siemsen, associate dean of the MBA and master's programs and professor of operations and information management. "In designing this program, we wanted to give people just the right amount of choice that makes it easy to show their specialization but at the same time gives them enough flexibility to really experience different angles of business."
The program introduced four original badges in 2022:
Financial Insight
Marketing Insights
Business Analytics
Strategic Innovation
The program is building on that foundation by adding four new badges throughout 2023 and into 2025, reflecting WSB's continued investment in the PMBA and in creating greater cross-disciplinary customization for students.
The four new 2023–2025 badges are:
Real Estate
Global Business
Social Responsibility
Strategic Growth
Four badges are required for graduation, positioning students to complete the PMBA in two years. If students wish to complete additional badges or need more time to complete the program, they can take up to five years. The program is built around flexibility: If work and family need to take precedence one semester, students can sit out that semester and return the next without falling behind.
A cohesive learning experience
All the badges benefit from an intentional curricular design. The three-course model of each badge gives students a more cohesive experience, with three faculty members assigned to each badge—one designated as badge coordinator. Courses within a badge are coordinated in their content.
For example, in the Business Analytics badge, which benefits from WSB's highly successful Master of Science-Business: Analytics (MSBA) program, students gain competence and familiarity by using the same data set throughout their three two-credit courses—Data Technology, Data Visualization, and Experiments and Causal Methods. Faculty members are cross-disciplinary, coming together from departments such as Operations and Information Management, Marketing, and Risk Management and Insurance.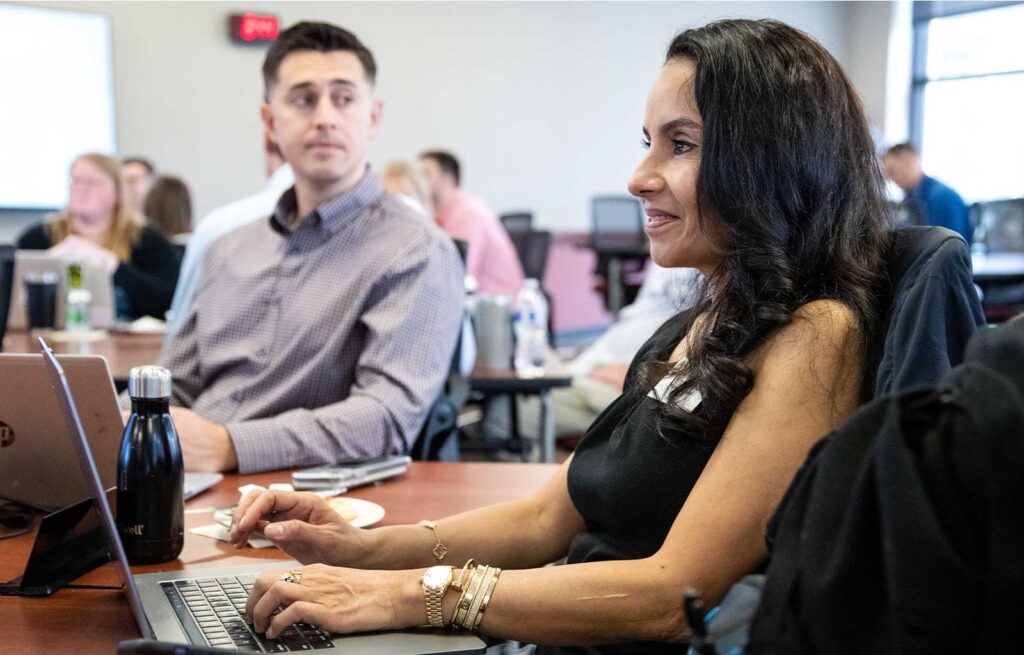 "The PMBA provided tools and frameworks across strategy, finance, data analytics, project management, and technology innovation that I have applied in my role as a management consultant," says James Hoover (MBA '23). "I was able to translate what I learned in the classroom to my workplace in the same week. I've never felt more confident in my ability to succeed working with complex organizations competing in multiple global markets."
The new Global Business badge is distinct in that it offers students a Global Learning Experience (GLE) trip: Santiago, Chile, in Fall 2023 and Vietnam in Spring/Summer 2024. The badge courses—Global Supply Chain Management, International Management, and the GLE trip—give students the opportunity to explore global issues and meet with businesses in the host countries.
Future directions
With nearly 150 students currently enrolled and continued growth on the horizon, Siemsen says the demand for the program also opens the door to thinking about expanding different aspects of the program. Establishing the monthly weekend classes in other locales such as Chicago, for example, would make the PMBA more available to students.
"I think this program is accessible while at the same time, it's creating human connections between people. Those are the two things you must do for a market-oriented program, and we do exactly that," he says. "I think we're spot-on in terms of what people want and I'm very proud of that. It allowed us to innovate. It allowed faculty to innovate, to think differently about how they teach and what they teach. I think we're a better school because of the professional MBA."
---