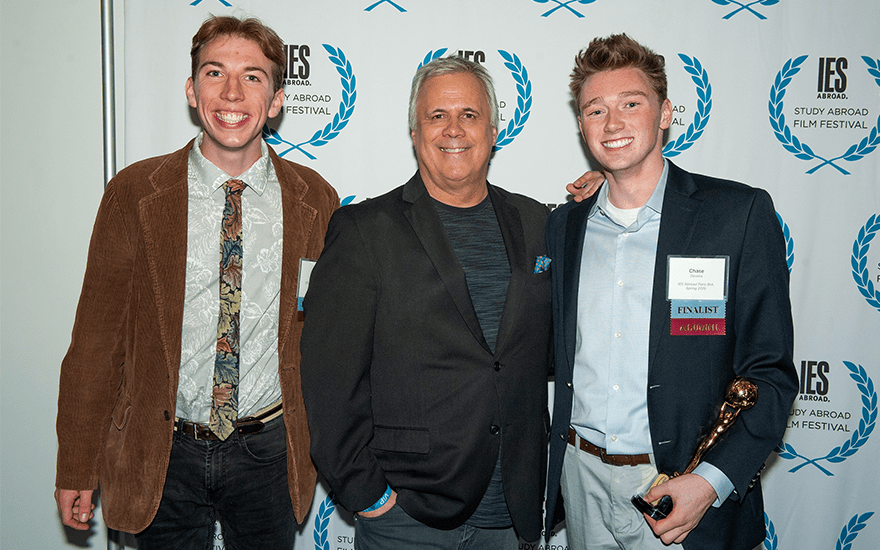 Don't be surprised if you see the names Chase Devens (BBA '20) and David Smith (BBA '20) at the Oscars sometime in the future. These two Wisconsin School of Business students took home the top prize at the sixth annual IES Abroad Study Abroad Film Festival earlier this month for their film Les Cinq Mois-The Five Months.
Though both Business Badgers, Devens and Smith didn't meet until they were studying abroad in Paris in Spring 2019. Their film chronicles the mishaps and misfortunes that might happen when studying abroad, while also showcasing the resiliency and fortitude that allow college students to handle them.
Their 10-minute creative short weaves through Devens' eventful five months in France, which included a lost cell phone, a swapped passport, the burning of Notre Dame Cathedral, and even a broken foot.
In describing the film, Devens says, "I like to think the antagonist is the world. A significant event happened every single calendar month we were there, which we tied into the video."
Despite the major events, it's certainly not a doomsday film. Devens' misadventures are punctuated by lighthearted humor and an optimistic outlook. Devens closes the film with a nod to his ability to handle any bad thing that might come his way.
"Chase and David's film captures some of the challenges that students can face when they study abroad, and it also shows how some of those challenges can lead to the most rewarding growth," says Joseph Halaas, director of international programs at WSB.
The Wisconsin BBA Program makes study abroad possible by partnering with more than 35 of the top business schools and business study abroad programs in Asia, Europe, and Latin America. Nearly 40 percent of every undergraduate business class studies abroad.
"Study abroad can be both difficult and rewarding," adds Halaas. "This video can be a great tool for students who are planning to study abroad. If students learn from Chase and David, they can have a personally fulfilling experience abroad, as well as build skills like adaptability, resiliency, curiosity, confidence, and problem solving—all competencies that are critical in today's workplace."
"I had a pretty big misconception about studying abroad, so that was something we wanted to communicate with this film," says Devens. "It just seems like there's this idea that everything is going to be so grand and that you'll be living some luxurious experience, but in reality it's one of the best opportunities to get out into the world and experience things as a young adult."
Devens and Smith produced the film after returning to the United States this past summer. Now back on the UW–Madison campus, they are re-acclimating to life in America—though now with a different perspective after their time abroad.
"Coming back to the States was very eye-opening, and I saw basically everything in a different light," says Smith. "It was great to go back and look through all the footage that Chase shot during our time in Europe and relive our experience through putting the film together."
Aside from winning the grand prize at the IES Abroad Film Festival, Devens and Smith's film captured the attention of renowned film critic Richard Roeper, who hosted the event at the Museum of Contemporary Art in Chicago.
"I like the way that these guys had the confidence as filmmakers to say, 'let's make fun of ourselves,'" Roeper said during an interview on Chicago's WGN Radio. "It was really not only the best film, but by far, the most clever and the funniest."
And they're not done yet. Devens and Smith are on to their next creative endeavor with classmate Lukas Marshall (BS '20): creating a podcast that connects with UW–Madison faculty to find out about their passions and what happiness means for them. If recent history is any indication, it's sure to be a hit.
Watch Les Cinq Mois-The Five Months:
Learn more about studying abroad
An international experience can complement and enhance every aspect of a college education. Discover the business study abroad opportunities available through the Wisconsin School of Business.
---