Educational innovation from the Wisconsin School of Business is on display this week at the 2017 EDUCAUSE Conference in Philadelphia, an annual event that attracts higher education professionals and technology providers from around the world.
Suzanne Dove, assistant dean for academic innovations, Anita Mukherjee, assistant professor of risk and insurance, and Hessam Bavafa, assistant professor of operations and information management, are presenting recent technological and pedagogical innovations that have reimagined what's possible in course design and assessment in high-enrollment courses at WSB.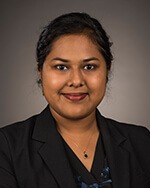 Taking a combined teaching and technology approach to tackle some of the challenges inherent to high-enrollment courses, Mukherjee and Bavafa redesigned an introductory business analytics course by creating an automated grading platform. The mechanism expedites the grading process for faculty, giving students valuable feedback in a timely manner while encouraging high-impact engagement between instructors and students.
The team also reworked how students used data sets for the course. Instead of tasking students with finding their own data sets from companies for assignments, Mukherjee and Bavafa used real-world data, creating an individualized data set for each student that fostered deeper learning by focusing attention on the core concepts of the course.
EDUCAUSE is a technology consortium of IT professionals dedicated to the advancement of higher education.
---