Three Wisconsin School of Business students have been named among Poets & Quants' "Best and Brightest Class of 2020." The award recognizes academic excellence, extracurricular leadership, innate potential, and personal character.
Undergraduate students Jenna Scheffert (BBA '20) and Poet Larsen (BBA '20) and MBA student Christopher Zaczyk (MBA '20) earned this prestigious national recognition.
Jenna Scheffert is from Northfield, Minnesota, and holds a double major in marketing as well as finance, investment, and banking. After graduation, she will start her career as an investment banking analyst in Rothchild & Co's Global Advisory division in New York City.
"Jenna is a passionate learner who truly understands how to maximize her opportunities within UW–Madison and beyond," says Julie Duffstein, director of student life for WSB's undergraduate program.
Excerpts from her Poets & Quants feature:
What did you enjoy most about your business school? The Wisconsin School of Business fosters a place of comfort and a feeling of home while studying on a campus with 40,000 other students. Whether it's faculty members, professors, or students, everyone supports the collaborative environment and strives to help each other by their own definition of success.
What is the biggest lesson you gained from studying business? The most important lesson that business has taught me is that anyone with a vision deserves for it to be heard. Business is fundamentally about the people and, frankly, everyone starts with a dissimilar platform for which their voice can be heard. I've learned success is not dependent on being the smartest or loudest person in the room; it's based on perseverance and a strong belief system in your own worth.
What has surprised you most about majoring in business? The business world is a global stage, and anyone has the ability to create a ripple of change. The world is so interconnected, and business helps foster cross-border relationships.
Poet Larsen is from Austin, Texas, and holds a double major in operations and technology management as well as statistics. He will be pursuing a PhD program in marketing after graduation.
"Poet is one of the most talented and motivated students I have had the pleasure of advising, but it is his tremendous intellectual curiosity that sets him apart," says Paul Hoban, WSB assistant professor of marketing.
Excerpts from his Poets & Quants feature:
What did you enjoy most about your business school? The willingness of professors to work with me. I have not met a professor who wasn't been willing to help me in some way. That includes reviewing career decisions, class choices, or just general advice about life. They have all been open and willing to take time out of their day to help me.
What is the biggest lesson you gained from studying business? How to think about the human elements of real-world problems. In plenty of my mathematics, statistics, and computer science courses, it was easy to get lost in theory and proofs. Studying business gave me the opportunity to see where the quantitative theory could be applied with real-world business problems.
What has surprised you most about majoring in business? It is surprising to see how complicated many modern challenges have become for businesses. I did not recognize how important computer science and statistics in business was until I entered the business school.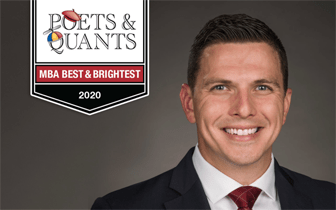 Chris Zaczyk is from Tinley Park, Illinois, and pursued an MBA in operations and technology management. Prior to attending WSB, Zaczyk served as an armor officer in the U.S. Army. After graduation, he will continue his service in the U.S. Army in larger operational management roles.
"Chris Zaczyk has been an outstanding member of the Wisconsin Full-Time MBA Program. From the time he arrived on campus, Chris demonstrated an innate curiosity and enthusiasm to embrace his MBA studies and contributions to the MBA program," says Steve Boeder, director of WSB's Erdman Center for Operations and Technology Management.
Excerpts from his Poets & Quants feature:
Why did you choose this business school? Wisconsin uses the phrase "the Wisconsin Family" to describe itself. The more I learned about the school and met the students, the more I realized that this wasn't simply a phrase–the Wisconsin Family is a mentality that permeates through every aspect of the program. I chose Wisconsin because I wanted to be part of a community of high achievers that treated each other like family.
What achievement are you most proud of in your professional career? Serving as a company commander was an incredible experience. The work was challenging and immensely rewarding. I was part of one of the most incredible teams of leaders I have ever been privileged to serve with and having the opportunity to have a positive impact on soldiers is something I am extremely thankful for.
In one sentence, how would you like your peers to remember you? An optimistic leader with a great sense of humor who genuinely cared about those around him.
---