Dr. Leslie Petty, assistant dean of the Evening, Executive, and Professional MBA programs at the Wisconsin School of Business, was one of six women honored during the University of Wisconsin–Madison's Outstanding Women of Color (OWCA) 2020-2021 ceremony.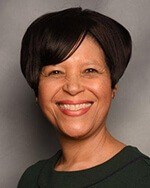 This year's ceremony was delivered virtually on March 3 with tributes to the honorees from Wisconsin Lieutenant Governor Mandela Barnes, Chancellor Rebecca Blank, and Interim Deputy Vice Chancellor for Diversity and Inclusion Cheryl B. Gittens, as well as from the awardee nominators themselves.
Now in its 13th cohort, the program recognizes exemplary women of color who have made significant impact in the areas of teaching, research, and outreach.
Enno Siemsen, associate dean of MBA and Master's programs, and Jean Sink, director of career management and corporate partnerships for the Wisconsin Evening and Executive MBA programs, spoke of Petty's personal attributes and numerous achievements during eight years at the School, including helping to spearhead diversity and inclusion initiatives and her transformative impact on faculty, students, and staff.
"Leslie is unafraid to lead courageous discussions on sensitive or politically charged topics," Sink said. "As an instructor, campus mentor, or as a community organization board member, the candor and richness of these discussions contributes to a heightened awareness of the differences in lived experiences, both in opportunities and challenges."
Petty dedicated her award to her late mother, "a four-foot-10-inch, feisty, courageous, intelligent woman," who singlehandedly raised five children while finding time to give back to their West Philadelphia community. Petty's mother helped inspire her own sense of volunteerism—Petty is active with the Boys & Girls Club of Dane County and other local organizations—as well as the importance of education.
"[My mother] was a staunch Catholic, and understood how the power of education builds knowledge, confidence, and breaks down barriers for opportunity," said Petty.
Petty is WSB's second OWCA winner. Binnu Palta Hill, chief diversity and inclusion officer, received the award in 2016.
Read more about Petty's achievements and UW–Madison Outstanding Women of Color 2020-2021.
---