Hi Everyone!
It has been a while since my last post. It has been a rather busy spring break! Today I am going to share with you some of the best short trips from Vienna. Many can be done in a day, or a weekend if you would like some more time. As I said in previous posts, one of Vienna's greatest strengths is its proximity to other amazing destinations, like the Alps and Eastern Europe. Here are some of the best easy destinations!
Bratislava, Slovakia
Time: 45 Minutes by Flixbus
The capital of Slovakia, Bratislava sits right on the border of Austria and Slovakia. Like many central European cities, Bratislava has a charming old town and a gorgeous castle on a hill overlooking the city. You can actually see the border of Austria from the castle, so you know that the drive can't be that far!
Many of my friends as well as I have found that Bratislava has a fantastic food scene. Many traditional Slovakian dishes can be had for a very reasonable price. When I was there, I tried the garlic soup which they suggest all first time visitors to have. It was served in a massive bread bowl and only cost around 5.50€. Speaking of Euro's – one pro of visiting Slovakia is that they also use the Euro. My other two destinations on this list both use their own currency.
Prague, Czech Republic (Czechia)
Time: Around 4:00 by Train or Bus
*NOTE: I highly recommend the train, and booking through Regiojet – if you get your student ISEC card the train ticket is heavily discounted. Round trip to Prague will cost you only 12€!!
Prague is a destination you definitely want a whole weekend for. I have been there twice now, and have been surprised both times by all there is to see and do. Prague is the closest thing I have seen to a Disneyland-esque medieval city. Here are some pictures:
Unlike Bratislava, Prague is extremely well known to tourists all over the world. Depending on what time of year you go, you may find yourself with thousands of other tourists. I would recommend a free walking tour here to maximize your time! Although usually the number one spot for tourists, I really enjoy walking across the Charles Bridge during the day and at night. The views from the bridge cannot be replicated anywhere else!
Budapest, Hungary
Time: Between 2:30-3:00 by Train or Bus
Budapest is the Capital of Hungary, and one of the cultural capitals of Eastern Europe. I went to Budapest with the Erasmus Buddy network back in February and it was a wonderful experience. The Danube River which flows directly through the heart of the city is on full display, and the most important buildings dot the banks of the river. The Hungarian Parliament building is one of the most impressive and is unlike any other building I have seen in Europe.
Another classic spot to visit in Budapest is the Thermal Baths. Hungary is known for its thermal baths, and there are many different ones to choose from in Budapest, the most popular being the Széchenyi Baths.
If you do get a chance to come to Vienna, I highly recommend a day or weekend trip some of these Eastern European cities. They provide the same amazing history and culture but usually for a fraction of the price of the classic European holiday vacations!
I would never have thought to visit eastern Europe before coming to Vienna, but I am so glad I have had opportunities to do so. Much of eastern Europe looked very different years ago due to the Soviet Union. Today, how amazing many of these places look is a testament to the people of eastern Europe and their courage, resilience, and work ethic. For example, here is a building in Bratislava that has yet to be restored. My tour guide explained that almost all buildings used to look like this before the fall of the Soviet Union:
Countries like the Czech Republic and Slovakia have been thrown around by different rulers for hundreds of years from the Hapsburg's to the Soviet Union, but always kept a positive attitude and pushed through hard times. This region of eastern Europe will always have a special place in my heart!
Honorable Mention: Stay in Vienna!
Time: None
My honorable mention is to stay in Vienna. As the semester has gone on, I have realized that while I will be able to visit major cities in Europe for the rest of my life, I will likely never get a chance to live in a city like Vienna again. (But I am going to keep my fingers crossed!!) Because of this, I think it is important for me to slow down the remainder of my time here. There are so many districts of Vienna I have yet to visit and cafes I have yet to eat torte in. One of the best aspects of studying abroad is getting to go beyond the "Top 5's" of the city.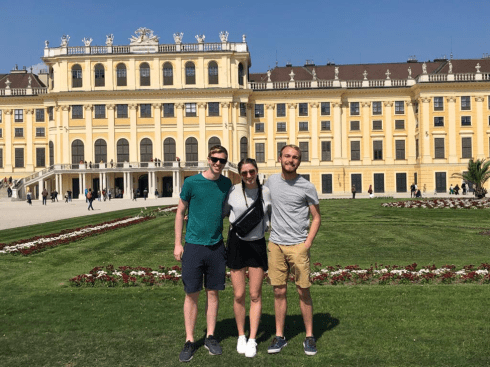 Until Next time, Thanks for reading!
Rome
---