Welcome back!
In this post I am going to share with you a few options of ways you could spend your Lunar New Year break. Here at City U, we get one week off from classes for Lunar New Year. Since I don't have classes on Mondays or Fridays, I had a total of 11 days off from school (don't worry, Mom, I still completed homework during this time). To be honest I was a little worried that I would have too much free time, but that did not end up being reality.
Option 1: Grab some friends and watch the Super Bowl. This requires waking up at 6:30 a.m. in order to make it in time for a 7:30 a.m. kickoff. There aren't many American sports bars in Hong Kong, but we discovered a large food hall with a scenic view of the Hong Kong Harbour. This was a great place to watch the, not so great, game on a large screen as well as spot some expats wearing Badger gear.
Option 2: Watch the parade and fireworks near the Harbour. These were the two most crowded nights that I have experienced in Hong Kong so far. Everyone was out and about for a good time and you could feel the energy and excitement. It was a particularly cloudy night so the fireworks were hazy but as an alternative, every night there is the "Largest Permanent Light and Sound Show" at 8 p.m. in Hong Kong.
Option 3: Travel to China. A couple weeks before the start of the New Year, a few friends and I decided to book tickets on the high-speed train to Guangzhou, China. All other Asian destinations were very expensive since it is the one week a year that most Chinese and Hong Kongers get off from work. Guangzhou is the third largest city in China, right after Shanghai and Beijing. We explored canal towns, played our way through virtual reality arcades, and ate lots of affordable street food. Everything from food to clothing was about 40 percent cheaper than Hong Kong. I would highly recommend taking a weekend trip to Guangzhou if you want an escape from Hong Kong.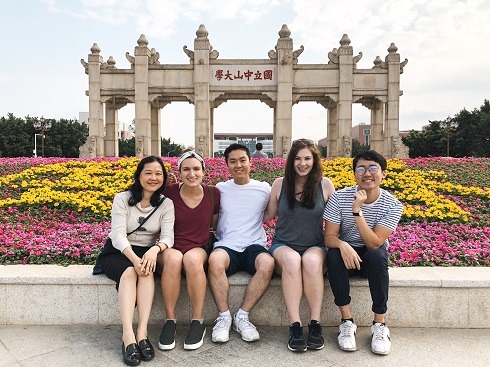 These are just a few of the ways I spent my time off from school. This week's fun fact is: there are about 250 islands within Hong Kong's territory. Some are larger and filled with charming boutiques and restaurants, while others offer a complete retreat from the fast-paced Hong Kong lifestyle.
Talk you next time,
Lucia
---