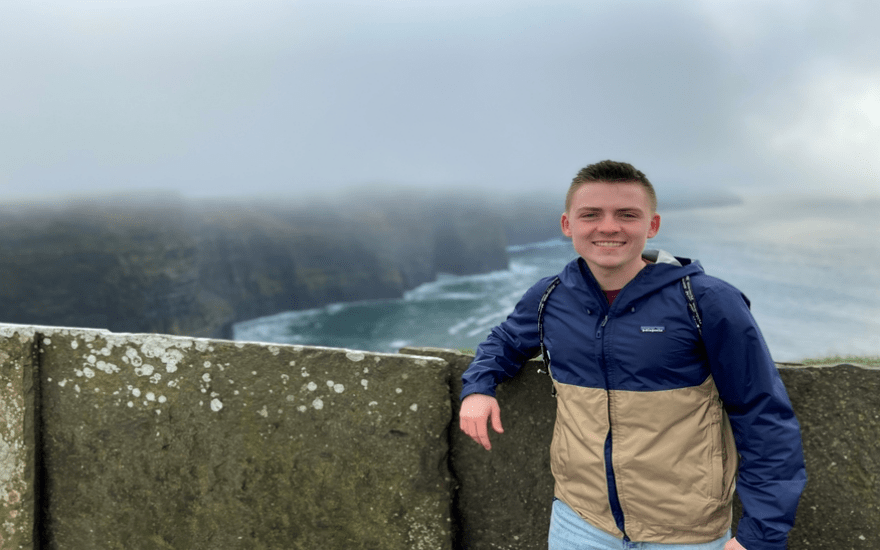 After arriving in Dublin in mid-January, adjusting to the hustle-bustle of city life was probably as shocking as getting punched in the face by Conor McGregor. That said, the city does not stop and wait for you, and that's the best way to become accustomed to getting around and adapting to the local culture. I quickly realized that asking for help is a universal survival skill and is the most effective way to get the information you need—even if it means playing dumb. Having an entire week to explore and enjoy the city before school started was essential in adapting to my new home away from home. From the helpfulness of the Irish people, to the pubs crammed into every nook and cranny of each and every side street, to the relaxing and unique places to try new foods (or write a blog post), Dublin has a lot to offer.
During the first week I was able to make my way to the historic Trinity College of Dublin to experience The Book of Kells and the "Long Room," as well as Dublin Castle which featured original bricks from the ninth century Viking settlement that built Dublin from the ground up. (Literally, the walls of the original castle are underneath present day Dublin still bordering the River Liffey). If you plan to visit Dublin, or are a student considering studying abroad in Dublin, I would highly recommend both of these sites.
School started my second week, and it provided some necessary structure to my weekly schedule. While the school is committed to having great programs for their students, it was my personal early observation that on campus, things move at a slower pace, and school may seem "easier" than in the United States. My university (University College of Dublin, UCD) did a fantastic job of accommodating any requests and answering questions I had, and I'm certain they did a great job for other international students as well.
Living in off-campus accommodation has influenced my time in Dublin in very positive ways. I've met students from many countries and backgrounds and have developed a great group of friends which has kept me very busy with a variety of activities! While living off-campus is my preferred style of living, virtually the only con is the fifty-minute bus ride to campus. But hey, at least it's on a double-decker bus!
So far, the highlight of my time here in Ireland was the trip I took with a group of friends to the Cliffs of Moher. The best way to describe this absolutely amazing world wonder is by saying that with each step you take along the cliff side, you feel as though the entire view has changed, which makes for lots of great pictures. Furthermore, if you happen to miss the last three-hour bus ride back to Dublin, being trapped in a small town (Ennis, Ireland), full of pubs and with great company, is not the worst thing in the world!
---