Does studying abroad include weekend trips to foreign countries, eating authentic cuisine from the restaurants down the street, and meeting people from countries you forgot existed? Yes! But, it also includes nights in the library and the loved/hated group projects.
Before heading to Hong Kong to study at City University I was anxious to see how the academics would compare to UW-Madison. I had heard rumors that City U academics were easier. This eased my worries a bit. Though the process of enrolling for classes was not as easy as it is at Madison. When I sent in my application, I ranked 10 classes that I wished to take but I ended up being placed in a few that I actually wanted. City U then made us exchange students wait to change our schedules until we arrived.
Studying Abroad Through the Business School
Upon arrival, I brushed aside my worries of academics and focused on making new friends and exploring all that Hong Kong has to offer. I was able to change my class schedule successfully so that all the classes I am taking transfer back for credit. This is one great reason to study abroad through the Wisconsin School of Business. One thing to note is that by studying abroad through the business school, any grades I receive here will count towards my GPA. Most other students I am studying abroad with are taking classes pass/fail, so sometimes I have to practice my discipline to stay in and study.
Course Load and Breaks
This semester I am taking Operations Management, Cultural Advertising, Business Ethics and Society, and Becoming a Smart and Responsible Consumer. I am happy to be taking 12 credits as it allows me to have more time for travel. We get two breaks throughout the semester. The first is a week-long break for Lunar New Year and the second is a week-long break for Easter. I hope to take another trip at the end of April since I have about three weeks off between the last day of class and the beginning of finals.
Now when it comes to attending classes, it is pretty straightforward. Classes meet once a week for three hours. I even get a 20 minute break halfway through class! Most students use the break time to run to the dining hall to grab a $1 bowl of dumplings.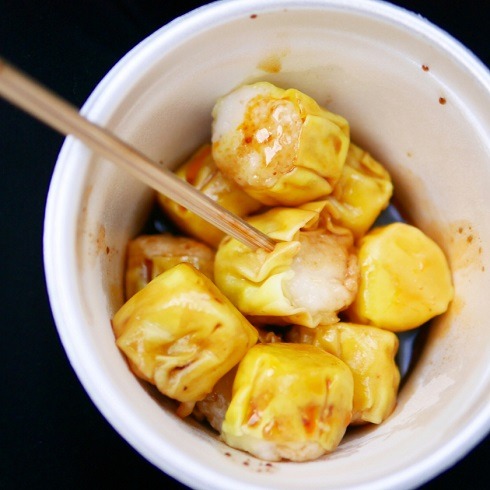 The Cons
I also want to address some of the negatives of taking classes at City U. If you are a prospective study abroad student reading this I want to make sure you are aware of both the pros and cons. One negative is that the classes may not share the same rigor as they would at UW-Madison. The students do not participate very much and many show up 20 minutes into lecture. Some teachers pick on exchange students because they know they will speak up. Another negative is that group projects can be difficult. English is a second language to many of the local students, so they usually feel more comfortable speaking in Cantonese to other local students in the group. I often have to ask them what they are discussing so that I can contribute to the conversation.
With all that being said, the negatives are part of what makes studying abroad so interesting. It is refreshing to experience a different classroom dynamic. It is a learning curve with rewarding ups and downs.
Until next time!
Lucia
---