View Dean Samba's Presentation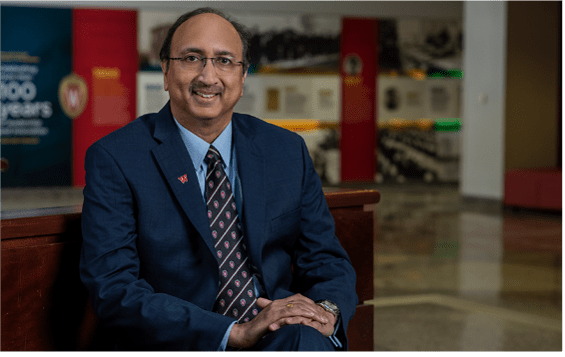 The Graaskamp Center's Virtual Leadership Series continued on Feb. 10 with Vallabh "Samba" Sambamurthy, Dean of the Wisconsin School of Business. Irgens Executive Director of the Graaskamp Center Michael Brennan began the event by discussing the recent accomplishments of the Wisconsin Real Estate Program, including the number one ranking in public real estate programs by U.S. News and World Report and the recent establishment of an endowed directorship of 1.5 million dollars by program alumni.
Dean Samba began by explaining his role as the Dean of the Wisconsin School of Business. He described himself as the "CEO" of the school, with his main role being to manage the people, programs and finances associated with it. This requires strong relationships with those related to the School of Business both internally and externally.
When asked about the impact of the Wisconsin Real Estate Program, Dean Samba referred to its reputation, loyalty and success as a "point of pride" within the School of Business. To "polish this gem," we need to continue to invest in the program, attract the best minds around the country and demonstrate appreciation towards the program. One way to do so is through research, as it generates new ideas and attracts motivated people to keep the reputation of the department going. The Wisconsin Idea is about bringing new ideas to action, and research allows students and faculty to do so. While rankings of the programs are done through a holistic review, research is a key criterion of it.
Looking towards the future of the School of Business, Dean Samba says we should expect to see an investment in technology for the school, as it affects both the business of education and the business world. We also should expect lifelong learning — the frequent need to upskill via higher education — to become in the new normal, which means that education will need to be convenient, accessible, flexible and personal to each student. We want to make sure that we, the University of Wisconsin-Madison, are the lifelong learning institution for returning Badgers.
Reflecting on his first 18 months as Dean, Samba is proud to have built a sense of positivity, enthusiasm and trust in the School of Business, as well as continue to solidify its reputation and make it a highly sought-after brand. He hopes to improve on these efforts with a reimagined BBA curriculum to create greater student success and continuing to hire new faculty.
He ended his presentation with advice for board members and alumni: be advisors, advocates and ambassadors for the School of Business.
We thank those who joined Dean Samba and the Graaskamp Center for our Virtual Leadership Series. We hope you can join us on April 14 for a discussion with John Brady, Managing Director and Portfolio Manager, Oaktree Capital.
To be placed on our mailing list for the event, email lee.gottschalk@wisc.edu.
---