This May thirty-one students studying marketing became MBAs. We invite you to get to know our newest alumni: what they think about their time in the program, what's next, and what advice they have for the next generation of students.
Marina Bloomer
Specialization: Brand & Product Management
Marina is an engineer at heart. She came to UW-Madison with a BS in Mechanical Engineering from Tufts University and a MS in Engineering from the Georgia Institute of Technology. Marina saw opportunity to open her own business. But she wanted to learn more about the business fundamentals and about creating and maintaining a successful brand. Marina put her entrepreneurship classes to the test while a student and launched Stellar Tech Girls; a company that empowers and inspires girls to see their potential as engineers. Get to know more about Marina and Stellar Tech girls in this article she wrote about starting a business while still in business school.
Logan Butson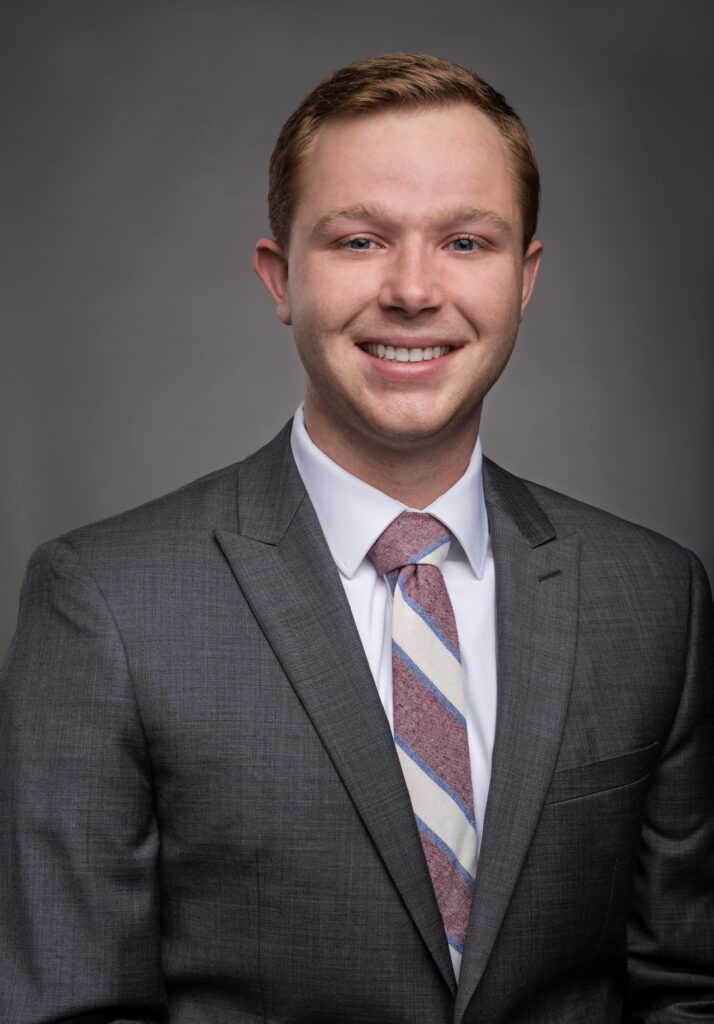 Specialization: Marketing Analytics & Insights
Coming from software development and healthcare, Logan wanted to return to his love of marketing. He "found that companies in larger markets weren't interested in my small liberal arts university degree and career pivot." However, UW's MBA program knew he was the perfect candidate that could bridge a gap in their career. And he says "the entire experience has been transcendental for my life aspirations. I'll be headed to SC Johnson as Consumer Insights Associate Manager. Because this a global role, I'm most excited about exploring the beauties and difficulties of cultural norms that can help drive business growth."
Logan served as Net Impact president. For that role he organized a sustainability case competition and brought in speakers. Speakers talked about the intersections between business and human trafficking, poverty alleviation, deforestation, or clean water supplies. And during his second year, the Graduate Multi-Cultural Business Association hosted an International Talent Show and invited Logan to contribute as a representative from rural United States. He says it "was much more nerve racking to get up on stage in front of your peers with a guitar and a country song, than any judged corporate presentation."
Before hopping back into the corporate world, Logan will be spending a few months in Togo, Uganda, Kenya, and Egypt. He's eager to learn from some new cultural experiences while giving back as a volunteer lecturer at a rural college, assisting widowed women entrepreneurs with their businesses, and helping fight childhood human trafficking in agricultural-based villages.
What are you looking forward to as an alum?
"Of course repping a W at football and basketball games will mean so much more now — but I'm most excited about helping future students find their dream jobs like I found mine. So many doors were opened for me throughout this MBA program, if I can help someone else turn their key, that will be entirely more exciting than watching Bucky do pushups after a touchdown."
Olga Coffee
Specialization: Marketing Analytics & Insights
Olga has put her BA in French and Linguistics and MA in Linguistics to work in Voronezh, Russia (where she was born and completed her degree), France, Hawaii, Illinois, and Wisconsin. This tri-lingual, career-switcher has proven that she can adapt and transition. Her classmates have been impressed by Olga's ability to balance being both a full time student and mom. Olga will be joining SC Johnson as an Associate Manager – Consumer Insights and Business Analytics for her full time role.
Connie Cannizzaro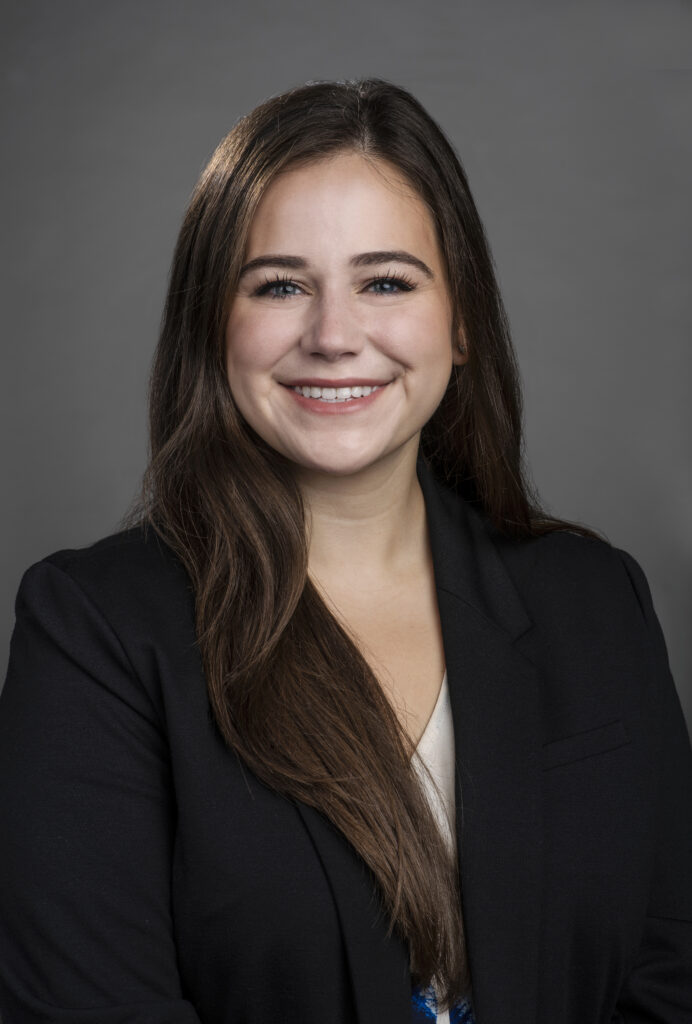 Specialization: Brand & Product Management
After graduating with her bachelor's degree in Chemical Engineering from Purdue University, Connie took a role at Uniform Color Company. She often found herself inspired by customer satisfaction and developing products that improve lives which led her to an MBA in marketing. Upon graduation, Connie will be starting the General Management Development Program and Danaher.
Jennifer Dyken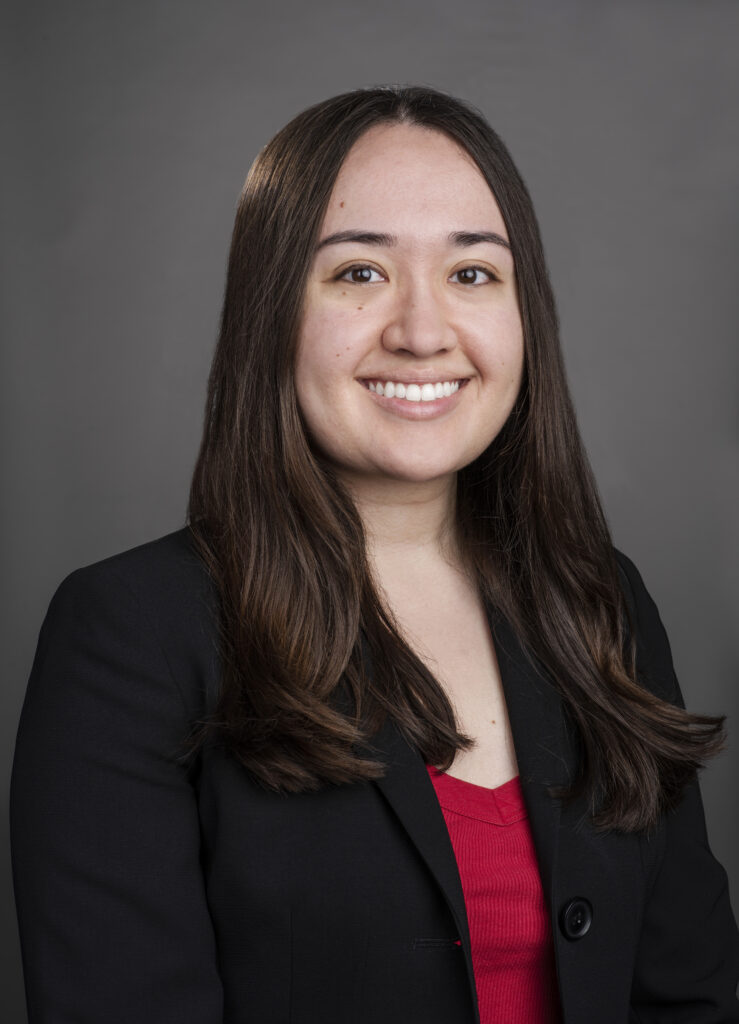 Specialization: Brand & Product Management
After Jennifer earned her undergraduate degree in biology she spent five years in various healthcare roles, including her most recent position at the UW School of Medicine and Public Health. There she met several coworkers who had MBAs and says "once I understood the full scope of what an MBA could offer, I was adamant that I wanted to pursue my degree in Madison." During her time at WSB Jennifer was a member of the GBA, the CBPM Community Committee, and led the Center for Brand and Product Management internship interview training for the class of 2023. Her favorite event was the Spring Ball, an event that unfortunately her class only got to have once due to COVID.
Post graduation, Jennifer will be working in a market access role as part of her first rotation in AstraZeneca's Commercial Leadership Development Program. She looks forward to utilizing her prior healthcare experience combined with her MBA education. Soon she'll make her move to the East Coast, but as a life-long Midwesterner she'll for sure be back to visit. "I'm looking forward to visiting some of my favorite places around Madison as an alum; satiating my sweet tooth at Madison Sourdough, watching the Willy Street Fair, grazing at Graze, catching a match at Breese Stevens Field, and pigging out at A Pig in a Fur Coat."
What should people know about the past two years of getting your MBA?
"These were far and away the most challenging and transformative years of my life. I accomplished more than I could have hoped for, failed many times, learned many lessons, and am incredibly grateful for my time in this program and everyone who helped me along the way."
What advice do you have for your first years and/or incoming students?
"Take risks. Don't be afraid to try something new, boldly pursue the career you want, seek help from instructors and classmates, or even fail. You will inevitably do all of these things in your time as an MBA student and any single experience can help you get to where you want to be after graduation."
Tyler Eilenfeldt
Specialization: Brand & Product Management
Tyler grew up in the Madison area and attended UW-La Crosse for undergrad. Grad school was always a consideration for Tyler but when my undergrad roommate visited in Florida and talked about his experience in the MBA program at Wisconsin, Tyler became more enticed. He says "then this little pandemic hit and I decided it was now or never." During his MBA, Tyler enjoyed going to volleyball, basketball and football games with fellow students. Conversing with everybody and playing darts at TAPS as well as stopping at Vintage with fellow brandies after applied learnings.
What advice do you have for your first years and/or incoming students?
"Don't get too stressed out, enjoy the experience because before you know it you will be filling out an alumni survey reflecting on your time in the MBA program."
Brandon Evans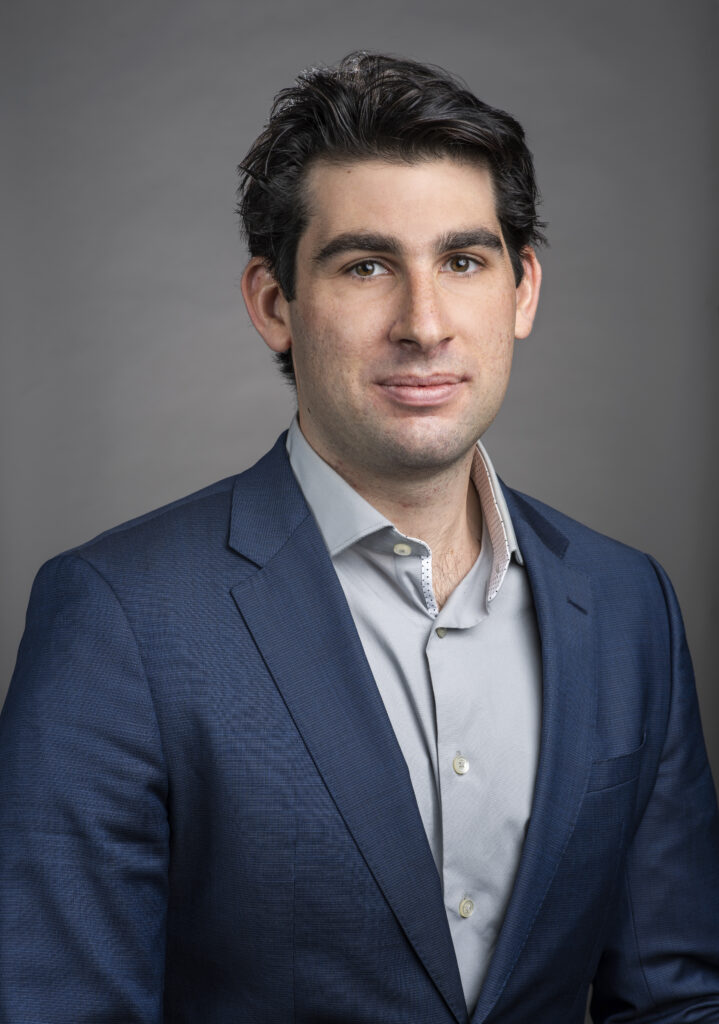 Specialization: Brand & Product Management
Brandon is now a double badger. He received his bachelor's in psychology from UW-Madison in 2013. It was during his time as an undergraduate that Brandon first became interested in getting an MBA. In between degrees, Brandon moved to California. There he founded a software company and then took on multiple roles at Petrol Advertising. Now that he is an MBA, Brandon will be starting as a Founding Product Manager at Morty.
Gladis Guerrero Gee
Specialization: Marketing Analytics & Insights
Gladis Guerrero Gee graduated from the University of Colorado Denver with a Bachelor of Business Administration in Management and Marketing. After graduating, she worked in a social media and marketing role for Montagne Jeunesse, a UK-based natural skincare company. In this role, Gladis gained international business experience supporting new product launches, trade shows, and social media efforts in the U.S., Canada, and Latin America. From there, she transitioned to a communications and social media role at the Colorado Department of Education. There, she grew the department's social media presence, worked on website updates, supported programs like the Colorado Teacher of the Year, managed multiple e-newsletters, and conducted critical outreach to Spanish media. She led the creation of a statewide public information campaign for the importance of early literacy. Outside of work, she volunteered her time at the Denver Scholarship Foundation, a nonprofit that helps underrepresented students pursue higher education.
She decided to get an MBA because she often found herself in the room with executive team members where big decisions were getting made, and she wanted to have a seat at the table and help make those decisions. As a Latina, she knows diverse voices and perspectives are valuable and that an MBA would give her the academic training and experience to make valuable contributions in any industry, company, or room filled with decision-makers.
In her spare time, Gladis likes to stay fit, from boxing, pop pilates, and yoga; she's always looking for fun ways to stay active. She enjoys traveling with her husband Rob and is a proud dog mom of two Samoyeds, Kaiser and Ari. To relax after a busy day, you will usually find her walking her dogs or cooking up something delicious with her husband. She was thrilled to be a part of the Wisconsin School of Business's A.C. Nielsen Center for Marketing Analytics and Insights and learn to become an effective leader who can make data-informed decisions.
Due to covid she participated in the first year of the program virtually from Colorado. She says the community built from the Consortium and Forte cohorts were "a fantastic community for me and a great resource, academically and career-wise, and provided emotional support while being remote for my first year of my MBA. Even though I was remote, I was able to build a great community, and when I finally got to Madison, many of my Consortium friends told me it seemed as if I had been in person the entire time. I loved that feeling of community, even when remote!" Gladis will be soon be joining ZS Associates as a Strategy Insights and Planning Consultant. She's most excited about working with bright and motivated people to solve problems for business. Also, she's excited about living in San Francisco!
What was Gladis' favorite MBA event?
"One of my favorite events was the partnership with Graduate Women in Business, where I was a co-president with Mackenzie Jahn, and the Out for Business organization. The event in fall 2021 was a Jingle Bell Jingle Jam event where we hosted an LGBTQ+ performer and vocalist, Vogue Rebel. Before the performance, both student organizations had the opportunity to present about issues faced by both women and the LGBTQ+ community in business. Vogue Rebel performed and featured empowering songs that got the entire crowd engaged. The turnout was great, and we received so much great feedback from students—one of my most memorable and impactful events during my time at UW-Madison."
What advice do you have for your first years and/or incoming students?
"My advice to first-years and incoming students is to embrace being wrong and ask questions to challenge yourself and get the most out of your time at UW-Madison. Confidence is all about being comfortable with being wrong and admitting when you're wrong, and you need help, don't be afraid to use all the resources available to you. Also, make the most of the great alumni network and industry partners; they're all rooting for you, and so am I!"
Rebekah Hastings
Specialization: Brand & Product Management
Rebekah hails from Chicago, Il. It was there that she completed her bachelor of music undergraduate degree from DePaul University. After college, Rebekah took on sales roles. Where she was consistently a top producer. The disruption caused by covid allowed her an opportunity to reassess her career goals. It was then that she decided to pursue an MBA in Brand and Product Management. Rebekah is a person who likes to stay busy and her time during the MBA was no different. However, she made time to impress us all with her musical skills. She gave an amazing flute performance during International Night at WSB. After graduation, Rebekah will be starting as a Senior Consultant at Cognizant.
Andrew Hendricks
Specialization: Brand & Product Management
Andrew graduated from UW-Milwaukee in 2014 with a BBA with an emphasis in Marketing. Immediately after graduation he started a role with Modine Manufacturing as a Marketing Specialist. After 3 years at Modine he was ready for a new challenge that would allow him to work with a larger brand in a more consumer facing environment. So he took a role at GE Healthcare where I worked as a Exhibits and Events Specialist. While at GE I focused on managing cross functional teams and leading tradeshows for multiple product lines. Getting my MBA was always a goal of his and felt it was a great opportunity to add to my marketing experience, improve my entrepreneurial skills, and build my leadership and management skills.
While a student Andrew was the Treasurer of the Graduate Marketing Network. And was part of several intramural sports teams such as: Soccer, Futsol, Kickball, and Softball. His favorite events though would have to be the tailgates and TAPS. "It was a great way to network outside of the classroom and bond over Wisconsin sports" he says.
Post graduation Andrew will be going to Italy, France, and Spain for two weeks with a few other classmates from the program. After that he'll be starting at SC Johnson as an Associate Brand Manager.
What should people know about the past two years of getting your MBA?
"While I was a student at the Wisconsin School of Business, I was very impressed with the alumni network. All the alumni that I reached out to were more than happy to give me the time of day and provide great advice."
What advice do you have for your first years and/or incoming students?
"For incoming students my best advice is to join clubs, go to taps, join intramural teams, and enjoy your time. It flies by."
Mackenzie Jahn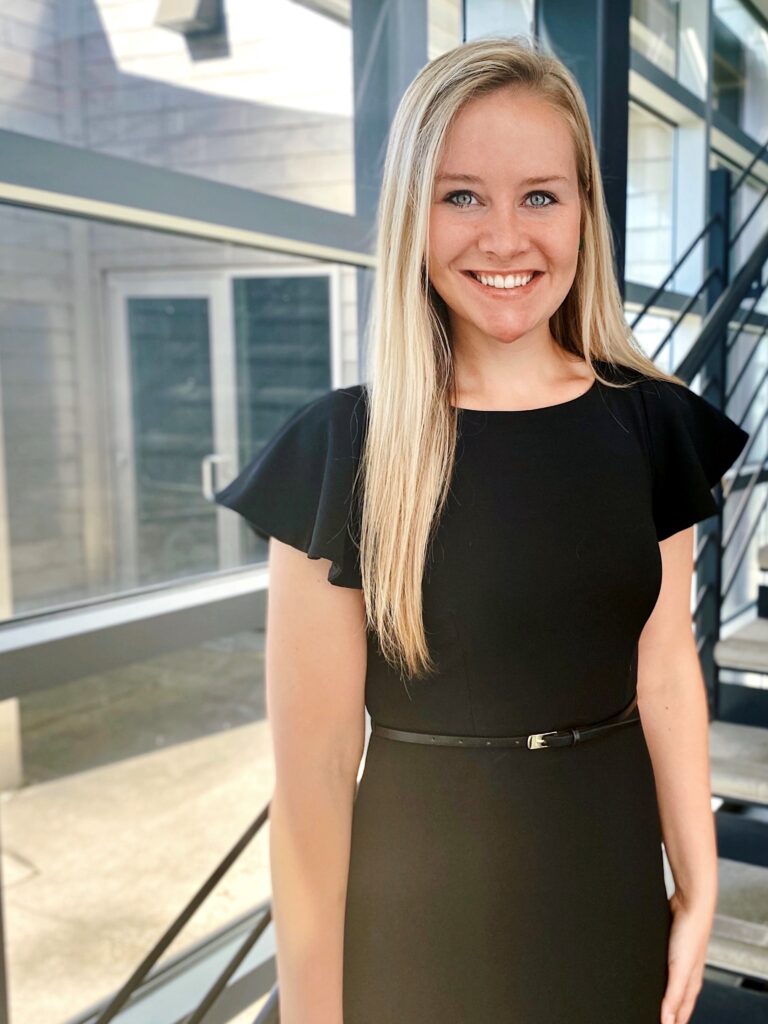 Specialization: Marketing Analytics & Insights
Mackenzie Jahn earned her Bachelor's degrees in Economics and Marketing from Iowa State University in 2017. During her time as an undergraduate, she discovered the intersection of quantitative analysis and social sciences, and the power of its implications for businesses. She grew passionate about this intersection, as she gained some experience with marketing research through a student consulting group but was not aware of it as a potential career path.
So, after graduation she began to pursue project management roles for 3 years. Simultaneously, she was also beginning to learn more about consumer insights and market research as a career. This, and many conversations with Kristin, alum, and other friends of the program, ultimately led her to UW's MBA program. Most recently before her MBA, she was working at a marketing agency in West Des Moines, Iowa where she served in an account and project management role on the Midwest grocery, Hy-Vee, account.
During her time in the MBA program, Mackenzie served as co-president of Graduate Women in Business alongside a fellow Nielsen center classmate, Gladis. This was an incredible learning experience, and a pleasure to help lead and develop programming and events to empower women throughout the Graduate School of Business. She also spent a lot of time walking around the lakes in Madison, especially as a "treat" and way to break up the long, virtual days during the first year. It's hard for her to pick any one specific MBA event that was her favorite. After a very non-traditional first year that was primarily on Zoom and Teams, her favorite moments were probably the little events like brats at Logan's, a Super Bowl Party at her small apartment, drinks on Echo's patio, etc., where she was able to enjoy and get to know her classmates more.
What's next for Mackenzie?
With a love and passion not only for consumers but also food and beverage, Mackenzie is excited to begin her post-MBA journey at PepsiCo. Having interned at PepsiCo, where she felt she had the opportunity to contribute to meaningful, strategic work alongside incredible people, she's looking forward to returning to do exactly this. The numerous opportunities within PepsiCo, especially to work on a wide variety of beloved food and beverage brands, also greatly excites her as she thinks about her career right out of the program. Mackenzie is looking forward to getting married 3 short weeks after graduation then honeymooning and preparing for a move. She's also hoping to squeeze in another trip sometime in July before starting at PepsiCo in early August.
What advice do you have for your first years and/or incoming students?
Mackenzie's advice to first years and incoming students is to get to know as many alum and friends of the program as possible. This has by far been one of her favorite aspects of the program. There are so many individuals connected to the program who are so kind, generous, and intelligent. Getting to know those people and learn from them is an absolute pleasure and such a unique aspect of the program.
Stephanie Kind
Specialization: Brand & Product Management
After graduating with a degree in Political Science from UCLA in 2009, Stephanie commissioned as an Intelligence officer in the US Navy. She spent 7 years active duty, where she had the opportunity to deploy around the world and lead teams of sailors and analysts in high stress, time sensitive, situations in support of Operation Inherent Resolve. Constant deployment was hard on her family however, and in 2017, she moved home to Wisconsin and transferred to the Navy Reserves. Leaning in on her leadership experience from her military career, Stephanie then pursued her goal of starting a business, opening her own restaurant, Black Walnut Kitchen. She owned and operated the restaurant for 3 years, and this experience paved the way for her next goal-an MBA. Stephanie says "I loved the marketing aspect of running my own business, and the fast-paced, cross functional role of my job in the Navy, and in 2020 I decided to pursue a career in Brand Management and start my MBA at UW Madison".
While a student Stephanie enjoyed Applied Learnings, as it provided the opportunity to learn about different companies and roles and network. And outside of the classroom she enjoyed listening to speakers, attending Women in Business evets, and occasionally attending TAPS. Soon Stephanie will be returning to Kimberly-Clark as an Associate Brand Manager. "I am very excited to be returning to Cottonelle, the brand team I interned with last summer" she says. She will also continue in the Navy Reserves in her role as the Operations Officer for her current command. Until then she's ready to take a few weeks of a break during which she's taking her son on his first international trip in Costa Rica.
What should people know about the past two years of getting your MBA?
"The specialized program at UW Madison is really unique and I feel that it has really has prepared me for my future role as a brand manager. I am also really grateful for the diversity of people I have met during my time in this MBA programs; the spectrum of backgrounds has provided multiple perspectives and enriched the overall experience."
What advice do you have for your first years and/or incoming students?
"Its important to take full advantage of the MBA experience, but don't overextend yourself, as this can cause burnout. Choose the classes, clubs, and events that are most meaningful to you and your overall goals. Being selective will allow you to truly enjoy and get the most from your experience!"
Jason Lee
Specialization: Marketing Analytics & Insights
Jason graduated from the University of Wisconsin-Madison in 2019 with a B.S. in Neurobiology and Psychology. He then worked at Epic for a year before deciding to pursue an MBA in Marketing Analytics and Insights. About the choice he says "my decision to pursue an MBA is partially motivated by my experience working in my family's food and restaurant business."
While in school, Jason was part of the Hoofers Sailing Club and enjoyed events where he got to spend time having fun with his peers, such as TAPS. After graduating, Jason will be traveling to Europe where he'll visit Greece, Spain, Monaco, and Croatia. You'll see Jason again, he's looking forward to going to the Summit, connecting with students, and taking in badger football games as an alum.
What advice do you have for your first years and/or incoming students?
"Enjoy your time as an MBA student, it'll be over before you know it."
Ashwin Maheshwari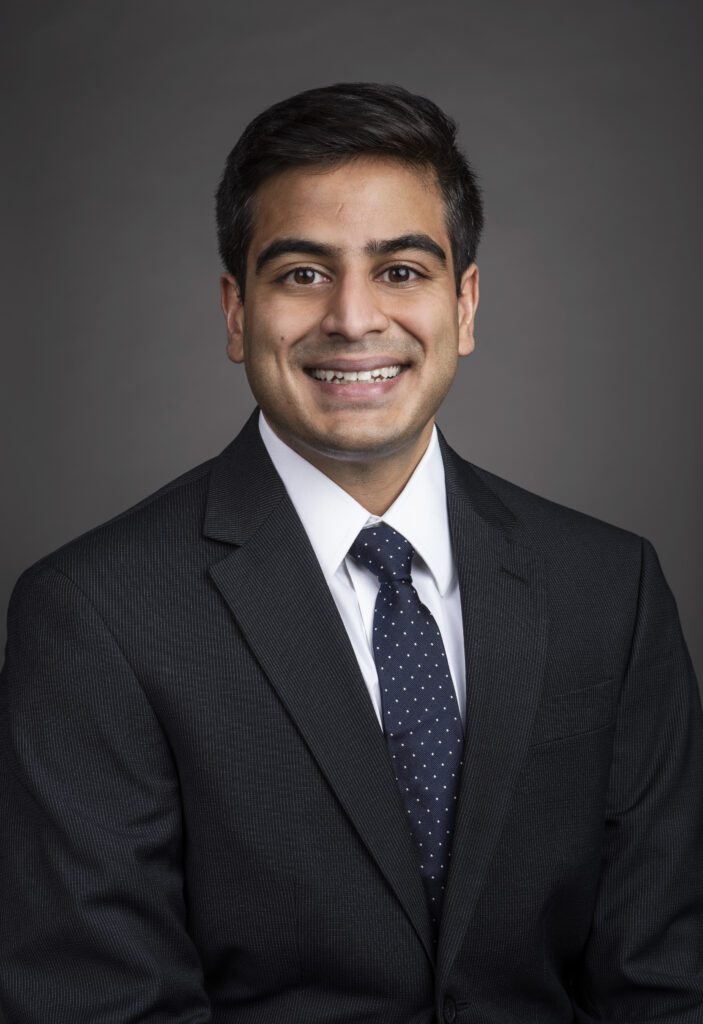 Specialization: Brand & Product Management
Though his undergraduate degree was in marketing, Ash started his career in finance. Most recently he worked for JP Morgan Chase. But he wanted to pivot to a brand management role, so he started reaching out to WSB alums. He was ready to get a hands-on approach with the Applied Learnings. Next up, Ash will be doing the MBA Leadership Development Program for General Management at BASF.
What advice do you have for your first years and/or incoming students?
"You'll be given every opportunity, make sure that you seize the ones that make you your best."
Caroline McCool
Specialization: Brand & Product Management
Caroline graduated from Carnegie Mellon University with a degree in Business Administration. Caroline's goal is to take on a marketing leadership role driving success and sustainability. She enjoys rowing, violin, and hiking. Next up for Caroline: she will be heading to Ohio where she'll serve as an Associate Marketing Manager for Nestle USA.
Thomas Meaney
Specialization: Brand & Product Management
Thomas is originally from Los Angeles, but has enjoyed the past two years in Madison. After a prior career in video production, Thomas knew he wanted to shift to a role in brand management in the CPG space, and "realized that WSB was the perfect place to do that!" During school you could find Thomas at Data Analytics Club or Food and Wine Club events or biking around Madison. In addition to those clubs he served as President of the GBA. The Advisory Board Dinners stand out in his mind as favorite times here. He says "It was so wonderful for all the different generations to come together, to learn about the of the origins of the program, to hear stories of what the careers were like of the people who came before us, and to imagine what ours are going to be like".
Thomas will be returning to Kimberly-Clark to work on the Kleenex brand, which he interned on. "I'm looking forward to applying all the tools I learned during my MBA to real-world problems" he says. He is also looking forward to meeting his new niece and spending time with his girlfriend this summer. As well as meeting a number of Wisconsin MBAs from the class of 2020 at a wedding in Cincinnati. In the long term, he's ready to do whatever he can to help new students feel welcome at Wisconsin.
What should people know about the past two years of getting your MBA?
"I enjoyed the camaraderie here and feel that one of the program's biggest assets is the true spirit of helpfulness that exists between students."
What advice do you have for your first years and/or incoming students?
"My advice is to think about your MBA experience as if you're writing a book: take risks, go big, include lots of different scenes, make sure and take plenty of pictures, and include as many characters as possible!"
Nicole Monarrez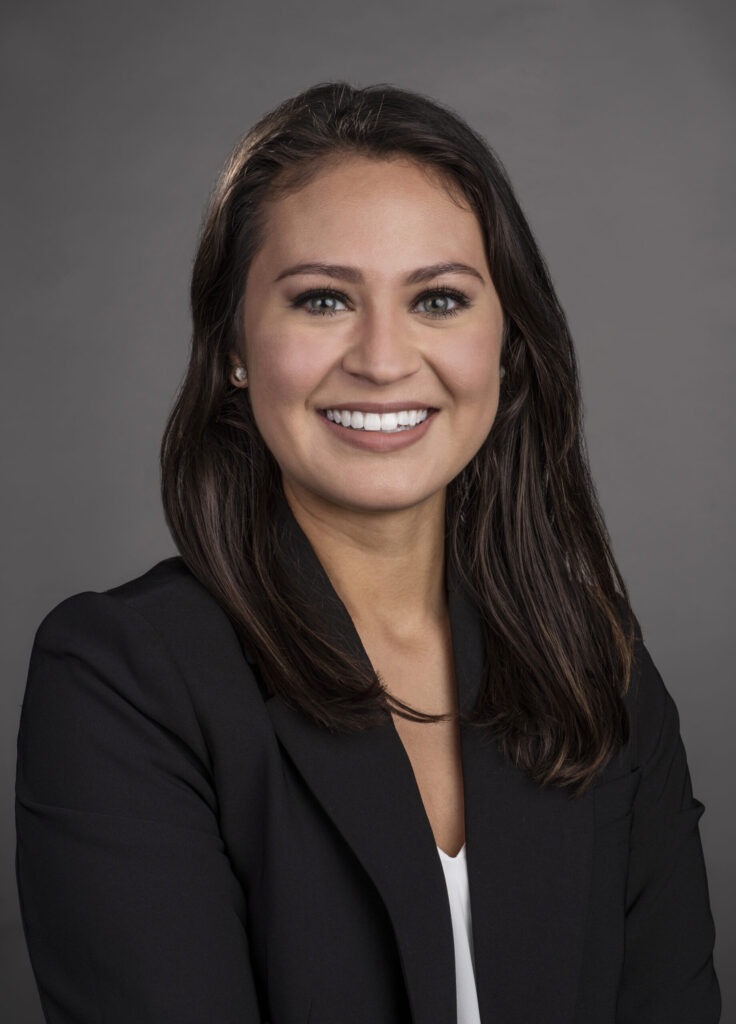 Specialization: Marketing Analytics & Insights
Nicole completed her undergraduate degree in Marketing from Brigham Young University. During her senior year there she worked as a marketing strategy consultant at the BYU Marketing Lab. There she worked on projects with MBA students and unlocked her skills in market research. Nicole was working at Shutterfly when a Marketing Analytics and Insights alum reached out to her about the WSB MBA.
While at Wisconsin, Nicole participated in the Data and Analytics Club, and the DEI club. Her favorite event was the Spring Ball. She looks forward to returning as an alum to help with Applied Learnings, and attending reunions and perhaps eventually board meetings.
Nicole will be soon be starting at P&G working on innovation in family care products. "I'm looking forward to learning the methods and mindsets that P&G is famous for" she says.
What advice do you have for your first years and/or incoming students?
"Use all the resources you have for recruiting help. Career Services and alumni are incredibly helpful and super willing to help. Use them!"
Joseline Nyinawabera
Specialization: Brand & Product Management
Joseline completed her BBA in marketing from UW-Madison in 2013. From there she started with Mondelez International in Arizona. After a few roles Joseline was back in Madison and wanted to enhance her strategic branding skills. Returning to the WSB was a natural fit. She says "the school's value of Together Forward aligns with my commitment to serve and improve the lives of others". When she has a free moment, Joseline enjoys brunch, traveling, and African and Salsa Dancing. As well as serving her community through her beloved organizations Delta Sigma Theta Sorority, Inc., and Urban League Young Professionals.
Now that she's once again a graduate, Joseline will be heading back to Arizona for the Sales and Marketing Rotational Program at Intel Corporation. And will be continuing her work with her business BLKBLD & Co. Before that she'll be the keynote speaker for UW-Madison's Women and Leadership Symposium. Read more about Joseline's keynote Brand Like Beyoncé – Building an Authentic and Strong Personal Brand here.
Liana Richardson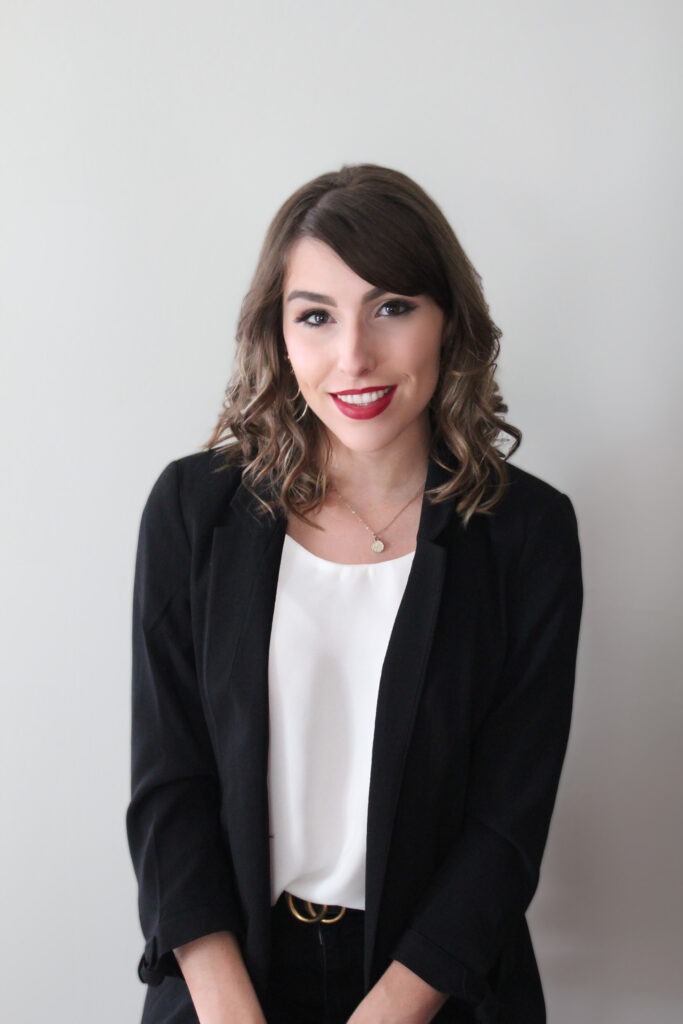 Specialization: Brand & Product Management
Originally from Maine, Liana earned a degree in Fashion Design from Philadelphia University. It was a role as a product designer for Mattel's American Girl that brought her to the Madison area. After graduating, Liana returns to Procter & Gamble, where she completed her internship, for a role as a Senior Brand Manager.
What advice do you have for your first years and/or incoming students?
"Talk to as many current students and alumni as possible! Take advantage of the resources available to you and don't be afraid to ask questions."
Charlie Scott
Specialization: Brand & Product Management
Charlie is a Milwaukee native, Dartmouth grad, avid skier, wine lover and proud dog dad. With 10 years of experience building, launching and scaling new products and brands across enterprise technology, payments and retail, he is passionate about wrapping brands around emerging technologies and bringing them to market. During his MBA, Charlie was President of the Entrepreneurship Club; Lead Consultant of the Wienert Center Business & Entrepreneurship Clinic; and Development Chair for the Graduate Business Administration. But his favorite moment was the Advisory Board Dinner.
Charlie looks forward to building a new path down to the lake at his family's cabin in northern Wisconsin. Charlie is looking forward to playing a go-to-market leadership role in B2B tech. As an alum Charlie is ready to help out with Applied Learnings and Recruiting!
What advice do you have for your first years and/or incoming students?
"Leverage the alumni network!"
Devon Smith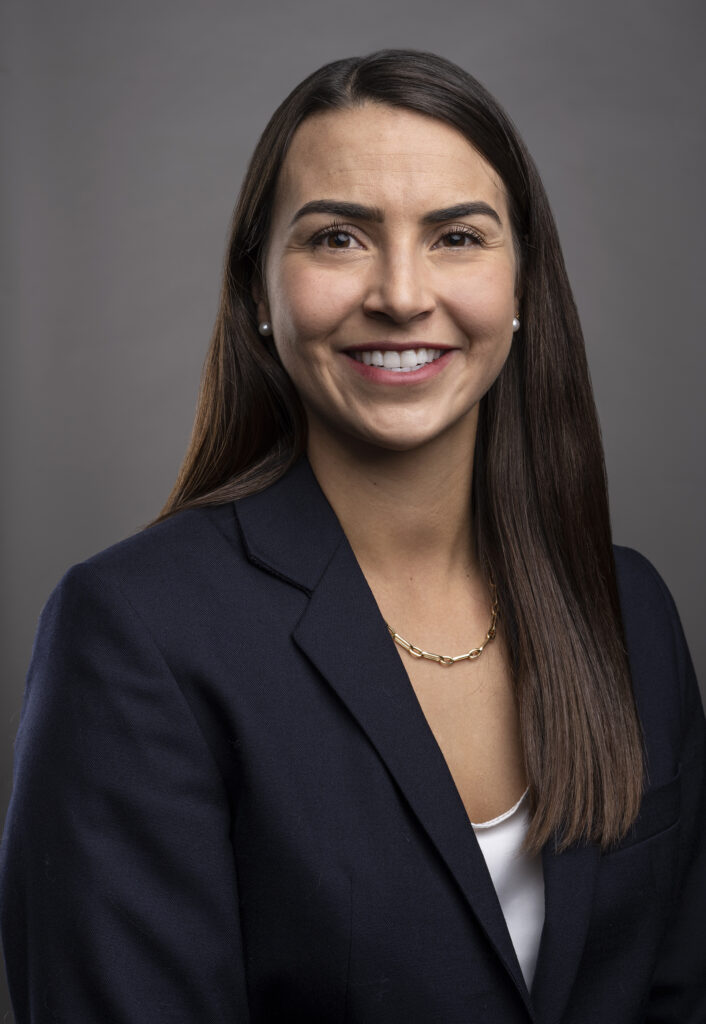 Specialization: Brand & Product Management
Devon came to Madison as the Athletic Director of West High School. She says "after a life altering car accident, I knew I needed to pivot careers. After starting with a Pharmaceutical Startup, I quickly knew I wanted to get my MBA to advance my career in the business world." During her time as a student Devon participated in the Consulting Club, Data Analytics Club, and Women in Business. She thoroughly enjoyed attending the Weikel Speaker Series. Though as an alum she looks most forward to helping with Applied Learnings and mock interviews, perhaps one day we'll see her take the stage at her own Weikel to inspire the next generation of business leaders.
Post-graduation Devon, her husband, and their dogs, will be moving to their new home in Colorado and fixing it up before she starts at Danaher in the General Management Development Program.
How do you feel about your time spent getting your MBA?
"It was the fastest two years of my life."
What advice do you have for your first years and/or incoming students?
"Cry, Dance, and get over it. Some things will be hard. You need to give yourself time and space to feel that things are hard, then you have to perk up and move on because it will be okay and you will eventually sleep."
Alyssa Spiel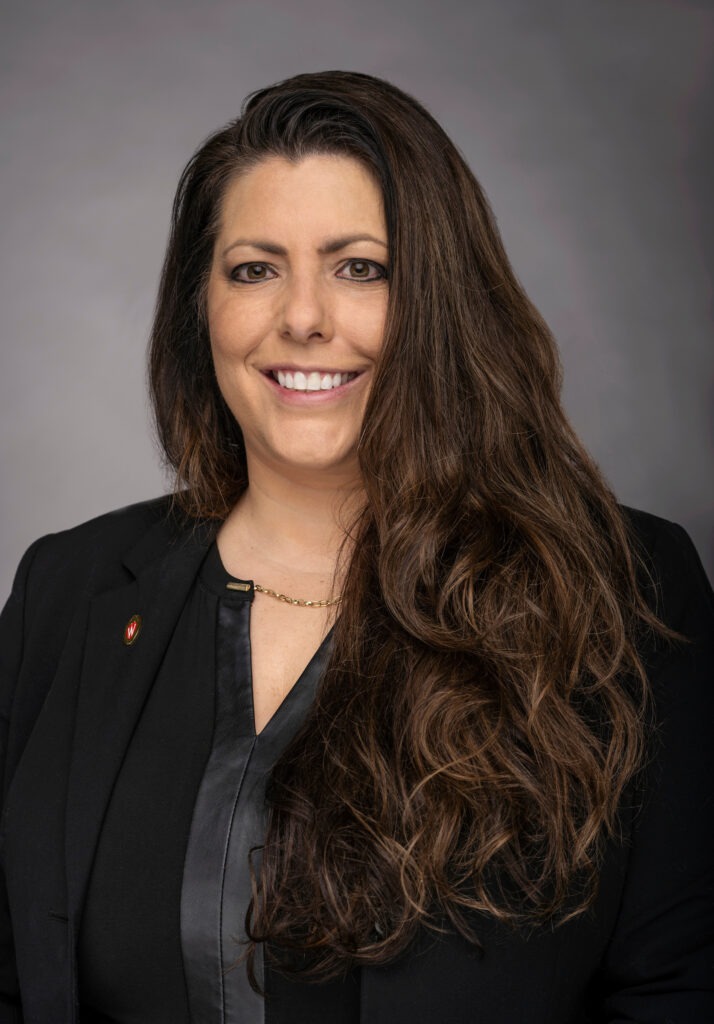 Specialization: Brand & Product Management
Alyssa is another one of this class' double badgers. She graduated with degrees in English and Journalism from UW-Madison. From there Alyssa served in multiple marketing manager roles in Wisconsin and California. It was at Slipstream, a nonprofit organization specializing in the development and implementation of energy efficiency programs, that she met an alum from the brand and product management specialization. They encouraged her put her curiosity of why certain brands evoke emotions and her drive to advance her career to use by returning to school for an MBA. Alyssa is looking forward to her upcoming wedding. As well as starting in a position at a company whose core values reflect and encourage collaboration, integrity, work-life balance, employee growth and development, and sustainability.
Annie Tollefson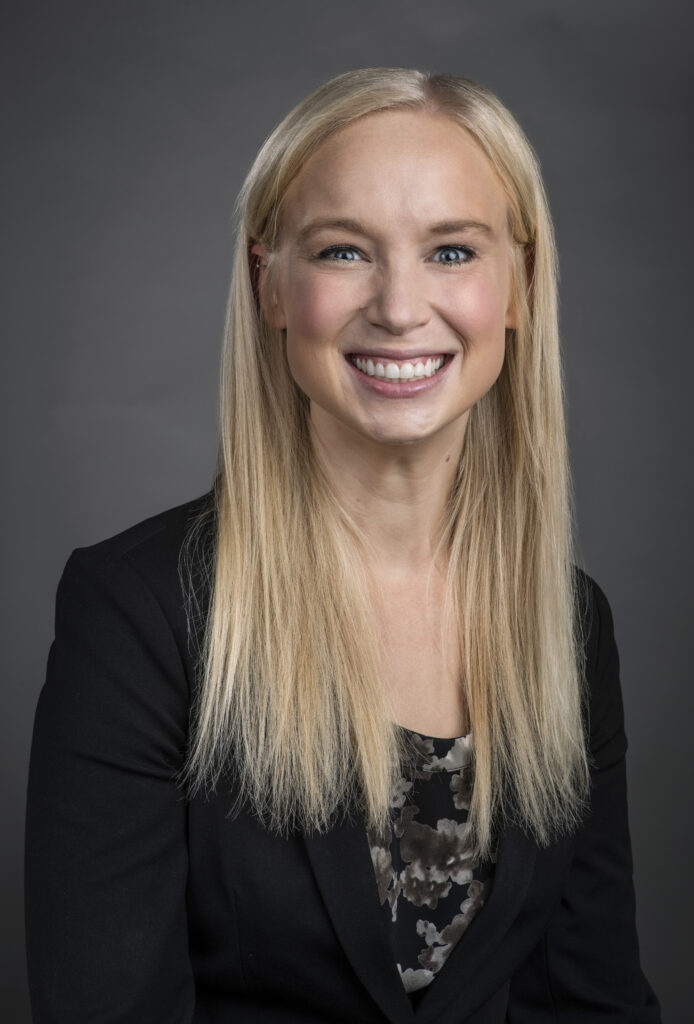 Specialization: Brand & Product Management
Annie received her degree in hospitality management from the University of South Carolina. Since then she has taken on a wide variety of professional roles, from an overseas English teacher to a pastry chef, from a sales executive to a flight attendant. Annie was ready to do more of what she enjoys: attacking complicated business problems and coming up with creative solutions as a team. So she decided to pursue her MBA. Annie is staying in Madison for her full time role. She will be doing the General Management Leadership Development Program at American Family Insurance.
Krystal Tran
Specialization: Marketing Analytics & Insights
Krystal came to the WSB from Vietnam where she worked as a qualitative marketing research analyst. She did her undergraduate studies in International Business and Economics at Foreign Trade University in Hanoi. A self-described foodie, Krystal has a goal of 'eating her way' across the coast of Vietnam. Krystal was an active participant in many school activities while getting her MBA. Her most notable may be co-chair of the Graduate Marketing Network annual Case Competition. Her post­-MBA goal is to become a Consumer Insights Analyst in a client­ side company that is data­ driven and customer obsessed.
Bilal Usman
Specialization: Marketing Analytics & Insights
Bilal Usman graduated from the Institute of Business Administration Karachi with a Bachelor in Business Administration. Upon graduation, he accepted a role with Toyota Pakistan. In this role, he attained a basic understanding of B2B sales and project management skills. During his time at the firm, he implemented his quantitative skills to build demand forecast models and had limited exposure to Marketing Research.

After working at Toyota for 2.5 years, Bilal migrated to the US and accepted a position as a project manager at a mid-size firm – Simply Residential. During this time Bilal learned new skills such as evaluating campaign performance through Google Analytics and generating insights. But after working here for a few months, he realized that he needed to further his education in order to reach the next level in his professional career where he aspired to be.

So in 2019, Bilal moved back to Pakistan to focus on his GMAT and MBA search, while working as a marketing manager at a startup by the name of CelVas. While at CelVas, Bilal focused on launching the firm's products into new segments and expanding into newer markets. During this time he had more exposure to Marketing Research, and that's what motivated him to pursue his specialization in Marketing Analytics and Insights from UW Madison.
During his time here, Bilal enjoyed swimming, riding his bike, and playing ping pong with friends. The MBA Spring Ball was his favorite event. He's looking forward to spending time with his family in Madison while still searching for his perfect full time role. Bilal's ready to be a badger alum, eager to help the next classes with applied learning and partaking in alumni reunions.
What advice do you have for your first years and/or incoming students?
"Enjoy the experience. It goes by pretty quickly."
Aldo Vacco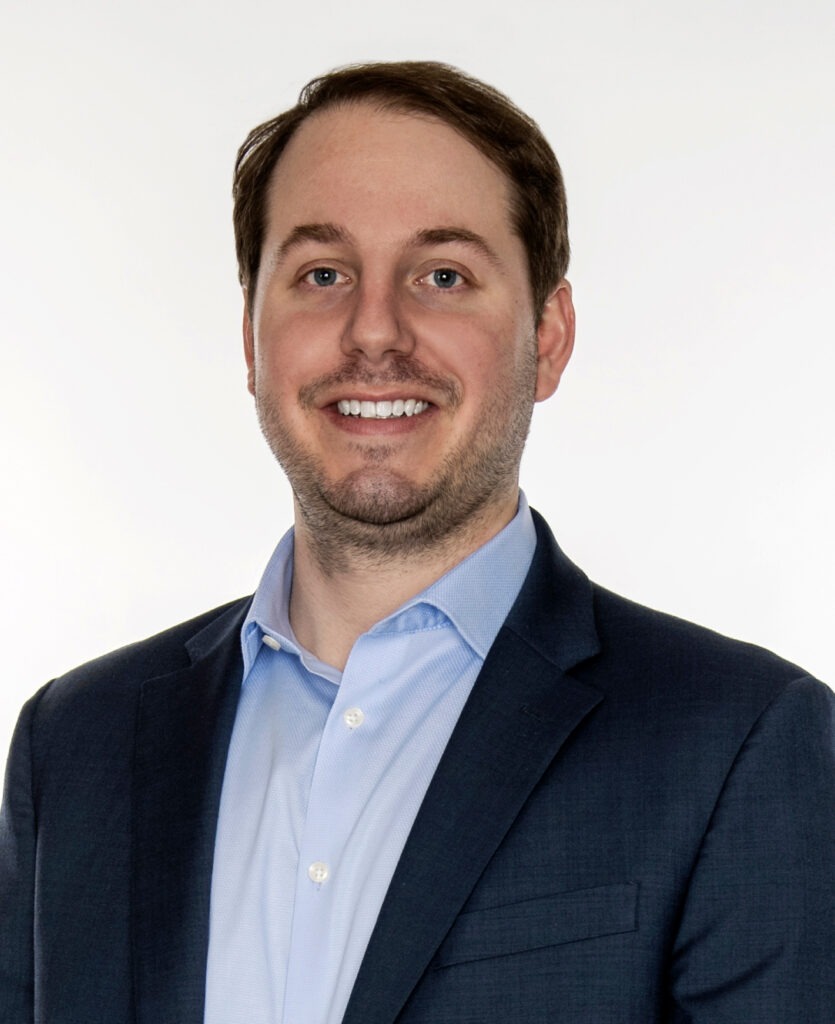 Specialization: Brand & Product Management
Aldo originally studied Human Biology and Microbiology at Michigan State University. Aldo's career has taken him into the operating room as a Neurophysiologist. It was there that he began to understand the vast amount of opportunities available in the non-clinical side of the healthcare. To reach his goal of becoming a product manager in the biotech industry, Aldo turned to getting an MBA at the Wisconsin School of Business. Aldo's is looking forward to working in a role that puts to use his passion to help people and have a positive impact on his community.
Amelie von Below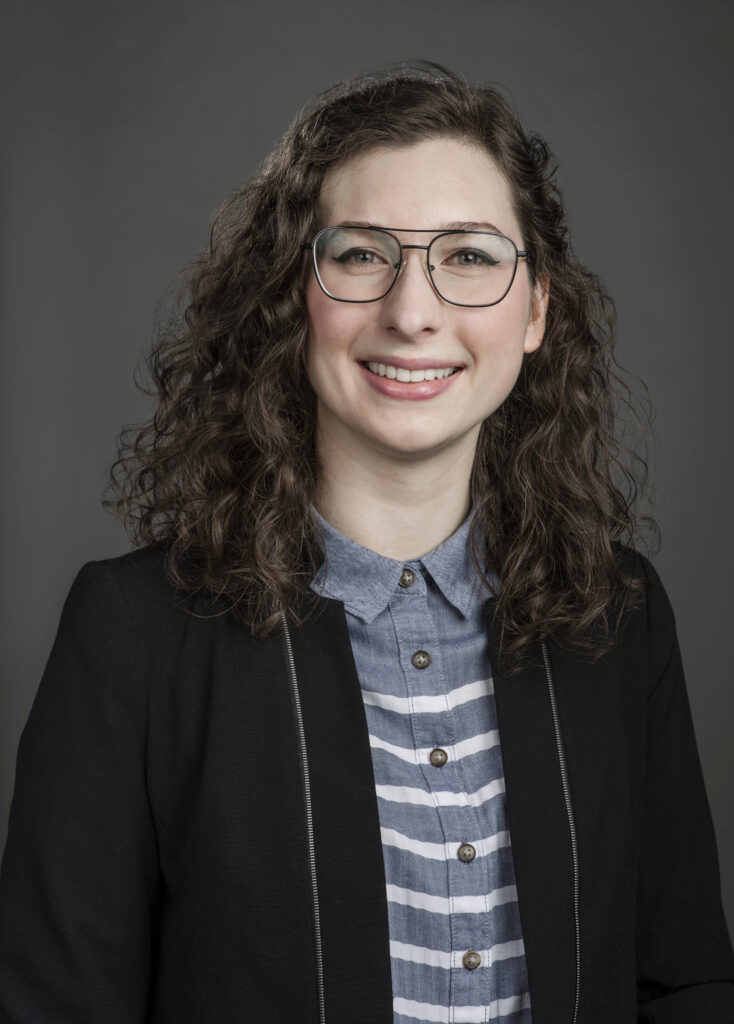 Specialization: Marketing Analytics & Insights
Amelie spent the first half of her childhood in Germany and the second half in the U.S. She says "while I grew up speaking English at home, moving to a different country was a bigger culture shock than expected, and I spent a long time trying to understand why there were such big differences between both places. This spurred a curiosity as to what causes differences in behavior between people, including differences in consumer behavior. After earning my BBA in Marketing at UW-Madison and beginning my career in online marketing and getting to work with a lot of quantitative data, my curiosity drove me to want to understand the "why" behind the "what" that I was observing. Who were our customers? What was driving differences in purchase behavior? I knew that UW had an excellent MBA program with particularly well-renowned marketing specializations, so choosing to return to Madison for my MBA was a natural next step in achieving a career in marketing insights."
During her MBA Amelie served as co-president of the Data Analytics Club, which piqued her interest because she wanted to improve her technical skills early on in the program, and wanted to understand what topics were being discussed in the industry. However, to Amelie the MBA winter ball felt particularly special. "We had spent our entire first year of our MBA in a hybrid setting with no in-person events. The winter ball was our first opportunity after quarantine to get dressed up, celebrate, and to get to know each other face-to-face making up for lost time."
What's next for Amelie?
I'm excited to start my role as Associate Insights Manager at PepsiCo in Purchase, NY later this summer. I will most likely be returning to the Shopper Insights team, which is the team I worked on during my summer internship. I am looking forward to moving back to a big city and to make an impact on the business. It will be interesting to learn more about the beverage side of PepsiCo's business since my internship was based out of Texas (though it was remote), where the snacks business sits. Lastly, I'm very excited to reconnect with the many UW alumni at PepsiCo!
I am looking forward to traveling to Europe to visit family and friends that I haven't seen for two years. I'll be visiting close friends in Berlin and my grandparents and aunt and uncle in Frankfurt, as well as doing a little trip to Belgium (one that originally got cancelled due to COVID). I am also looking forward to getting some rest after working hard to finish the MBA strong, and to planning an exciting life in NYC.
What advice do you have for your first years and/or incoming students?
"Choosing to do one thing as an MBA student always means trading off something else, so make sure you are intentional about how you spend your time (including taking time for self-care). Have fun and relax this summer so you can start next semester energized."
Owen Wade
Specialization: Brand & Product Management
Owen Wade received his BA from the University of Iowa with a double major in Cinema and Art. While pursuing his degree and taking courses in a variety of subjects, Owen developed an interest in science, and found a student position in a research lab specializing in rare genetic disorders. After graduation, Owen joined the University of Iowa Hospitals and Clinics full time and became a research associate for a variety of clinical trials. While continuing to work in research full time, Owen utilized his degree in cinema and art and launched his own video production company where he created a variety of video marketing campaigns for entrepreneurs and startups in partnership with a regional business accelerator. During this time, Owen became became increasingly interested in marketing, storytelling, and helping brands connect with consumers which is why he decided it get an MBA.
Immediately after graduating Owen is zipping off to Scotland. There he'll be in places like Edinburgh sampling local delicacies like haggis, or in the Cairngorms National Park exploring the peatlands. Then Owen is joining Moxe, a Madison-based healthcare startup, as a strategic marketing manager. He is looking forward to developing strategic business recommendations to promote the company's growth. And is very excited about the company's mission which aims to reduce administrative waste in healthcare.
Daniel Waller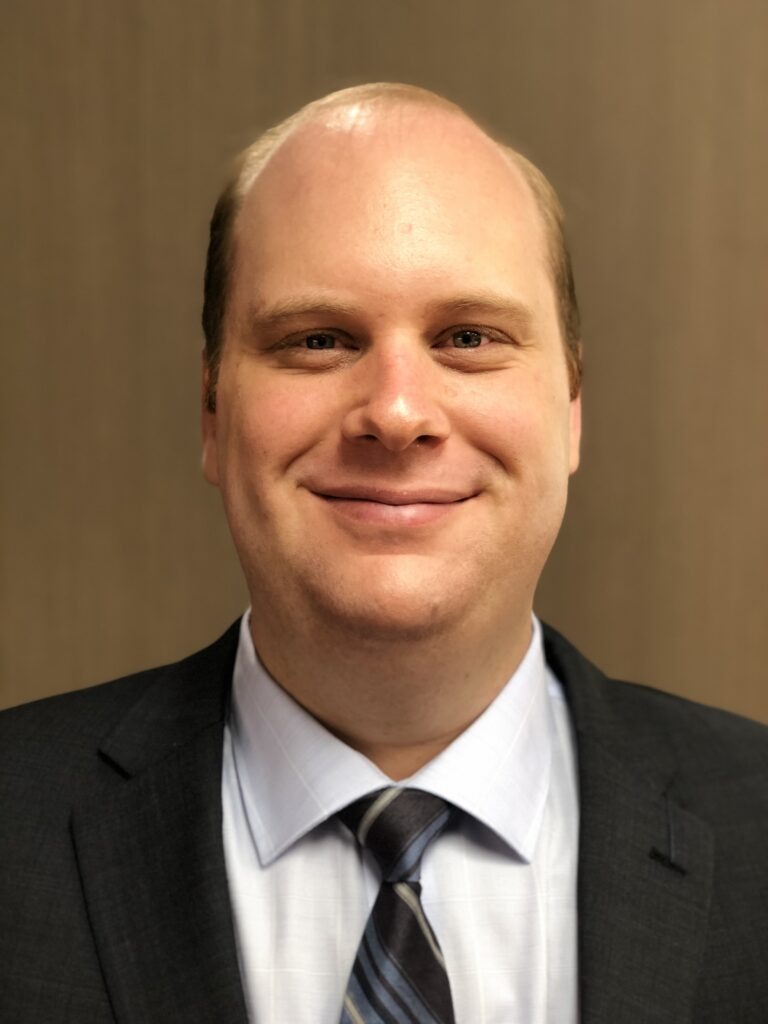 Specialization: Marketing Analytics & Insights
Daniel started out seeking a career in Biology. While working towards his major, he took several psychology courses which gave him an interest in decision making and why people make the choices they make. After several years working as a mathematics tutor, he felt the urge to expand on his knowledge of psychology in an applied setting. This led to researching the top marketing programs in the country. "I selected Madison due to it having the perfect balance of general business and leadership and a specialized marketing curriculum that would enrich my knowledge of the field" says Daniel.
Some of Daniel's favorite events included anything involving trivia and learning more about other cultures. Though he captured the opportunity to attended many great events put on by Out4Business, The Graduate Multicultural Business Association, and Graduate Women in Business. He also enjoyed the two case competitions he entered and is "proud to have won one of them and placed second at the other". The main club Daniel participated in was the Data Analytics Club, which provided numerous interesting looks into topics that will be important in his data-heavy career. Daniel says "my MBA experience was challenging and at times overwhelming, but it helped me to become a much more confident and whole version of myself compared to who I was before". As an alum he is "definitely most excited to reunite with my Nielsen Cohort! I also have many friends from other specializations I hope to reunite with as well."
What's next for Daniel?
Daniel will be starting at a full-time Senior Data Analyst role at AbbVie Biopharmaceuticals in July. There he will be responsible for exploring the extensive data reservoirs of AbbVie. Finding meaningful and actionable insights to share with other branches of the company. "I am looking forward to exploring the Chicago area when I move there in July. In the meantime, I anticipate spending some time with my family in California. Then heading up to Oregon in Mid-June for my Sister's wedding!"
What advice do you have for your first years and/or incoming students?
"My advice would be to fully acknowledge and take in the fun you are having and connections you are making in the moment. Be truly aware of them while they are happening so that you do not look back and wish you had enjoyed the experience more while it was happening."
Alexandra Weaver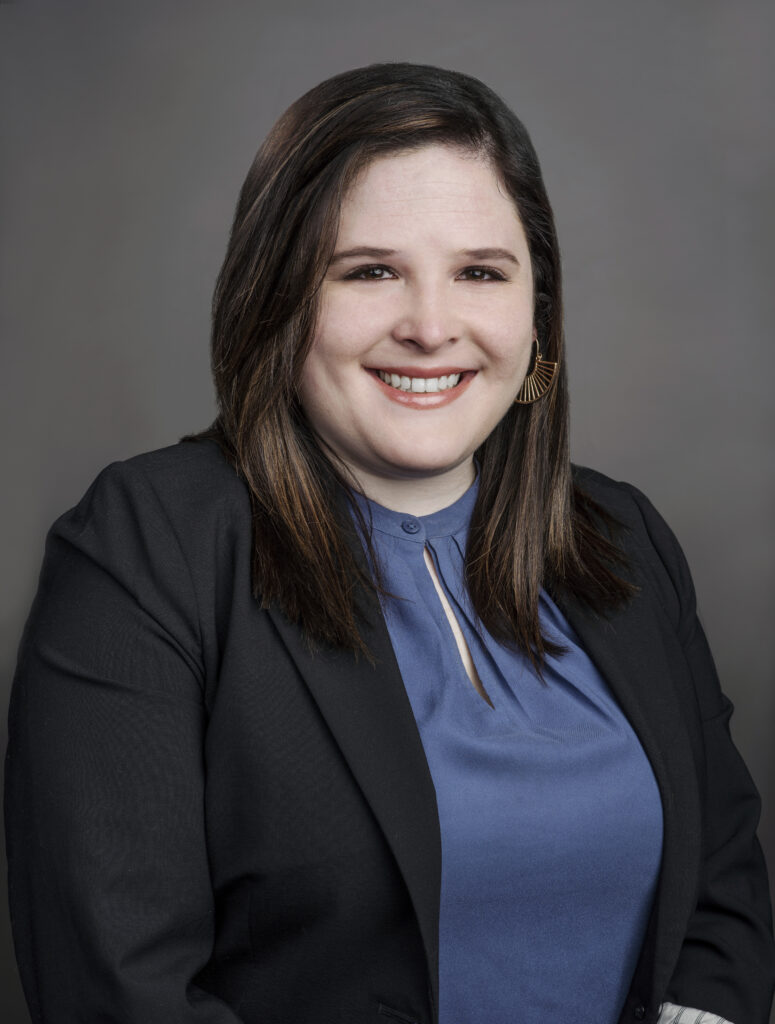 Specialization: Brand & Product Management
Alex knows the industry she wants to work in. She's held jobs in every corner of the wine industry: retail, distribution, etc.. Eventually Alex would like to own her own business. That's why she decided to come back to school for an MBA. Her first degree is in Political Science from Scripps College in Claremont, California. While at WSB, Alex used her certification as a Sommelier to impress the members of the Food and Wine Club. Now that she's graduated, Alex will be starting with Frank Beverage Group as a Wine Brand Manager.
Chris Wiesneski
Specialization: Brand & Product Management
Before joining the US Army, Chris completed a psychology degree with a minor in theatre from UW-Oshkosh. During his career in the Army, he used his natural leadership skills to rise through the ranks. After eight years of service, in Fort Drum, NY and Afghanistan, Chris was ready to return to civilian life and Wisconsin. An MBA was the perfect use of his leadership, social, and organizational skills. It will set him on a path of success in Business. The next step for Chris is heading to SC Johnson for a full time role as an Associate Manager.
---