I had a great opportunity to attend the RiskTech 2019 conference in New York, sponsored by RIMS. There was a diverse pool of participants at this event, including risk managers, brokers, founders/representatives of 10 insurtech start-ups, and 30 risk management students sponsored by Spencer. It was a wonderful place to network, learn different perspectives on the use of the latest technology in insurance, and seek career advice from risk professionals.
Audrey Rampinelli, the CEO and co-founder of OnRamp Risk, LLC, hosted the forum and kicked off the event by talking about the evolution of risktech and how it differs from insurtech. While insurtech is heavily focused on solutions for insurers and brokers, risktech enables risk professionals to incorporate the voice of the customer and make better decisions by using analytical tools, leveraging AI capabilities, and increasing transparency using blockchain.
Beaumont Vance, Director of Digital Automation (AI) at TD Ameritrade then discussed, through several examples, the practical uses of AI and the mistaken perception of AI as a "source of imagination." Machine learning, though biased on the data used to train it, can create immense value in identifying loss patterns, AML, and other areas by delivering accuracy and saving time through automation. This opinion was backed up by Drew Aldrich, MD of Amfam Ventures. He shared that Amfam Ventures has increased its capital invested in insurtech by 50% between the years 2013-2019.
In another session, we learned about the potential value of wearables that improve worker safety and reduce cost of risk from worker's compensation. Smartbelts, for example, monitor data about movement, stress, and bending and twisting activities of workers. When improving working conditions by leveraging insights from this data, a firm has seen an impactful 61% reduction in total worker's compensation losses incurred over a period of 10 months.
While there are clear benefits of risktech solutions, a panel of risk professionals at the forum discussed some adoption challenges and concerns that they face in implementing these solutions. Courtney Osborne, VP of Insurance & Risk Management at El Ad US Holding, Inc.—also one of the 2019 Women to Watch awardees—expressed that leveraging datapoints and breaking down siloed information in organizations is challenging. She highlighted that risk managers, in order to stay relevant, should look beyond insurance and know answers to the questions like "where the network security keys are stored."
The panelists concluded the discussion by saying that the insurance industry is on the cusp of transformation, and that we students are in it at the right time as we possess both technical capabilities and a fresh perspective at solving problems.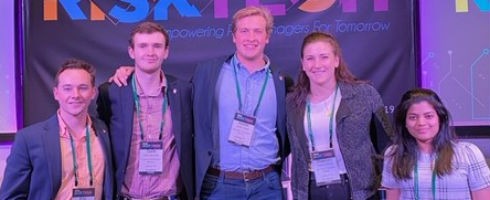 ---