The Weinert Center for Entrepreneurship is pleased to announce that one of our Morgridge Entrepreneurial Bootcamp (MEB) alumni won the 2023 Wisconsin Governor's Business Plan Contest grand prize! Five other recent UW alumni placed in the top three in their respective categories. Since its inaugural contest in 2004, more than 4,600 entries have been made for the competition and more than $2.6 million have been bestowed upon winners. This highly competitive contest heard pitches from 12 finalists in four categories: advanced manufacturing, business service, information technology, and life sciences.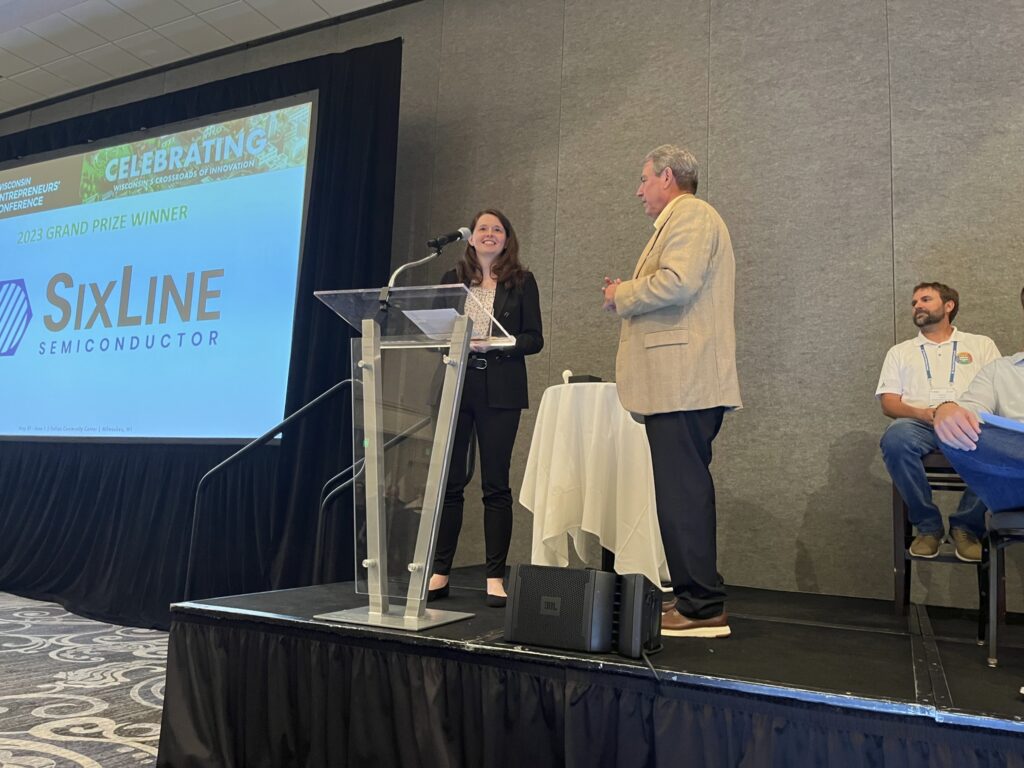 Katy Jinkins (MEB '2017) won the grand prize in the advanced manufacturing category with her Middleton-based company, SixLine Semiconductor. Sixline is working towards creating high-performance electronics on aligned carbon nanotubes that are 0.002% the thickness of a human hair. Amid development in artificial intelligence and in an ever-changing electronics industry, Sixline's invention could potentially fill needs in sensing technology, wireless communication, and computation. Wisconsin Technology Council President Tom Still calls Sixline's use of carbon nanotubules in electronics a "'Holy Grail' in technology." Congratulations, Katy!
There's more! Victor Fernandes (MEB '22) won the information technology division with his presentation of IQDecide which helps oncologists and patients assess the potential risks and benefits of cancer treatment through artificial intelligence. Arek Schmocker (WAVE '19) placed second in the life sciences category for Chocolate Rescue for Dogs, the first and only at-home remedy for canine chocolate ingestin. Joseph Ulbrich (WAVE '18 and MEB '18) came in third in the life sciences category for his work on Güd Medical which is an established leader in delivering intravenous medicines. His submission to the competition strives to find a streamlined and highly precise syringe attachment for "IV" administration. Patrick Sullivan placed second in the advanced manufacturing category with Flux XII and Josh Lavik (Evening MBA '13) placed third in the business services category for Home Perks Network.
We hope MEB played an integral role in helping these innovators bring their ideas to fruition. Congratulations to all of the prizewinners!
More information on the contest winners can be found in a press release and news article.
---