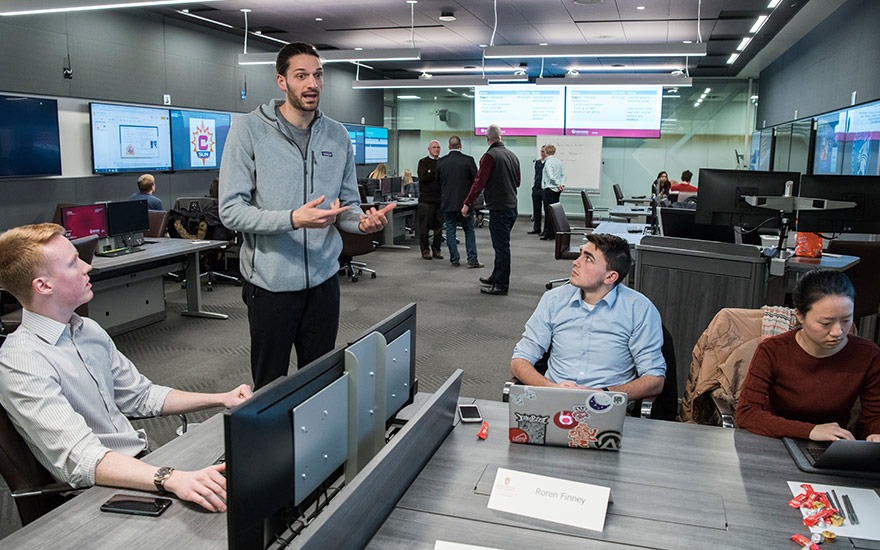 The burgeoning Midwestern city of Madison, Wisconsin, appears in headlines touting top tech hubs with increasing frequency. Over the past five years, rankings from Forbes, Inc., and the Brookings Institution, among others, have all placed Madison among the leading U.S. cities for technology and innovation. The common denominator among each of these lists is irrefutable: the University of Wisconsin–Madison is the region's leading driver of innovation and economic activity.
UW–Madison is responsible for $15 billion in economic impact statewide and boasts more than 400 university-related startup companies that support more than 25,000 jobs. At the heart of UW–Madison is the Wisconsin School of Business (WSB), which leads in providing the resources, education, and research to help young entrepreneurs succeed.
Using research to uncover student entrepreneurs
Jon Eckhardt, WSB associate professor of management and human resources, is studying ways to improve how university entrepreneurial ecosystems can drive economic growth. This research builds on Eckhardt's existing line of survey research that looks at what characteristics and experiences make some students more inclined toward entrepreneurship.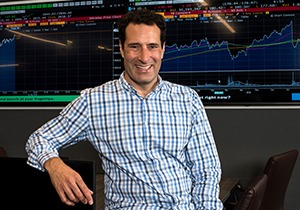 "We started surveying all of the students on campus in 2015 to get a sense of how many entrepreneurs are out there," says Eckhardt. "The numbers we got back were unexpected. While I suspected a strong presence of student entrepreneurs on campus, I was surprised to see how many of our students self-identified as founders of an operating company."
Encouraged by the high survey numbers, Eckhardt applied for and received funding in 2018 from the Ewing Marion Kauffman Foundation to support the development of an analytics platform that studies how campus entrepreneurial ecosystems can drive economic growth, and in the process, advance a greater understanding of entrepreneurship. The Wisconsin Alumni Research Foundation and American Family Insurance have joined the Kauffman Foundation in funding this work, enabling the research team to grow to include UW postdoctoral researchers Chen Chuan and Clint Harris, as well Brent Goldfarb, an associate professor of management at the University of Maryland.
Traditionally, Eckhardt says, universities tend to think about economic development and entrepreneurship as something that starts with an invention in a lab, but that isn't always the case.
"This is an important way that universities improve society. However, our research shows that students are also an important source of entrepreneurship—and their journey often does not start in a lab," says Eckhardt. "This work will help us better understand how universities can incubate that talent."
Launching startups while in school
The Wisconsin School of Business has trained much of that talent as evidenced by the many students and alumni who are on the fast-track toward entrepreneurial achievement.
Max Fergus (BBA '18), who majored in finance and investment banking at WSB, was poised to start a traditional New York banking job upon graduation but pivoted during his last semester when he launched LÜM, a music streaming app that gives lesser-known artists a voice and platform.
The startup's early milestones point to success. LÜM acquired more than 1,000 users on its launch day in August 2018, won the Greater Madison Chamber of Commerce's pitch competition that same month, and closed a seed round of funding at $1.25 million in May 2019. Now the CEO of LÜM, Fergus credits WSB with helping him learn the skills necessary to build a successful company.
Like Fergus, Erin Tenderholt (BBA '19) founded her company, Blexx Technology, while still a WSB student. A double major in entrepreneurship and risk management and insurance, Tenderholt designed a device that disintegrates used hypodermic needles, an innovation that has quickly captured attention and accolades.
Blexx Technology won the Wisconsin Technology Council's Elevator Pitch Olympics in 2018 and the Wisconsin Governor's Business Plan Contest in 2019, and shows no signs of slowing down now that Tenderholt is running the startup full-time. She's using the knowledge she gained at WSB to secure investors, grow her company, and take her device to the health care market.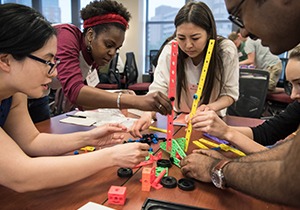 Older alumni have paved the entrepreneurial way for recent graduates like Fergus and Tenderholt. Aaron Kennedy (MBA '89) founded the popular restaurant Noodles & Company in 1995, which now has more than 350 locations around the United States. Andrew Ferenci (BBA '09) and Corey Capasso (BBA '09) sold Spinback, a social commerce and analytics platform, to Buddy Media in 2012 and have gone on to start additional companies. John Neis (MS '86) was one of the first venture capitalists in Wisconsin and has been involved with many of the most successful UW–Madison spinout companies. And prominent C-suite executives lend their time and expertise to our students—like John Morgridge (BBA '55), former CEO and chairman of Cisco Systems, who delivers a one-week intensive training program to graduate students in science, engineering, and math through the Morgridge Entrepreneurial Bootcamp.
These alumni are part of a larger trend across the UW–Madison campus. Eckhardt's research shows that undergraduate students enrolled across all majors who take at least two business classes are more likely to be involved in entrepreneurship than those who don't.
Resources to ensure entrepreneurial success
WSB's Weinert Center for Entrepreneurship supports these entrepreneurs through teaching, research, and service. Named one of the top entrepreneurship programs by the Princeton Review and Financial Times, the Weinert Center supports WSB's entrepreneurship courses, certificates, and major, in addition to many other initiatives geared toward helping student entrepreneurs.
Students gain immediate access to startup founders through the Weinert Center's weekly Distinguished Entrepreneurs Lunch, as well as an array of other workshops and events built around entrepreneurial topics.
And in true entrepreneurial form, WSB embeds innovation, creativity, and flexible thinking into the curriculum for courses spanning all the business majors.
Sharing the School's discoveries
As the Wisconsin School of Business continues leading the way in educating and supporting student entrepreneurs, a mission to share its knowledge and discoveries with universities and communities nationwide underscores its work.
"The goal is to help universities be more entrepreneurial," Eckhardt says. "We're overlooking this huge potential. The project is designed to help universities like ours use data to better understand this student space. This fall we piloted our first expansion site in the University of Wisconsin System, and we hope to expand to other schools in 2021."
To the best of Eckhardt's knowledge, a study with this breadth and depth has never been done before at the university level.
"Around entrepreneurship, schools may record the number of startups coming out of their institution, or the number of professors teaching entrepreneurial classes or bringing entrepreneurial experience. But no other university in the United States has a dedicated team of researchers who are working closely with program managers to assess and improve student entrepreneurship."
"Entrepreneurship is core to our foundation at the Wisconsin School of Business," says Dean Vallabh "Samba" Sambamurthy. "In today's global, digital economy, it is imperative that we teach and embrace the value of curiosity, creativity, and new ideas. I like to think that the Wisconsin spirit is synonymous with the entrepreneurial spirit."
From groundbreaking research to innovative startups, the discoveries made in Madison, Wisconsin, have tremendous reach. From the unassuming Midwest to the bustle of the coasts and beyond, the Wisconsin School of Business is committed to driving entrepreneurial success and uncovering the key characteristics of getting there.
About the Wisconsin School of Business
The Wisconsin School of Business at the University of Wisconsin–Madison is a world-renowned institution that prides itself on academic excellence, a commitment to ethics, and real-world experiences for its students. Established in 1900, the School was one of the first five business programs in the nation. Today, it proudly educates students from all walks of life with its nationally recognized undergraduate, MBA, MS, PhD, and professional development programs.
---