Career discovery might be considered a process just as much as it is a finite destination: Finding a good fit means learning about oneself as well as what opportunities are available in the professional world.
Two recent Wisconsin School of Business programs helped undergraduate Business Badgers navigate this important exploration. Designed as part of WSB's Career Forward program and taking place over the winter break, the job shadow program and the Austin career trek offered students immersive, real-world experiences with the chance to shadow industry professionals, grow their network, explore career pathways and individualized industry tracks, and observe different workplace and company cultures.
"These types of experiential learning programs help students get hands-on with their own exploration of different career pathways and industries," says Brett Jones, director of employer engagement for WSB's undergraduate program. "We are excited to partner with several UW–Madison alums and industry collaborators to offer these unique opportunities."
'An eye-opening experience'
WSB's job shadow program, which relaunched this year after last occurring in 2018, offers students short-term, on-site learning experiences with employer partners.
Michael Quesnell, assistant director of employer development with WSB's undergraduate office, says that post-pandemic, employers have a renewed interest in participating in these kinds of events.
"The idea is to give students, particularly freshmen and sophomores, a close-up look at a company or industry by shadowing professionals through a normal day on the job," he says. "These unique opportunities are designed to allow students to explore possibilities as well as network with employers."
Spanning two weeks in January, more than 80 WSB students completed 90 shadows—each ranging from a half to a full day—at sites in Madison, the greater Milwaukee area, Chicago, and Minneapolis. The participating companies included Aldi, Alliant Energy, Deloitte, EY, Kohler, Milwaukee Tool, PwC, Spaulding Ridge, and Uline.
Accompanied by WSB's Jamie Mickelson, assistant director of career engagement, and Alex Lawver, career coach, students had the opportunity to:
learn about different aspects of each company, such as its history and background
shadow day-to-day operations and responsibilities
participate in discussions around ESG (environmental, social, and corporate governance principals) strategy and sustainability, employee Q&A panels, and networking lunches
tour the campuses, factories, and stores unique to each shadow site,
Students were able to sign up for multiple job shadows and to choose from different tracks, such as marketing or supply chain management, within a single shadow experience.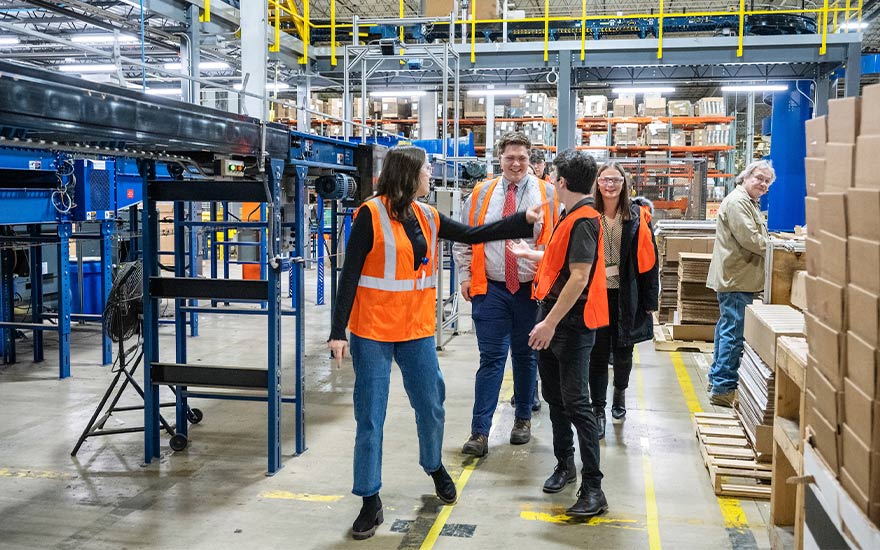 The job shadow program is ideal for students who have yet to choose a major, as it gives them a chance to experience a day-in-the-life of an individual working in a specific business domain.
"This is an awesome opportunity for those students who are still undecided," Quesnell says. "It's both a low-stakes way to go about evaluating different options in different fields, kind of from a 10,000 foot view, but also to apply that in a 'does that feel right for me?' kind of way."
Julia Blankenship (BBA '24), who is double majoring in accounting and finance, says that the PwC job shadow allowed her to talk with industry professionals who had completed WSB's MAcc program as well as others who had pursued double or triple majors to qualify for the CPA exam.
Blankenship also participated in the job shadow at Kohler, and says it was "an eye-opening experience" to get a glimpse into the company's culture and daily activities.
Kohler hosted students within two tracks, supply chain and finance/accounting. Students had the opportunity to tour the company's innovation center and manufacturing facility before splitting into their chosen tracks for more focused conversations and learning.
For Blankenship, the chance to network with accounting and finance professionals at both entry-level and senior vice president positions was highly valuable.
"As a result of this networking, I was able to connect a Kohler professional with Women in Finance and Accounting, a student organization that I am the co-president for. We are planning to host them later this semester for an event."
Tech and innovation immersion
Career treks—multi-day trips for WSB students to visit a major U.S. city to meet with top employers and learn about the region's business culture—have been a staple of the school's career exploration offerings.
In January, 20 WSB students, mostly sophomores and juniors, took a three-day career trek to tech hub Austin, Texas—the first trek taking place outside of the Midwest.
"We chose Austin as we've seen an increase in student interest to the area given the number of post-graduate placements over the past several years," Quesnell says. "Austin is also a growing hub for tech talent that has witnessed the relocation and establishment of many prominent tech-based companies' primary and regional headquarters."
Participating employers included Self Financial, Expedia Corporation, Dell Corporation, Visa, Oracle, and Whole Foods Market. Students visited each companies' headquarters in two-hour increments, taking part in "speed networking" sessions and networking lunches with company employees, hearing from alumni in Q&A panels, learning about company culture and history, and participating in facility tours.
Arwa Bashir (BBA '24) says she would highly recommend the experience.
"I decided to attend the Austin career trek because I wanted to gain some insight on real-world experiences and meet new people of diverse backgrounds in a corporate setting," says Bashir. "Because the focus of the trek was on technology and innovation, which aligns with my goals for the future, I was excited to see what life would be like if I pursue this field."
For marketing and supply chain management major An "Simon" Cao (BBA '25), the trip offered a fresh perspective.
"The Austin career trek truly showed me that career paths aren't supposed to be linear," says Cao. "Learning and listening to industry professionals and recognizing that some of their academic backgrounds didn't correlate to what they are doing now truly made me realize I should be open to learning all disciplines within the realm of business—and most importantly, that it is ok to be uncertain of your future career paths."
Quesnell says the annual two-track career trek in finance/real estate and marketing/consulting is set for Chicago in March, with another trek planned to Minneapolis in August. Treks in January and May will rotate locations annually, with options including Seattle, Boston, San Francisco, and New York City.
The trek expansion plans are just one part of the school's larger vision for WSB undergraduate students.
"As part of our Career Forward initiative, we are committed to supporting student career exploration and development through the creation of signature experiences," says Jones.  "We look forward to continuing to expand our offerings for these types of opportunities in the future."
---