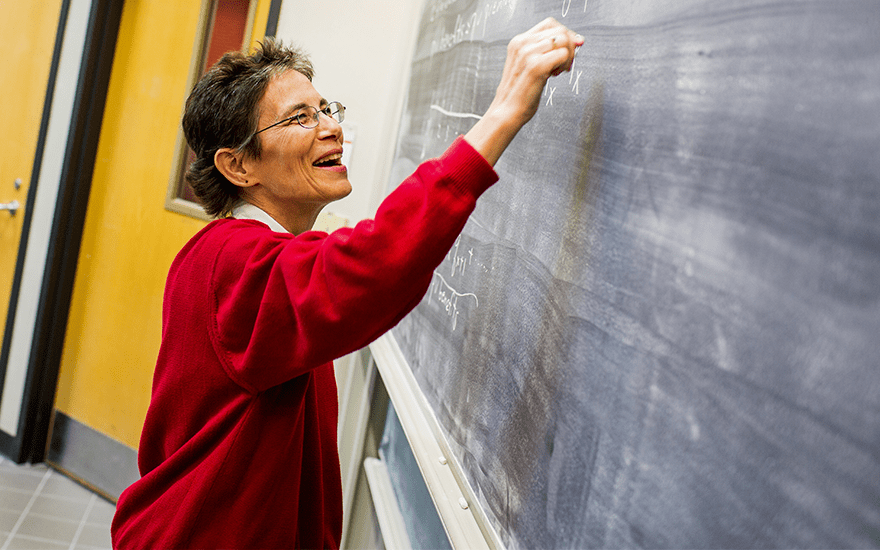 Margie Rosenberg can still recall a turning point moment from several years back. She was demonstrating a computer application in front of a class.
"They can't see a thing that I'm doing up here," she remembers thinking. "They can't see what keys I'm hitting, they can't see where the mouse is, they don't know where to look—there's just too much clutter on the screen."
"This was long before R was taught (a free software used widely in the actuarial science industry)," explains Rosenberg, a professor of risk and insurance and the Assurant Health Professor in Actuarial Science at the Wisconsin School of Business. "But I realized back then, if I wanted students to use R, I would have them do it during the class. I could lecture some, give them an in-class tutorial, and then have them do it themselves. Then when they have homework or a project, they have learned enough to do it on their own."
Now the Michael E. Lehman Distinguished Chair for Inspired Learning in Business, Rosenberg has not only incorporated the software in her classroom, she's used her award to develop an analytics tool—an R tutorial—that offers students from all majors a foundation in R for their analytics classes.
"The idea here is that along with a lot of others who are using statistical packages in the classroom, the purpose of the course is not to learn the software, but to take the software and apply it to the course material so that you can understand the course material better," Rosenberg says.
"None of our classes teach you how to program. We do the programming because then we can say, 'What if we change this? How do your inputs and outputs change?' That's where the learning of the course material comes into play."
Conscious design
Rosenberg had been learning R on her own for over 10 years, and started bringing elements of it into the classroom in 2011.
Deciding what would work best for R beginners was tricky. The problem in part was that classes solely on R can be overwhelming, Rosenberg says. "You go through these courses and it's like, why do I need this level of detail? I thought, with everyone getting into analytics, why should everybody reinvent the wheel on this basic stuff?"
The other issue was what format any supplementary teaching tool should take—paper, online, video?
Rosenberg decided to create an online tutorial, a "book" that could be housed on a single, shareable link and "operates like a hyperlinked document," she explains.
Since the book is designed as a tutorial, it gives students the code commands but includes additional prompts, asking students questions they have to think through as they go.
Rosenberg also designed it with an awareness of aesthetic and user-friendly elements like spacing and clarity. She says she deliberately elected not to include command outputs in the book. Instead, students type the command codes into their own computers to see the results.
"The challenges are, how do you best teach?" Rosenberg asks rhetorically. "With a simple switch, I could make it so the commands produced output. I tried that visually and it cluttered up the screen."
Users can also have the option to create PDFs and can employ the search function to find where certain terms are used throughout the book. The tutorial is also responsive to change; she can update the contents as needed.
A need beyond Excel
For actuarial and other analytics students, there is a need to go beyond Excel, Rosenberg says.
"How do you do regression analysis without a statistical package? Excel is good for some things, not others," she explains.
"Actuarial and analytics students need to really delve deeply, and they would have to program their own functions in Excel to make that happen. R has those functions already."
Rosenberg will be using R and teaching with the book for the first time in her health analytics and regression courses in the 2019-20 academic year. Her classroom work with R crosses over to her research and vice versa: she was able to incorporate ideas from her health research into her health analytics course for students to practice with, preparing them for the future.
She relates that both actuarial professional societies, the Casualty Actuarial Society and the Society of Actuaries, have increased material on learning predictive analytics. The Society of Actuaries now has a new exam called Predictive Analytics that uses R, and other courses at WSB are using R.
"We want it reinforced when they're younger so that once they get to the classes where you absolutely need it, they'll have a better understanding," Rosenberg says.
An innovation that invites collaboration
The beauty of Rosenberg's book is that it is designed for collaboration. Since the tutorial is about R and not field-specific, it can work for anyone doing analytics.
She has shared the link already with WSB colleagues like Kirk Peter, a lecturer in the Department of Risk and Insurance.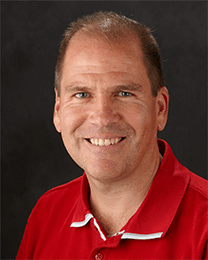 "In teaching our entry level actuarial science course, Actuarial Science 303—taken by mostly freshmen and sophomores—we have recently included a number of assignments throughout the semester where students are required to use the R programming language since R is an important skill for actuaries to have in their toolbox," Peter explains. "Since for almost all students taking this class, this is the first time that they have been introduced to R as a programming language, it is super helpful for them to have Margie Rosenberg's tutorial book on R as a resource for them in the learning process."
Rosenberg is gratified to see the progress in her students as a result of using the tool.
"The difference in the students between the beginning of the semester and the end is like night and day. In the beginning, they're petrified. By the end, they'll say, 'Margie, you have an error in your tutorial. It needs to be this.'"
"I'm just eternally grateful to the donors that I was supported to do this and that people care about investment in learning," Rosenberg says. "Having the time to think and to create is invaluable because it creates a better product that increases learning of our students."
Since 2015, the Inspired Learning Chair and Inspired Learning Professorship awards support, recognize, and reward extraordinary scholars who advance business education at the Wisconsin School of Business.
Read about previous Inspired Learning projects:
Auditing Course Redesign Prepares Students to Succeed from Day One
Innovative Case Study Simulates Risk Management Consultancy
---