People find inspiration for their careers in all sorts of places. Brandon Shields found his in a can of Pringles.
While deployed in Afghanistan in 2012-13, the then-Marine Corps lieutenant received care packages filled with products from home.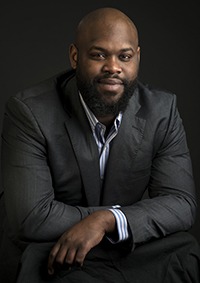 "There would always be something that brought me out of the combat zone," he says. "A can of Pringles would bring me back to being with my siblings sharing them, or even ChapStick would take me back home. Out in the desert, your lips get so chapped and dry. You get a package like that from home that allows you to heal, it makes you feel human again."
Now Shields is back in the U.S., a captain in the Marine Reserves, and a Consortium student at the Wisconsin School of Business pursuing his MBA specializing in brand and product management.
"I thought I could help foster that relationship between products and the connection people have to them," he says about his interest in marketing.
Shields graduated with a bachelor's degree in political science from Bates College in Lewiston, Maine, before joining the Marines. In researching his post-Marines educational plans, he discovered The Consortium and its commitment to helping provide opportunities for qualified MBA candidates from underrepresented minority groups.
"I can't even think of many minorities with MBAs that I met before this," Shields says. "I can think of black lawyers and black doctors that I've met in my life but MBAs? No. It really is an underrepresented degree within the underrepresented minority community."
Shields is helping recruit more veterans into the Wisconsin MBA Program, working parttime as a student for the Wisconsin Full-Time MBA Admissions Office.
"Companies know what veterans bring to the table, and I want to make sure every veteran who is qualified realizes that as well," he says.
With Shields's leadership skills developed in the military and his passion for marketing, DuPont selected him for its prestigious Management Leadership Development Program summer internship. He worked on new product development, assessing the market, making site visits, and making a launch recommendation.
He brought to his internship an entrepreneur's eye that will be honed through the Wisconsin Fellowship in Enterprise Development through the Weinert Center for Entrepreneurship at the Wisconsin School of Business.
"It's great with a 200-year-old company because that mindset will really help them," he said of DuPont. "You have to take that kind of approach in these massive corporations."
Shields is working on developing an app to help people find dependable child care. As a single father to a toddler son, child care was a particular challenge to him coming to Madison to pursue his MBA and moving for his internship in Wilmington, Delaware.
Shields' transition from Marine to MBA student was a quick one. Just a week after leaving the School of Infantry at Camp Geiger in North Carolina, he was in Phoenix for the intensive orientation program held each summer for first-year Consortium students. Academics were fine, Shields says, but the civilian rhythm of life took some adjusting.
"There was a loss of rank and power that I had where I could just ask someone and a task I needed to get accomplished would get accomplished," he says. "Or if one of my superior officers asked to do something, I would. There is less structure in the academic world."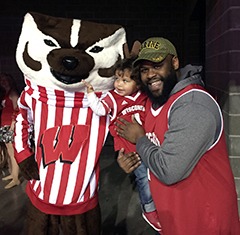 Yet the military experience helped him keep his eye on the big picture as he juggled academics and family life as a first-year MBA student.
"In the military, you have to think strategically," he said. "You can't get worked up over a grade or something very small. You have to think about what's going to happen next, and bringing that perspective to the MBA program has really helped."
Shields' next move isn't certain when he graduates next year, he says, as he'll spend the next year deciding between a startup launch of his child care app or taking a brand management job elsewhere.
One thing is certain, however: his desire to be part of the Business Badger community.
"Wisconsin alumni are so powerful in that network that things just happen," he says. "It's a great network. I can't wait to be part of it and help people and my fellow Badgers."
Read Brandon Shields's post "4 Reasons Why the Wisconsin MBA Is a Strong Choice for Veterans" written for the Wisconsin MBA Admissions Blog.
Read more about the Wisconsin School of Business's celebration of its 50 years as a Consortium founding partner.
---