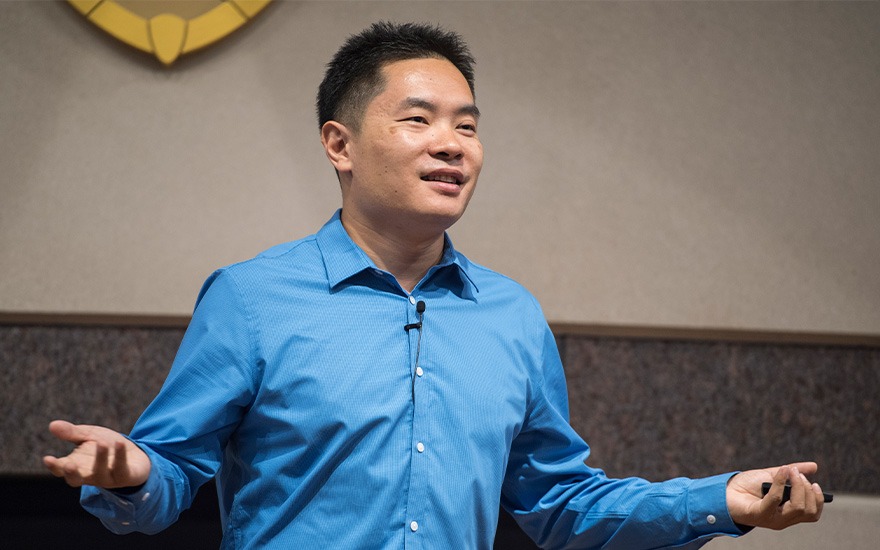 The meaning of success is not a one-size-fits-all definition. We each have different goals, perspectives, and past experiences that shape how we might characterize success. But nearly all of us are inspired by hearing the stories of others, as exemplified by the M. Keith Weikel MBA Leadership Speaker Series at the Wisconsin School of Business.
Founded in 2004 and specifically designed for Wisconsin MBA students, the Weikel series invites some of the biggest names in industry—many of whom are distinguished alumni—to share their career insights, business acumen, and life experience with the audience. Read on for excerpts about success from their talks at the School.
Susan Chapman-Hughes (MBA '98) returned to her alma mater to talk about her career path and current roles as executive vice president, Global Head of Digital Capabilities, Transformation and Operations, GCS at American Express. She spoke about what she looks for when making a career move:
As chairman and CEO of Exact Sciences, Kevin Conroy has led the fast-growing Madison company to more than 2,800 employees. He shared why success goes beyond personal goals:
For Ann Mukherjee, chairman and CEO, North America at Pernod Ricard, authenticity is the cornerstone of being a leader. Her life adversities deepened her resiliency, eventually leading her to an MBA at the University of Chicago's Booth School of Business and to the belief that being a professional means bringing all of one's authentic self–not just the positive aspects—to the table:
John Peirson (BBA '88), CEO of Deloitte Risk and Financial Advisory, entertained and inspired Business Badgers with his down-to-earth humor and honesty when he returned to his alma mater to talk career paths. Comparing his trajectory to the board game Chutes and Ladders, Peirson described how what had looked like setbacks at the time actually helped build his success in the long run:
Jia Jiang wrote the book on failure, literally. In Rejection Proof, entrepreneur and failure expert Jiang detailed how he became inured to rejection by making requests of complete strangers, every day for 100 days. The result? When "no" ceases to scare us, we give ourselves a chance to succeed, says Jiang:
The M. Keith Weikel Leadership Speaker Series at the Wisconsin School of Business enables Wisconsin MBA students and alumni to interact with and learn from accomplished business leaders. Executives from both the private and public sectors are invited to campus to address students.
The series was established in 2004 with a gift by John J. Oros (BBA '71) and his wife, Anne Wackman. Today, the series continues as the M. Keith Weikel MBA Leadership Speaker Series thanks to a gift by M. Keith Weikel (PhD '66) and his wife, Barbara.
---