Katie Krueger (MBA '11) realizes her students have never known life without the Internet, but that doesn't mean they know how to use it as a business tool.
That's why the Wisconsin School of Business marketing lecturer has students in her Marketing in the Digital Age class creating content for a website that will build practical skills as well as connect them to future students, the community, and the world beyond.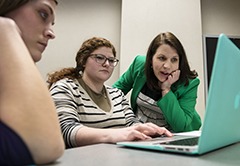 "I find that students really enjoy learning by doing, so I thought it would be cool if we as a class could build something together and use that as a learning tool," Krueger says. "What I wanted to build was a website so we could look at the back end of it and learn the analytics, because that's a really important skill for anyone in digital marketing."
Krueger is able to accomplish her goal of creating an applied learning project after being awarded an Educational Innovation Grant from the Office of the Provost. The award supports the development of a public website that is being created this semester and will grow as future classes build upon it by creating more content. Twenty-one grants were awarded from 66 proposals.
The website will have three main components:
An online version of Krueger's digital marketing class. The site will include the syllabus and most of the readings she assigns, videos shown in class, transcriptions of her lectures, and links to other supporting materials. "It would be useful for college students somewhere else in the world or professors who are teaching a similar class," she says.
A curation of open education resources (OERs). It would include materials that are relevant to her class but didn't fit into the curriculum.
Student work. It might be a blog post or infographic about digital marketing, and for privacy reasons it would be optional.  Students could use it as an online portfolio of their work when interviewing for jobs.
"Over time, we would build enough content so the website can be a resource for anyone online who wants to learn more about digital marketing," she says.
Collaborating with the community
The class connects with the public—and with the Wisconsin Idea—through another project. Each semester, students in her class work on a consulting project with a local small business, nonprofit, community group, or student group of their choice. They create a digital marketing strategy for the organization, and in the future, will be able to share some of those strategies on the website.
"Students tell me they'll talk about it in a job interview and when a prospective employer asks, 'Do you have any samples of your work?' they'll share what they did for that project from my class," Krueger says.
In Krueger's course, students learn how to get a business found online, about paid advertising options, such as Facebook, banner, and paid search ads, as well as email marketing, social media marketing, and analytics.
It's information Weston Wolfer (BBA '17) uses in a part-time job he has with Strategic Partners Marketing in Madison. He handles social media for the company and its clients, as well as being involved with blog writing and email marketing. As he learns to fine-tune messaging in the classroom, he applies it to his job and his own social media pages.
"I try to write in a certain style, trying to engage people more rather than just posting whatever I happen to think of," he says.
His group project in class was helping a local bowling alley with its digital marketing, offering ways to make its social media presence more engaging and to promote lesser-known services, such as catering.
Putting classwork into action is part of the appeal of the class, Wolfer says.
"It's a really engaging class, it's very unique. She actually brings tools into the class that we can use," Wolfer says. "You're going to be using this stuff in the real world, why not be introduced to it now?"
A tool that works beyond the classroom
The educational innovation grant allowed Krueger to hire a student to help her build the site. Megan Theodoro (BBA '16) spent the semester working on a clean, easy-to-navigate site to appeal to students and those from outside the WSB who want to learn more about digital marketing.
Theodoro created a page with a feature called "You Know You're a Badger When …" in order to draw some traffic to the site and demonstrate web analytics to the students in Krueger's class. Students in the class created a trackable link to the page and encouraged people they know to visit it as part of a "class campaign." Through Google Analytics, students could glean details about user traffic to the website, from which browser or device visitors used to where visitors came from before clicking on the website and what they did while they were there. Students could also tell whose link brought the most traffic to the page.
"It's kind of creepy, but it's really good insight for your company," said Theodoro, who will work as a marketing specialist with RockAuto, a national e-commerce auto parts site based in Madison, after graduation.  "The analytics really help because if you see a lot of people coming to your site on a mobile device, your site should be mobile-responsive."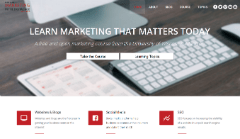 The class website, marketinginthedigitalage.com, went live at the end of the Spring 2016 semester. It will be bare bones at the beginning with primarily class resources, Krueger says, but within three years the majority of the content will be student-created.
"The area of open educational resources is an interesting one within educational innovation. Katie Krueger is one of the leaders in this space for WSB," says Suzanne Dove, assistant dean for academic innovations at the Wisconsin School of Business. "Not only does the public digital marketing website provide an authentic experience where students apply what they learn in this fast-evolving field, it also benefits community and business partners by providing information that helps them address a business need."
Krueger says she looks forward to what she will learn along the way as the site is created and updated, as well as the chance to bring innovation to the classroom in how students learn and engage.
"I'm always looking for new
ways to teach and new ways to get people to learn," she says. "It's even better when we can contribute to the larger community at the same time."
---