The Wisconsin School of Business welcomed technology leader Rana el Kaliouby for a virtual conversation with Wisconsin MBA students as part of the M. Keith Weikel Leadership Speaker Series. El Kaliouby is CEO and co-founder of the artificial intelligence (AI) company Affectiva and author of "Girl Decoded: A Scientist's Quest to Reclaim Our Humanity by Bringing Emotional Intelligence to Technology."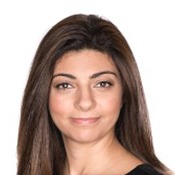 Named one of Fortune's 40 Under 40 and Forbes' Top 50 Women in Tech, el Kaliouby's work is at the intersection of emotional intelligence and AI. She earned a PhD from the University of Cambridge and a postdoctorate at MIT, where her company grew out of the MIT Media Lab. El Kaliouby also serves as a World Economic Forum Young Global Leader and has co-hosted a PBS NOVA series on AI.
Read excerpts from her WSB talk:
With technology, we're often together, alone. Logging countless hours in front of her computer while a doctoral student at Cambridge gave el Kaliouby insights that would inform her later work. "I just realized, I'm spending so much time with this device, and despite our 'intimacy,' this device has absolutely no clue how I'm feeling."
She also noticed that texting, the primary mode of communicating with her family back home, left much to be desired. "It was an illusion of a connection, it was not a real, human, authentic connection. That made me realize that we should redesign our technology, our social media platforms … and email to incorporate these natural nonverbal signals, which are very key in how we connect and how we communicate, how we build trust and loyalty. It's really critical."
Why emotional intelligence (EQ) should not be undervalued. Cognitive intelligence is just one piece of the puzzle, el Kaliouby maintains. "Your emotional IQ really matters. We all know that from our professional and personal lives." Research shows that EQ can often be a predictor of success and even happiness, as individuals with higher EQs tend to fare better overall in life. "This marriage between EQ and IQ is really important in human intelligence, and I believe it's equally as important in artificial intelligence."
As AI becomes more and more entrenched in modern life, technology must have "people smarts" as well, el Kaliouby says, and her goal is to make that vision a reality. "The 90% of nonverbal communication that we use through our facial expressions, and our body language, and our vocal intonations—I'm in the business of capturing that data. Traditionally it's just lost in cyberspace. I'm on a mission to capture that data and there are a lot of applications once you do that."
Taking on multiple roles is worth the challenge. While el Kaliouby says being a mom (she has a daughter, 17, and a son, 11) is "the thing I'm most proud of," she relishes the CEO role. "I just love the job. It's really stressful. I feel like I'm on a daily emotional rollercoaster. Sometimes I feel like we're on top of the world, we're going to crush this, and then the next day we don't even know if we're going to survive—it's that kind of existential journey. But I love seeing our team grow and the professional and personal growth of the members on our team. I'm just very proud that we get to be part of that journey."
Watch el Kaliouby's full talk hosted by the Wisconsin School of Business:
The M. Keith Weikel Leadership Speaker Series at the Wisconsin School of Business enables Wisconsin MBA students to interact with and learn from accomplished business leaders and alumni. Executives from both the private and public sectors are invited to campus to address students.
The series was established in 2004 with a gift by John J. Oros (BBA '71) and his wife, Anne Wackman. Today, the series continues as the M. Keith Weikel MBA Leadership Speaker Series thanks to a gift by M. Keith Weikel (PhD '66) and his wife, Barbara.
---