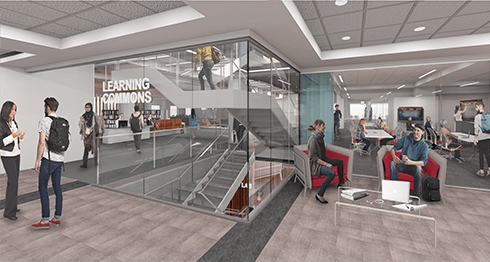 Imagine a student studying in a stream of sunlight. One floor down, an instructor and industry leader walk participants through the latest cutting-edge software in a classroom outfitted with mobile furniture and chairs. Nearby, a small group plans a presentation in a semi-private breakout room. Glass panels mute sound and reflect light, linking together stairways, open spaces, and classrooms.
All of this is a view into what project architect Traci Lesneski calls the "something wonderful"—the transformative learning experiences—happening inside.
This fall, that vision will be on its way to reality with the Wisconsin School of Business's Learning Commons, a collaboration between WSB and the University of Wisconsin–Madison General Library System that will renovate nearly 35,000 square feet of Grainger Hall and unify three existing floors into one cohesive commons.
Underscoring WSB's commitment to educational innovation, the Learning Commons will be a locale for making, doing, producing, and innovating—a vibrant place for students to collaborate, exchange ideas, and dream big while meeting the demand for more active learning spaces. While the exterior of Grainger Hall will remain unchanged, the inside will be opened up and transformed by the intentional use of natural light and glass, the School's brand, Together Forward, woven throughout, and the creation of spaces that facilitate active learning and collaboration.

"People are going to want to be in this space," says Meloney Linder, associate dean of communications, facilities, and technology. "I don't know if we can even predict all of the ways our community will use the space."With construction beginning in Fall 2017 and scheduled to finish in Spring 2018, the project will connect the School's west and east wings, completed in 1993 and 2008, respectively. The Learning Commons will create a visible heart for the building and bring together the two wings of Grainger Hall, both visually and programmatically.
From seed to fruition
Initially, the Learning Commons grew out of a conversation among a small group of WSB visionaries.
Inspired by a student trip to New York City and discussions with alumni working on Wall Street, Mark Fedenia, associate professor of finance, started brainstorming the creation of a finance-focused computer lab within a new space that would broadly serve the entire WSB community. Pulling in WSB alumnus Ricky Sandler (BBA '91), Michael Enyart, director of the Business Library, and Gwen Eudey, director of the Business Learning Center, the group began to imagine what might be possible—sparking the initial idea for the Learning Commons idea.
"We saw a need for a new finance lab that would give students access to industry software and real-time data, but our vision was much larger than that," reflects Fedenia. "We pictured a comprehensive renovation that would benefit students from any major or discipline through a reimagined learning environment."
Taking into account the success of and demand for WSB's first collaborative learning classroom, the team realized that the project naturally dovetailed with so many other desired innovations: greater opportunities for active learning, streamlined technology offerings, multiple areas for tutoring, and a greater sense of community and unified physical space for the School as a whole.
"We started dreaming: What if we could take the second and third floors of the business library, create a finance and analytics lab, add more active learning classrooms, and transform our dated business library into a truly state-of-the-art, modern learning commons?" Linder says.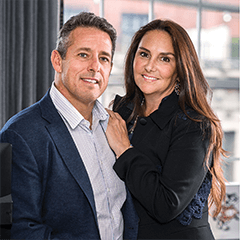 Expanding the scope of the renovation, however, also meant expanding the project's cost. With $11 million needed for construction, plus an additional $6 million in endowment funds to support ongoing operations, the School partnered with the UW Foundation to seek out donors who would be willing to fund the entire cost of the renovation. Spearheaded by a generous lead gift from Ricky and Mara Sandler (B.A. '91), donors have generously supported this vision with critical gifts totaling nearly $8 million to date.
"Our donors are the empowering force that recognized the potential of this project early on and made the commitment to bring it to fruition," says Linder. "Private support is key to allowing us to make this endeavor come to life in such an impactful way."
Spaces that inspire
Potter Lawson/MSR, the two-firm design team contracted for the project, has extensive experience in designing active learning spaces and libraries for both the public and private sectors. Potter Lawson is a local firm that has designed a number of UW–Madison buildings, while MSR is Minneapolis-based with a portfolio of more than 200 libraries globally. The team previously collaborated on the downtown Madison Central Public Library.
MSR Principal Traci Lesneski and Potter Lawson Design Director Doug Hursh drew from WSB's established space principles to help bring the School's vision to life, incorporating values into the design like flexibility, inspiration, and user experience. Working with the School's goal of transitioning from a focus on seats to a focus on spaces, the team designed the Learning Commons as a place where students can self-select their environments and study experience.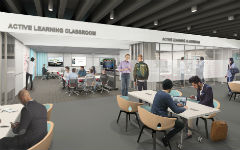 Inspiring spaces are also healthy spaces, and being "human-centric" establishes a positive focus on wellness and health, Lesneski says. One of the patterns that came out of the project's initial feasibility study was the idea of "artful engagement"—merging the campus' different disciplines and bringing art and beauty into the space, including the School's branding and color palette.
The Learning Commons will feature a variety of LED lighting and will harvest as much available daylight as possible. U
sing light as a design element, the final design will make use of natural views and sightlines to create a harmonious aesthetic and an environment that is more conducive to learning. The project will also channel ambient noise to help users focus without distractions.
"We know that when students' needs are taken care of they can learn better, they can concentrate better," Lesneski says. "So access to daylight and views are not just nice things that make a space more attractive or nicer to be in; they actually have impacts on learning."
Sustainable, intuitive design
Merging the building's east and west wings and leveraging what will be a strong vertical connection between all three floors is a driving force of the project, says Lesneski.
Once completed, the project will allow for what the Potter Lawson/MSR team calls "intuitive program sorting," where users gravitate toward the type of environment that suits their needs by floor—active to quiet, collaborative to individual.
Hursh says that philosophy reflects the feedback the team received in the initial planning stages of the project: Students don't want one-size-fits-all learning spaces.
"They want a different variety of spaces to work in depending on the type of task that they're doing."

Transformation highlights
Key elements of the Learning Commons project include:
Huber Lab (First floor)
The existing undergraduate computer lab will be incorporated into the project, undergoing changes to meet the needs of today's students. The space will transform from rows of front-facing desks to an interactive, high-tech environment that lets students define their own study experience. The School utilized heat mapping to identify high-traffic seating areas and reduce density in the underutilized spaces.
Finance and Analytics Lab (First floor)
The state-of-the-art Finance and Analytics Lab will offer users cutting-edge technology and software. Through the investment of donors, students will learn how to utilize Bloomberg Terminal, an otherwise cost-prohibitive software that allows real-time access to market data. The 45-seat lab will have video and other capabilities for teaching remotely.
Business Library (Second and third floors)
WSB's Business Library is the third most utilized library on the UW–Madison campus. Consistent with the nationwide trend of reduced on-site print collections, static shelving will decrease the number of book stacks needed, allowing for more flexible spaces and microenvironments.
Business Learning Center (Second floor)
The center provides tutoring services to as many as 3,000 students each year. The currently enclosed classrooms will be renovated into five active learning classrooms of 24 seats each; two of the classrooms can open into larger capacities of 50 each.
The first floor renovations will use glass to increase visibility into many areas previously closed off, including the future Finance and Analytics Lab and the Huber Lab, as well as opening up the building's dark first floor hallways and the walls surrounding the MBA lounges and breakout rooms.
Creating that intentional visibility—getting to see WSB students in action, working and creating—in areas like the School's west atrium and University Avenue entrance where the Finance and Analytics Lab will be located is critical, says Lindsey Honeyager, director of facilities and event services at WSB.
"When we think about our different pathways and how we celebrate the School, the Finance and Analytics Lab will be a great recruiting tool for faculty, staff, and students," says Honeyager. "This lab will transform our approach toward inspiring learning and create something that really resonates with students who are majoring in business."
The second floor is designed for both independent and group work, with five active learning classrooms, two breakout rooms, and areas for collaborative gathering and casual seating.
"We are always crowded with students in our current space," says Michael Enyart, director of the Business Library. "The renovation will not only give us more and better space, but more importantly, it will be an incredible opportunity for student learning and collaboration."
The third floor is geared toward quiet, head-down study—a place students can find private nooks and areas for individual work. The floor will also have eight breakout rooms. Current long, linear tables in rows will be replaced with a variety of more comfortable seating options. Stationary shelving reduces the density of traditional book stacks and frees up more open space and areas for students to occupy.
All three levels will have stairs that connect the floors top to bottom, ADA access, power plug-ins for electronic devices, and after-hours accommodation.
Toward a 21st Century Learning Commons
Melding Grainger Hall's history with the dynamic, cutting-edge environment of the Learning Commons will create a crossroads of activity, a central hub for inter-disciplinary sharing across campus and student communities. It will be a space where the "four Cs" that inform learning commons design—creativity, collaboration, critical thinking, and communication—can naturally take place.
"A business student taking an art class asked me, 'Could we bring artists in here? Could people make things here?'" Lesneski says, recalling a question from a student early on in the project's planning stages. "They were starting to see possibilities for cross-disciplinary learning that are outside the core of the business school."
"Investing in our physical space is a huge element of our brand, but it's also a community-building piece for students, faculty and staff, alumni, donors, and the campus at large," Honeyager says.
"We wanted to create a space with an eye to the future. It's going to be an amazing model of what a learning commons can be."
Please email LC@wsb.wisc.edu with any questions about the Learning Commons.
---