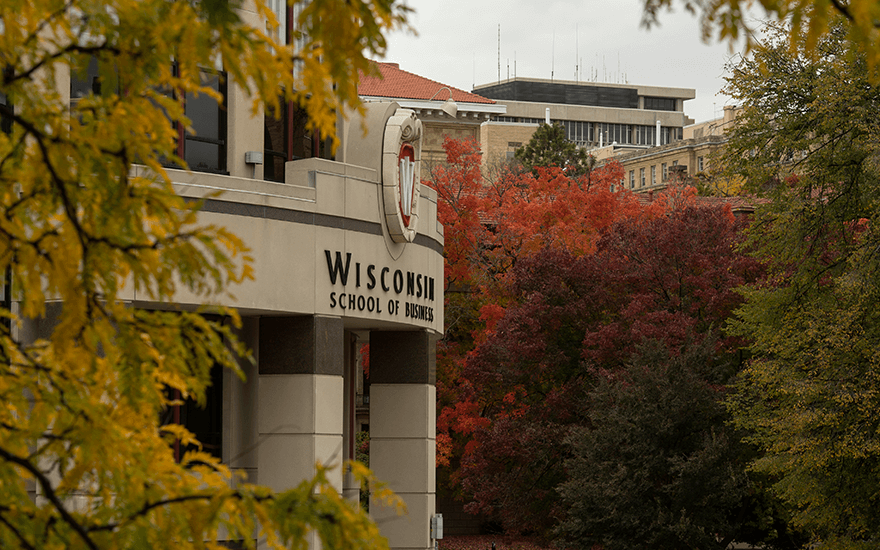 Even in an unprecedented year because of the coronavirus pandemic, the Wisconsin School of Business started the Fall 2020 semester with high student enrollment across both its undergraduate and graduate programs and continued to post strong rankings.
The School welcomed 1,059 new students into its undergraduate program, an increase of 5.5% from last year. Of this new group, 477 were admitted as current UW–Madison students and 582 were admitted directly out of high school—up 12% from the previous year.
Across WSB's graduate portfolio, the incoming class is larger than it's ever been. Enrollment in the Wisconsin Full-Time MBA Program grew to 96 students this academic year, an increase of more than 45%. Enrollment in one-year master's programs totaled 219 students across six different programs. This includes accelerated growth in the second year of the School's MS programs in business analytics, real estate, and supply chain, and marks a strong start to the new master's program in arts and creative enterprise leadership. The part-time MBA and PhD programs also remain strong.
U.S. News &World Report recently released its annual rankings for undergraduate business schools, placing WSB as the #7 undergraduate business program among public universities, and #16 overall.
Several of WSB's academic majors are ranked highly by U.S. News & World Report as well.
Real estate: #1 public; #2 overall
Risk and insurance: #2 public; #2 overall
Marketing: #7 public; #9 overall
Accounting: #10 public; #16 overall
Supply chain: #15 public; #18 overall
Management: #15 public; #26 overall
International business: #17 public; #27 overall
QS World University Rankings also recently ranked WSB's Master's in Business Analytics the #7 program in the United States.
The start of the academic year marked Vallabh "Samba" Sambamurthy's one-year anniversary as WSB's Albert O. Nicholas Dean. Sambamurthy reflected on the year's highlights and challenges and shared his thoughts on the year ahead as the School implements a five-year strategic plan known as Roadmap 2025.
"We are starting this year on strong footing, despite facing continued challenges and uncertainty. Our rankings and enrollment numbers speak to the continued strength of our programs, as well as the resilience of the entire Business Badger community," Sambamurthy says. "I look forward to continued success as we implement our strategic plan and deliver the world-class education, research, and service for which we are known."
---