Wisconsin School of Business supply chain students Tanishka Jain (BBA '22) and Sophia Anizor (BBA '23) are the recipients of the 2021 Humanitarian Logistics Award from the American Logistics Aid Network (ALAN). The award recognizes Jain and Anizor's brand awareness and supply chain achievements in advancing ALAN's humanitarian mission.
ALAN is an industry-wide organization that provides supply chain assistance to disaster relief organizations and other nonprofits. ALAN Executive Director Kathy Fulton reached out to Jake Dean, director of WSB's Grainger Center for Supply Chain Management, about the possibility of supply chain students participating in a project last summer.
"Students in the supply chain management major consistently show interest in humanitarian efforts and wanting to make a positive impact in the world," says Danielle Zink, assistant director of the Grainger Center. "When the opportunity to assist ALAN came to the center, I knew we would have interest from our students to help. In collaboration with students from W.P. Carrey School of Business at Arizona State University and the University of Tennessee, Knoxville, Tanishka and Sophia made an impact on ALAN's day-to-day operations through enhancing their brand awareness strategy, volunteer retention efforts, and salesforce implementation."
Each school was given different roles—brand awareness, logistics, and software integration—and the members performed in an all-volunteer, fully online capacity.
Building ALAN's brand awareness
Jain and Anizor worked on brand awareness, presenting their results to ALAN's board of directors at the end of the summer.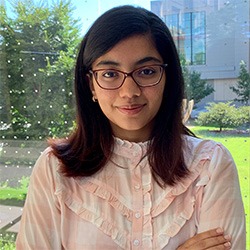 Jain says their process started by meeting with ALAN board members to establish what the current brand image was, as well as doing market research on the organization's website. They also read through secondary interviews ALAN had done with former volunteers and employees to better understand how the organization was perceived, and used word cloud analyses to see what words first popped into people's heads when "ALAN" was mentioned ("safety," "help," and "relief" were popular). They also created an email campaign and template that would be valuable for reaching groups like volunteers, stakeholders, and fundraisers.
Jain and Anizor gave ALAN members five potential slogans—some new, some modified from the organization's current website. Jain says they worked through the nuances of the slogan, which needed to underscore how the organization bridges the gap between intention and execution.
Jain and Anizor also drew on expertise gained at WSB, integrating the skills and concepts they had learned in the classroom in areas such as brand image and consumer attitudes. Jain says she applied knowledge from her marketing classes and was influenced by research takeaways on ownership from WSB's Joann Peck, the Irwin Maier Professor of Business and a professor of marketing.
"The learning opportunities these projects expose students to is indescribable," Zink says. "Cocurricular projects allow students to gain hands-on experience, collaborate with peers from other universities, and engage with supply chain professionals while making a significant impact."
'A lot of passion for this project'
ALAN gave Jain and Anizor complete autonomy with the project, which was daunting at the outset, Jain says, but it was rewarding to see themselves "finding their own way."
"I think initially the opportunities we had were overwhelming, between realizing our role, and at the same time, feeling the pressure of how much work we were doing to help. It was a very overwhelming feeling, but I think we both had a lot of passion for this project."
The pair laid out a charter and a detailed action plan, and benefited from their ability to collaborate. "A lot of time in group projects, we have this thing where we're worried about the other person's work and whether they are doing it," Jain says. "Sophia and I doubled up on that trust very fast. We were able to trust each other, work with each other's strengths, and just ask for help when we needed it."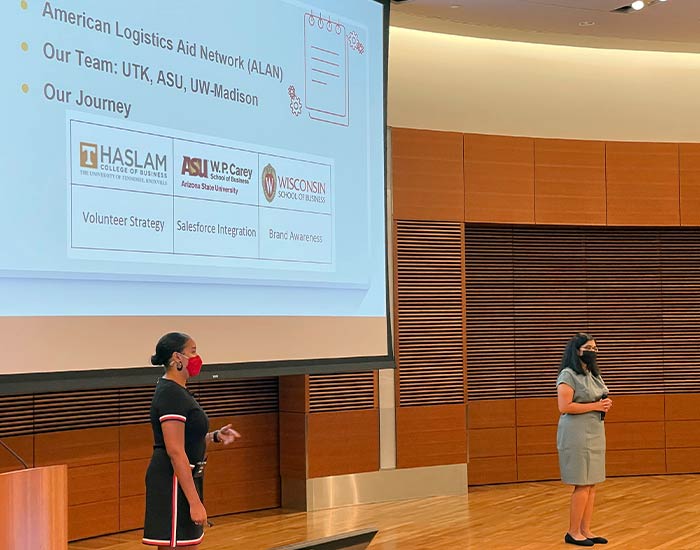 That approach was also successful when working with the other school teams, a group of around 30 students at any given time. Since all of the components were interrelated, Jain says they couldn't complete their part without the other schools performing theirs and vice versa.
"If I were to sum up my experience in a few sentences, it would be about the impact a group of college students could have on an organization like ALAN," says Anizor. "I was able to see everyone's growth in their projects during our six weeks."
Jain said she and Anizor were surprised when they got the news that they had won an award.
"I believe that tomorrow, if we wanted to, we could go back and volunteer for ALAN. At the end of the day, they wanted us to know that we are part of the family," Jain says. "So I think in the end, the most rewarding part is the community we formed. We realized just how important that is."
And she credits WSB with opening doors in the first place.
"The Grainger Center has just had such wonderful connections and those connections bring us these amazing opportunities as business students to be able to contribute. I'm really thankful for them to have been able to get these opportunities to us."
---