Ishita Chakraborty, the Thomas and Charlene Landsberg Smith Faculty Fellow and an assistant professor of marketing at the Wisconsin School of Business, is a finalist in two major competitions for her dissertation, "Three Essays on the Role of Unstructured Data in Marketing Research."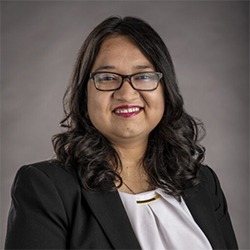 Chakraborty placed as a finalist with the American Marketing Association's annual John A. Howard/AMA Doctoral Award Competition. The competition was open to students who completed requirements for their doctoral degrees in marketing and consumer behavior-related topics between October 1, 2020, and September 30, 2021. The organization named the winner earlier this month.
Chakraborty is also a finalist for the Academy of Marketing Science's Mary Kay, Inc. Doctoral Dissertation Award, sponsored by Mary Kay, Inc. and the Academy of Marketing Science (AMS). The competition is open to doctoral candidates in marketing who completed their dissertations between January 1 and December 31 of the calendar year preceding the AMS annual conference. The winner will be announced at this May's conference.
"Overall, my dissertation illustrates the value of combining 'engineering thinking' underlying machine learning approaches with 'social science thinking' from econometrics to answer novel marketing questions," Chakraborty says. "This philosophy still reflects in all my current work. A key takeaway from the first two chapters of my dissertation is that while there is a lot to learn from online word of mouth, there are issues of selection (who writes and why) which need more serious thought and corrections in order to drive precise insights from this noisy data."
Chakraborty's research interests include digital marketing, online platforms, text and video analytics, and mobile apps. She earned her bachelor's degree in computer engineering at the University of Mumbai, her master's in business administration from the Indian Institute of Management, and her PhD in marketing at the Yale School of Management. Prior to pursuing doctoral work at Yale, she worked in sales, brand management, and consulting with Deloitte, Accenture, and Mondelez International.
Read the paper: "Three Essays on the Role of Unstructured Data in Marketing Research"
---