Launching a New Mission for a New Season
Mental health counselor. Soldier. Psychological Operations specialist.
Soon, James Cox will be able to add "HR professional" to the list of titles he has held.
James' career journey began with a Master of Social Work degree from St. Thomas University. For four and a half years, he counseled patients with serious and persistent mental illness. It was gratifying work, but it took a toll on James' own mental health.
"There's no cure for diagnoses such as schizophrenia," James explains. "Despite the progress you make with your clients, symptoms progress over time, and it was just a difficult thing for me to work with and see. And so I decided to make a career change and I chose the military, something I had been contemplating since high school."
In the Army, James was part of Psychological Operations (PSYOP), a special operations unit that works to influence foreign governments, groups, and individuals in support of U.S. objectives. While serving his country was "the honor of a lifetime," James decided it was time to return home to Wisconsin after two deployments and seven and a half years in the Army to embark on his next adventure: earning his MBA at the Wisconsin School of Business.
James was in the Army for seven and half years, deploying twice and participating in a number of training exercises, including a United Nations peacekeeper qualification course in Indonesia.
James chose to specialize in strategic human resources management because he felt his previous experiences had prepared him for a career in the field. "My time as a mental health counselor provided me experience in building rapport with a variety of personalities, really empathizing with people to overcome everyday challenges," James says. "And my experience in PSYOP helped me understand how to connect with people on a grand scale."
The military is still prevalent in his life, including on campus. He served as co-president of the MBA Veterans Club and maintains a strict workout regimen, even working as a personal trainer at UW's Nicholas Recreation Center last semester. But he is also making an effort to get involved in less familiar ways; for instance, as the "manbassador" for the Graduate Women in Business student organization, he served as an ally to female professionals in the corporate workspace, generating support for club events.
James interned with Johnson & Johnson in 2022, helping develop a diversity, equity, and inclusion strategy for newly acquired employees. He is excited about working on the analytical side of management in the future and hopes to pursue opportunities in people analytics. "In terms of day-to-day work, it's analytics that really get me up in the morning," he says.
With diverse life experiences to draw from in both his education and future career, James is confident his winding path into business brought him to the right place.
"The fact that the program could build on where I already was really surprising and gratifying," James says. "It really gets me excited for the future."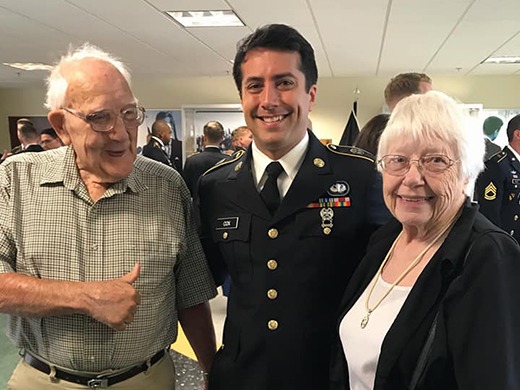 What are some of your hobbies?
Weight training, reading, traveling, and riding my motorcycle.
What are you most proud of?
Earning my Associate of Arts degree in Korean Language while in the military.
Who inspires you?
My mother, who raised me as a single parent for the first eight years of my life, and my grandfather, who was a father figure for me and a World War II veteran.