Jordan Williams
(MBA '13)
Product Experience Director, U.S. Beverage, Starbucks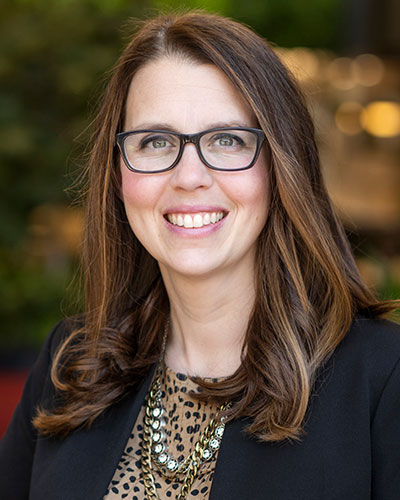 Berit Bauer
(BBA '05)
Vice President – Store Operations, Target
Linda Liu
(MBA '18)
Senior Product Marketing Manager, Intuit
Jordan Tepper
(BBA '08)
Co-founder and Chief Executive Officer, Apologue
Investment Principal, Cleveland Avenue
Blair Wilson
(MBA '13)
Chief Marketing Officer, Hal Leonard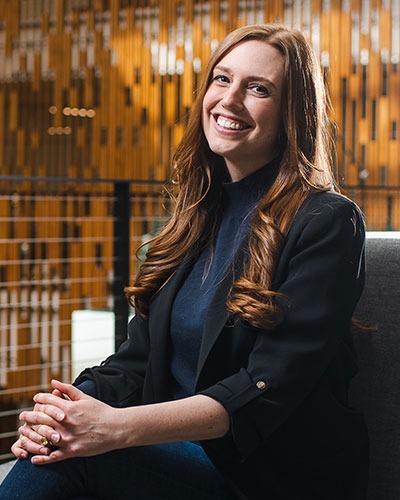 Kristen Forecki
(BBA '05)
Senior Director, Experiences and Devices Strategy, Microsoft
Marjorie Scott
(MBA '12)
Analytics Business Partner, Diversity and Inclusion, Meta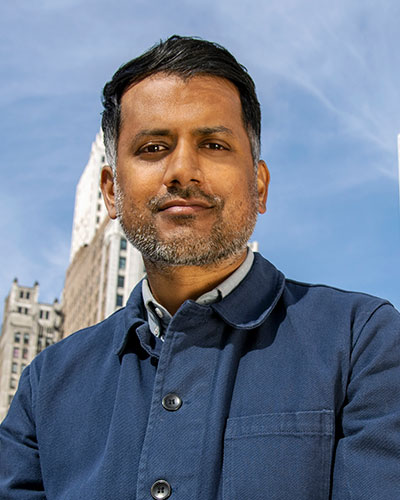 Anish Shah
(BBA '07)
Vice President Sales Operations, Sprout Social, Inc.
Jordan Williams (MBA '13)
Location: Seattle
Title: Product experience director, U.S. Beverage, Starbucks
Previous jobs: Other product/brand positions at Starbucks; associate brand manager, MillerCoors; English teacher and website manager, Middlesex School
Why he's among the 8 to Watch: Williams pivoted a career in education to brand management, rising through the ranks at Starbucks to bring new products to market with a commitment to customer and partner empathy, innovation, and leadership.

Career switch: Williams began his career as a high school English teacher at a private residential boarding school near Boston, where he also managed the website and digital communications. The school launched a rebranding effort and Williams was invited to work on it with the agency. Brand management, consumer research, and storytelling were all new to Williams, and he was hooked.

The impact of a WSB degree: Williams was eager to dive in and learn business, strategy, and marketing fundamentals and engage in applied learning. "It gave me a strong foundation from which I can work."
Lessons learned: After Williams' pivot from teaching, he realized the skills and competencies he gained from education carried into management. "I used to joke that if I could get a 14-year-old to focus and deliver results, I could get a 44-year-old to do the same."
More pumpkin spice: Williams' team helped bring Starbucks' pumpkin cream cold brew from concept to market. The key, he says, was looking at it from the customer point of view and recognizing that people who enjoy cold drinks like seasonal flavors, too. "Customer empathy allows us to get at what is causing friction in the person's life, what they wish could be better, what satisfies them," he says. "Ultimately, I want our product to solve a problem and spark joy."

Always a mentor: If Williams' calendar is too full sometimes, it's because he wants to take the time to find promise in others like his mentors did for him. "I'm just trying to pay it forward because I know I am standing on the shoulders of many who have helped me."
Berit Bauer (BBA '05)
Location: Minneapolis
Title: Vice president – store operations, Target
Previous jobs: Roles in buying, planning, and inventory management across Target merchandise categories
Why she's among the 8 to Watch: Bauer has advanced steadily at Target, the culmination of experience and leadership in a variety of its retail categories. In her current role she is a liaison between key company partners and more than 350,000 team members in 1,900 U.S. stores.
Target for life: Bauer worked at a Minneapolis Target store at age 16 through summers in college, and after graduating from WSB started her professional career with the company in merchandising. "The curiosity that has shaped my professional career is grounded in the 16-year-old who was interested in all the elements of the store," says Bauer, who majored in marketing and psychology.
Leading by example: Bauer's passion is connecting to and supporting people. The pandemic has brought that home, literally. She started her current role in October 2020, when her first child was 16 months old and crawling all over her during remote meetings. "There were people who said, 'Thank you for showing it was OK to have your kid on screen and we don't have to be embarrassed or apologetic,'" she says. "I didn't even think about it, but those who are early in their career have the pressure of wondering if they can bring their whole self to work. How we have to work now has given people permission to be themselves."
Dad knows best: As her career evolves, Bauer thinks back to the lessons imparted by her dad when she was young. "He always said, 'Be a leader. Think about those around you and not yourself,'" she says. "Those words are part of my earliest memories and still guide me today."
Impact of a WSB degree: As a high school athlete, Bauer knew that teamwork was important. It wasn't until she got to business school and worked on myriad group projects that she realized it was a key skill. "It's not always easy, but it's a huge part of what life after college is all about," she says.
Linda Liu (MBA '18)
Location: Madison
Title: Senior product marketing manager, Intuit
Previous jobs: Senior manager, monetization and customer insights; manager, digital optimization, Lands' End; various brand management roles, SC Johnson
Why she's among the 8 to Watch: Liu is a skilled marketer and brand manager whose career has rapidly advanced in retail and now tech. She spearheaded unprecedented growth in revenue for the programs she managed at Lands' End. Liu is now on the team accelerating the growth and integration of Intuit's acquisition of Credit Karma.
Steps to success: As an undergraduate student at Cornell University, Liu switched from pre-med to business after taking just one marketing class. At SC Johnson, after a fast-paced series of promotions, she felt an MBA was her next best move. Her WSB degree led to management roles at Lands' End. Liu admits it was hard to leave that momentum at Lands' End, but Intuit was an opportunity to return to her love of product marketing.
"Whether it's been different roles at the same company or different companies, I feel there's always a new challenge or a new thing to learn about marketing that keeps me interested and excited. Every role I've had teaches me something new."
Impact of a WSB degree: "When I was considering which business school to go to, I thought about how people would perceive me and what traits they would associate with the WSB brand. I want to be seen as hard working, down to earth, and a team player. The way that I work and show up in the workplace is something that I'm proud of."
Advice to students and young professionals: Liu says to keep the long-term perspective in mind because measuring success in the short term can seem frustrating. "I wish that I would have pegged my success a little bit less to the tangible markers in the day-to-day. When you take a step back, you realize how much you have grown in your thinking, the person you are, and understanding what's valuable to you."
Jordan Tepper (BBA '08)
Location: Chicago
Title: Co-founder and chief executive officer, Apologue; Investment principal, Cleveland Avenue
Previous jobs: Project leader, The Boston Consulting Group; investment banker, Mesirow Financial
Why he's among the 8 to Watch: In 2017, Tepper joined Cleveland Avenue to help launch a $70M food and beverage venture capital fund that helps to bridge the capital and resource gap impacting Black, Latinx, and female entrepreneurs on Chicago's South and West Sides. In parallel, Tepper co-founded Apologue, a maker of spirited liqueurs used to elevate classic cocktails. Both ventures have continued to grow, placing Tepper in a unique position as both an aspiring entrepreneur and an elevator of others' aspirations.
Pandemic pivots: More than 80 percent of Apologue's customers are bars and restaurants, so when they were forced to close at the start of the pandemic, Tepper and his business partner knew they had to quickly pivot. First, they partnered with Chicago's iconic Big Star restaurant to can their signature cocktails in a retail-friendly ready-to-drink format. Then they expanded to create the world's first luxury bottled cocktail, Sunday's Finest Gold Fashioned, all while managing to keep and expand their team.
Impact of a WSB degree: Tepper found his entrepreneurial fire sparked through involvement with entrepreneurship student organizations and his courses. In a class assignment to help a local family construction firm, Tepper helped the small business find creative ways to grow its marketing and sales. "I really enjoyed that open-ended, problem-solving mindset. It showed me that getting involved in that type of work was really interesting and exciting."
Advice to students and young professionals: As someone who is balancing time-intensive positions at both Cleveland Avenue and Apologue, Tepper maintains that you don't have to drop everything to follow your entrepreneurial passion. "Any exposure you have to advance your business before you have to make that leap will accrue to your benefit—whether it is helping out a similar business or industry part-time on nights and weekends, or doing a side consulting project, or volunteering."
Blair Wilson (MBA '13)
Location: Milwaukee
Title: Chief marketing officer, Hal Leonard
Previous jobs: Vice president of marketing and global sales, Sartori Company; brand manager, Kraft Foods; marketing manager, GE Healthcare
Why he's among the 8 to Watch: Wilson has delivered significant revenue and growth at Fortune 500 and privately owned companies. At both Hal Leonard, the global leader in sheet music, and Sartori, a Wisconsin specialty cheese producer, he has helped drive company expansion into digital, consumer, and international markets.
Impact of a WSB degree: Wilson began his career as a marketing manager at GE Healthcare. He wanted to develop his strategy and leadership skills, so he pursued a part-time MBA at WSB. "It was transformational for me professionally and personally―gaining a network, being able to develop a wider view of an enterprise, and learning what it takes to help guide vision and growth for a company."
Different challenges: At Kraft, Wilson worked on Oscar Mayer's Lunchables, a $1 billion business that required as much stewardship as growth and innovation. At Sartori, it was the opposite. The longtime cheese company was expanding its retail presence and developing new markets. "Instead of protecting, you're defining. Instead of trying to continue success, you're trying to create success," he says. Wilson was quickly named the company's youngest vice president.
The right size: Wilson has a passion for midmarket companies. "There's a real opportunity to impact culture, to impact people, and impact financials," he says. "That's the triple crown of business."
A new challenge: As Hal Leonard's first-ever chief marketing officer, Wilson is building a global team by hiring positions that are new to the company. With the company's products of sheet music and lesson books already in the hands of millions of people, Wilson is working on greater brand awareness and digital growth.
Helping close to home: Wilson and his wife love Wisconsin, and he relishes his work at local companies because of the roles they play in communities creating jobs and civic engagement. "Our work can be a means to help our family and our communities," he says of his career and that of his wife, who works in health care. "If not, what's it for?"
Kristen Forecki (BBA '05)
Location: Seattle
Title: Senior director, experiences and devices strategy, Microsoft
Previous jobs: Vice president of operations and supply, Convoy Inc.; director of operations, Rover; senior product manager, Amazon; financial analyst, General Mills
Why she's among the 8 to Watch: Forecki leads strategy projects addressing Microsoft's growth of core products and big bets for the future. Before joining Microsoft last summer, Forecki was instrumental in leading growth at two unicorn startups (valued at $1 billion) —Convoy, a digital freight network, and Rover, a pet-sitting marketplace. She was recognized as a "40 Under 40" by the Puget Sound Business Journal.
Startups vs. large companies: At Convoy, Forecki was employee #11 in a company that now employs more than 1,000 and is currently valued at $3.8 billion. At Microsoft, she joined a company with more than 100,000 employees worldwide. "In technology, it's pretty common to go from established industry leaders to startups and vice versa," she says. "I learn from each side." Her role at Microsoft has elements of "intrapreneurship" that tap into her startup experience.
Wearing many hats: As Convoy grew, Forecki led many teams including finance, operations, and public relations, and had more than 10 teams and 300 people reporting to her. That bird's eye view of the company prepared her for her current role at Microsoft. "Sometimes I describe experience in startups as career arbitrage because you get an insane amount of experience in a short amount of time," she says.
Impact of a WSB degree: Career prep and coaching while at WSB were instrumental in learning about all the options available to Forecki, she says. It was so valuable that when she wanted a change that led to her position at Microsoft, she sought a career coach to help with the process despite being a seasoned professional.
Advice for students and young professionals: It's important not to stress out about having an exact career plan, Forecki says. Variety has made her life more interesting. "Life happens in chapters and you don't have to be just one thing."
Marjorie Scott (MBA '12)
Location: Washington, D.C
Title: Analytics business partner, diversity and inclusion, Meta
Previous jobs: Global marketing science education lead, research and scaled solutions, Facebook; manager of checkout tracking client development – tech, The NPD Group; global consumer insights associate, General Mills
Why she's among the 8 to Watch: Scott uses her teaching, market research, and analytics skills to help ensure diversity and inclusion are embraced and supported for Meta's more than 71,000 employees. She analyzes and presents employee diversity data to spur equitable changes that shape the organization's workforce composition.
Leaps of faith: With a career full of pivots, Scott's road to Meta (formerly Facebook) has progressively matched her skills with her passions. Scott's love of psychology and marketing analytics landed her the role at NPD, but when Facebook came calling with a curated role, Scott couldn't resist. Each pivot, even when it seemed like a risk, became a launching pad to a new experience. "It's really fun to always be learning more about yourself and applying skills in different arenas. In hindsight it all looks perfect, but each step has been a little leap of faith. You have to ask yourself, 'Do you see how the past has built you to be at this point?' And then just leap."
Impact of a WSB degree: Scott takes pride in the fact that more than 50 years ago, WSB was one of the first three schools to join the Consortium for Graduate Study in Management, an alliance of leading business schools dedicated to enhancing diversity in business education and corporate leadership by providing postgraduate opportunities for underrepresented populations. "I always say Wisconsin believed in diversity before it was cool."
Who inspires her: "I find a lot of inspiration from my family, especially from my grandmother's and great-grandmother's lives as African Americans. Since the 1920s, their mantra has been, 'I'm going to get up and stand for myself and all the generations before and after me.' So, when my grandmother messages me, 'I'm just so proud of you,' I say, 'It's because of you.'"
Anish Shah (BBA '07)
Location: Chicago
Title: Vice president sales operations, Sprout Social, Inc.
Previous jobs: Various directorships, sales operations and strategy, Sprout Social, Inc.; head of global sales compensation and manager of sales operations analysis, Groupon; market research consultant, IDG Consulting, Inc.; actuary, PricewaterhouseCoopers
Why he's among the 8 to Watch: Shah has driven explosive growth for Sprout Social, Inc. over the last five years. His talent for growing quality sales infrastructure earned him leader of the year in his inaugural year at the firm in 2017.
Steps to success: After beginning his career as an actuary and market research consultant, Shah's first analyst role at Groupon was the catalyst for his rapidly successful sales operations career. Shah intentionally built for himself a reputation as helpful to anyone and everyone. He was soon perceived to be a solutions expert. "I was sort of lost, and I just wasn't sure what I wanted to do. So, I'm really proud that I found what I'm good at, and that I've turned that into a career."
On leadership: Shah credits his growth to the leadership cultures he experienced at Groupon and Sprout. "It's important to align yourself with the right leadership team," says Shah. "As you're evaluating current or new roles, take stock and ask yourself, 'What does the leadership look like? Who am I surrounded by? How is my peer group going to influence my growth? And what am I looking to learn?'"
Medicinal magic: Shah is a volunteer magician at Ann & Robert H. Lurie Children's Hospital through the nonprofit organization Open Heart Magic. He performs bedside magic every Thursday for sick children to entertain and empower them. "If a 15-minute magic show is all they need to escape the reality of what they're in, to bring a smile and some joy, there's really value in that."
Advice to students and young professionals: "Get out of your comfort zone and take one or two classes that you would normally think you have no business taking. Create more relationships with different people in your organization and network, versus staying in your bubble."
---