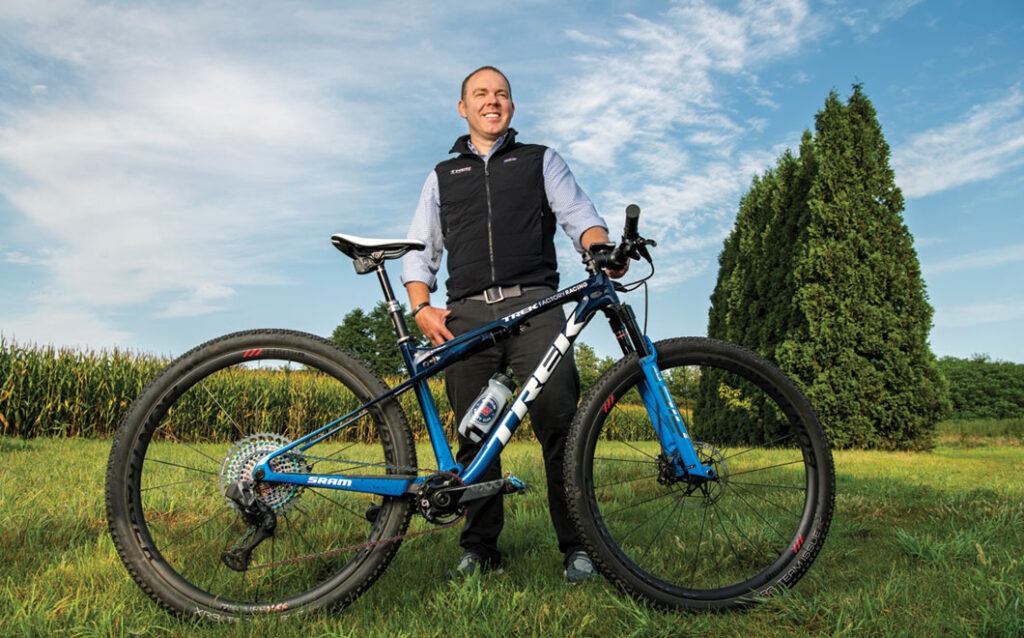 Many people can say their career has been a great ride. For Chad Brown (BBA '01) that's not a metaphor, that's his reality.
Brown is chief financial officer at Trek Bicycles in Waterloo, Wisconsin. It's more than a job for Brown, who owns bicycles of all kinds and styles, rides for fun and for sport, and earned his way through college working at a bike shop. Now at a global company that wants to get people on bikes as much as it wants to sell them, Brown is eager to bring others along for the ride.
"I love that my professional and personal passions meld," he says. "For me, the Venn diagram is a circle."
At Trek, Brown oversees the company's finances and its retail division. While his job is numbers, he also gets a hands-on opportunity to be in the bike shops to ensure the retail operation is on track, too.
"If you don't run a good business, you don't get to do the cool things," he says.
Trek is a Wisconsin success story. The company launched in 1976 in a red barn in a small town between Madison and Milwaukee. At the time it filled a need for higher-end U.S.-made bicycles in a market that Europe dominated. Now it is a global brand with 3,000 employees worldwide and professional racing teams that compete at the highest levels of the sport. Brown races, too, and won an age-division state title in cyclocross—part road cycling, part mountain biking, part obstacle course.
When the COVID-19 pandemic forced lockdowns, Trek became something else: an essential business in an industry that saw unexpected explosive growth. People needed to get around and they wanted to get out of the house for safe activities, and that put into practice the company's stated mission of finding simple solutions for complex problems.
First kids' bikes flew out of the stores, followed by lower-cost adult bikes. Then, just about anything with two wheels.
"In a million years, I never would have thought in March, when the pandemic started, that it would lead to a boom in the bicycle business," he says. "The important thing is there are all these new people on bikes. How many kids got their first real bike in the pandemic? In the past a parent might have been debating whether to give them an iPhone or a PlayStation and now they're giving them bikes."
That brings Brown joy, and takes him back to his early enthusiasm for bikes. The Cedarburg, Wisconsin, native caught the cycling bug during the mountain biking craze of the 1990s and got a job at 16 in a local bike shop. He loved bikes but also was interested in business. In his junior year at WSB, a career advisor asked him what his dream job was.
"I said, 'I'd like to work at Trek one day,'" he says. "Even 20-some years ago I knew."
It would take a while for that dream to come true. An internship at GE Healthcare turned into a full-time job as a financial analyst. In 2002, he was temporarily transferred from his Milwaukee-area office to Madison to work on an acquisition. While there, he decided to train for the city's Ironman triathlon. Trek's vice president of human resources, Mark Joslyn, was part of Brown's training group, and while they were on a 120-mile bike ride Brown mentioned he'd love to work for the company one day. In the meantime, he continued his career at GE Healthcare until a call came from Joslyn in 2010. Trek was restructuring its finance department, and there was an opportunity if Brown wanted to pursue it.
"I said, 'I've been waiting for your call for six years,'" Brown says. "I didn't even hesitate. You could name any other company and I'd have said, 'No, I'm good.' But Trek? I absolutely wanted to have that conversation."
It's not just about the bikes, Brown says. Trek's emphasis on teamwork invigorates him, and it's a skill he honed at WSB.
"When I think about my time at the School of Business and all those group projects, you had to work in teams and you had to learn to come to a consensus because at some point the project was due," he says. "Then I come to a company like Trek and realize you don't get anything done without a team."
He sees other parallels between his education and his work. Trek's mission of getting people on bikes aims to tackle problems such as obesity, climate change, and transportation. Its foray into racing set precedent with equal prize money for women.
"I see all the good things that the University of Wisconsin has done for the world and I can come to Trek and try to do the same thing," he says. "I've never felt that I'm just here for a paycheck.
"I have to pinch myself that I get to do this every day. There's no better feeling."
Morgan Ramaker (left) and Brian Conger work to build and market BCycle, a public bike-sharing company with 36 U.S. locations.
Popular Bike-Share Program Has WSB Connection
A shared experience at the Wisconsin School of Business now means more opportunity for people to share bicycles all across the U.S.
Two WSB alumni lead BCycle, a public bike-sharing company owned by Trek Bicycles with 36 locations throughout the country. Morgan Ramaker (BA '06, MBA '17) is executive director and Brian Conger (BA '08, MBA '17) is director of sales and customer service of the short-term bicycle rental program. Ramaker and Conger were members of the same Wisconsin Evening MBA cohort.
"We're working in a private business but we have that entrepreneurial spirit of a startup, and it's so entrenched in the community," Ramaker says. "By working with local city officials and nonprofits, it's a unique combination of private and public sectors working together."
With BCycle, riders can use a bike for a commute, to run an errand, or just a bit of exercise. Kiosks are set up throughout a city, so a rider can leave from one spot and return it to another. BCycle launched in Denver in 2010 and while it has grown since, two recent factors have sparked even greater interest: electric bikes and COVID-19. Madison was the first city to move its fleet to e-bikes and BCycle use more than doubled even before the pandemic struck.
"Most people haven't been on an e-bike before," Conger says. "If we can give someone the e-bike experience for just $5, that's going to change their mindset of how they can get around on a bicycle in their city in general."
Conger has built his career around bicycles and community. He worked for the Bicycle Federation of Wisconsin before joining BCycle to manage its Madison launch in 2011. He pursued an MBA to gain general business knowledge and met Ramaker, who was at WSB pursuing an MBA and working as the School's senior associate director of alumni relations. The job of managing Madison's BCycle program opened as Ramaker pursued her MBA, and she and Conger became colleagues as well as classmates. Both now have national roles with BCycle.
When the pandemic began, BCycle first experienced a lull until people realized a bike share could help them get around in a safe, physically distanced way and also avoid a bus or train commute. Conger and Ramaker hope that enthusiasm for a biking option becomes permanent.
"We're just excited about the long-term possibilities for this as people think about how they move in their cities," Ramaker says. "We're looking at how we can keep that momentum going."
---