Olivia Hancock (left) and Dana Rettke are behind a new digital storytelling platform for Badger athletes: www.uncutmadison.com.
As a fan who devours a lot of sports content, Olivia Hancock (BBA '22) always thought there was something missing in the mix. As an All-American volleyball player who often reads or watches stories about herself or her fellow student-athletes, Dana Rettke (BBA '21) always thought there was something missing, too.
A chance meeting helped the two WSB marketing students address that missing niche—that college student athletes rarely have the opportunity to tell their own stories—by starting a nonprofit dedicated to that mission. In Spring 2021, they launched UNCUT Madison, a digital platform in which Badger athletes become the storytellers and show a side of themselves that the general public rarely sees.
"What is special about our platform is that whatever a student-athlete wants to talk about, we will make it happen," says Rettke, who helped lead the Badgers to the NCAA volleyball title in December 2021. "It's a free space for people."
UNCUT Madison features personal stories from athletes on topics ranging from mental health, the experiences of Black female athletes at UW–Madison, religion, and life lessons from former Badgers. In the short time since UNCUT launched, its founders have created an advisory board of sports business professionals and built a team of students to work on all aspects of the 501(c)(3) organization including content, operations, finance, and strategy.
They also formed a partnership with American Family Insurance that provided resources for production equipment that helped UNCUT elevate its stories, particularly those about mental health. The UNCUT crew's marketing and PR efforts paid off with local and national media attention.
"There was a lot of blood, sweat, and tears that went into it," Hancock says.
Hancock came to WSB knowing she wanted a career in sports but on the business side, not the athletic side. "Even at age 16, I wasn't just reading the game stats, I was wondering who would be the next official beverage partner of the NFL," she says. "I was fascinated by sports, the economics of it, and how it can impact people's lives." During her sophomore year, Hancock worked for UW Athletics as a marketing and promotions intern. The pandemic shut down that job and when Hancock learned the 2020-21 sports seasons would be played without fans, she wondered about maintaining that athlete-fan connection. She discovered an athlete storytelling site called UNCUT Chapel Hill that launched at the University of North Carolina, and believed it could work at Wisconsin, too.
Hancock knew, though, that the project needed a strong student-athlete connection. She found a perfect fit on election day in 2020 when she met Rettke when they randomly volunteered to work the same polling place. Volleyball season had moved from fall to spring because of the pandemic, and Rettke jumped at the chance to get involved.
"She didn't just want to help by putting it on Instagram," Hancock says. "She wanted to co-found it, sit in on every meeting, and said, 'Let's do this.'"
Rettke had come to UW–Madison as a psychology major, but as her volleyball career blossomed she changed to marketing to better understand branding and business as her athletic career moved forward. She also majored in risk management and insurance. UNCUT helped her put her education to use.
"It's hard for athletes to do something that is applicable to their major. We usually don't have time to get internships or work in the summer," says Rettke, who is now playing professional volleyball in Italy. "For me, [UNCUT] was exactly what I love. I love marketing, I love working with athletes. They have big personalities and great stories and we've been able to share them with the public."
Besides providing athlete-focused content, UNCUT's team has prepared new student leaders for the platform to ensure a smooth transition after the founders graduate. Hancock plans to stay connected as an alumni advisor.
"It will be cool to see the brand evolve and take on a new trajectory with new people and fresh minds," she says.
Business Badger Champions
When Wisconsin won its first NCAA volleyball tournament in December 2021, it was in no small part due to the contributions of Business Badgers.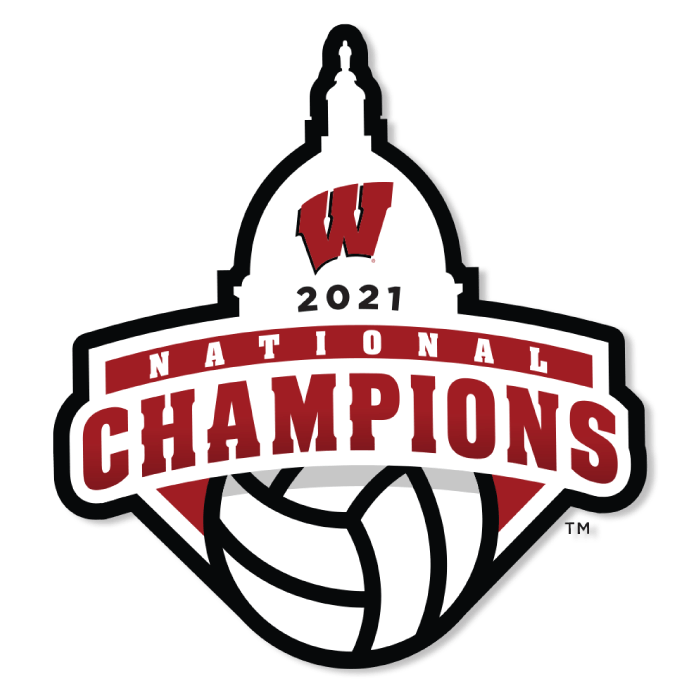 Dana Rettke (BBA '21) became the first five-time volleyball All-American this year after she returned for a fifth season, an option available to athletes because of the pandemic. She was named national player of the year. Rettke, who holds degrees in marketing and risk management and insurance, is now a professional volleyball player in Italy.
Lauren Barnes (BBA '21, MS '22), a libero and defensive specialist, earned second-team All-American honors for the Badgers. She earned an undergraduate degree in finance before pursuing an MS in business analytics. She received the Big Ten Medal of Honor, the conference's most prestigious award that recognizes student-athletes who have attained the greatest proficiency in athletics and scholastic work.
Liz Gregorski (BBA '24) had a reserve role with the Badgers this season. She's a real estate major who is also a content strategist and producer for UNCUT Madison. Her interviews with athletes and others can be found on the UNCUT site.
---