For Liz Henry (BS '83, MBA '96) and Joe Henry (BBA '14), being in business together isn't just a job. It's a family matter.
The mother and son—both Business Badgers—are two of the powerhouses behind Henry Farms, LLC, based in Dane, Wisconsin. Those working in agriculture may know the Henrys best for their seed corn operation, but those who enjoy a good cocktail are most likely familiar with their secondary business: J. Henry & Sons, which crafts small batch bourbon and has taken on a life of its own in recent years.
"When we started, we were producing only a couple hundred barrels each year," says Joe. "Now, we have three rickhouses with capacity for more than 10,000 barrels on the property, and that's just to keep up with our current demand."
One might chalk that success up to a variety of factors: quality ingredients, an overall rise in popularity of craft spirits, and just good old-fashioned business savvy.
But ask the Henrys what's behind their success and they'll tell you that when your name is on the bottle, you tend to do things differently.
Turning grain into gold
When Liz married her husband, Joe Sr., and began working on the farm that's been in the Henry family since 1946, she knew farming was changing and saw a business degree as the perfect complement to her own experience and undergraduate degree in agriculture.
"One of the key components I felt was going to make family farms successful as they moved to the new generation was having business acumen," she says. "You need to understand not just the basics of balance sheets and income statements, but also human resources, marketing, merchandising, and how to negotiate with vendors."
Little did she know upon receiving her MBA that she'd soon be putting that education to work selling a spirit that she wasn't even sure she had a taste for.
"My husband and I were vodka drinkers," she says with a laugh, but a trip to Kentucky's famed Bourbon Trail in the mid-2000s planted the very serious seed for a new business in Joe Sr.'s head. After some trial and error, the Henrys—including sons Joe and Jack—began making bourbon in 2009, using grains from their own farm.
"I'm very proud of the fact that this brand is really us."

— Liz Henry (BS '83, MBA '96)
A good bourbon, however, takes its sweet time getting ready, and the Henrys' first bottles didn't hit the market until 2015. It was an excruciating wait for an untested product, but the Henrys got a big boost in confidence after entering their first spirits competition in Louisville, Kentucky.
"We didn't even have a label for it yet," says Joe. "The bottle had our name on a piece of masking tape. And it still won an award."
That award was a coveted gold medal from the American Distilling Institute and an affirmation the family was on to something, both professionally and personally.
"I never really saw myself being a farmer, and I think another reason my dad started making bourbon was to wrangle my brother and I back into the family business," says Joe, who moved to Chicago and started a career in sales after studying management, HR, and international business at WSB. Having grown up on the farm, Joe admits to initially wanting some distance from his family's operation, but ultimately came home in 2018 to take on a larger role with the business.
"I realized we have a story that nobody else can hold a candle to," he says. "To have full-sized barrels of bourbon, made with four grains growing right out here on our farm, distilled and aged in Wisconsin for over four years—they're all huge selling points. I really wanted to see how far we could go with this brand."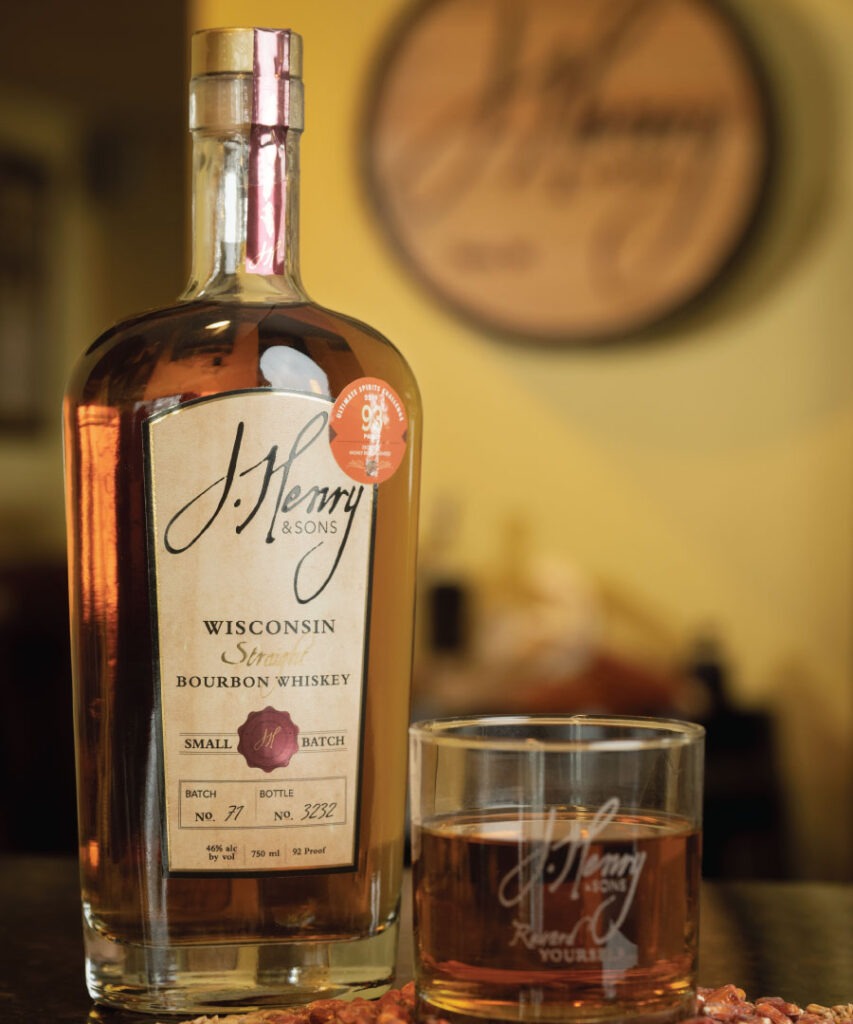 Growing with purpose
With Joe and Liz working side-by-side, growth has been the story of J. Henry & Sons in recent years. In addition to offering tours and tastings, the family has invested in new bottling equipment, released limited-edition bourbons, won additional gold medals, and partnered with local chefs to host dinners and pairings on the farm and in the market—all while still operating a successful seed corn operation.
"We're trying to grow in a way that doesn't make us crazy or put us on the sale lot in another year or two," says Liz. "Joe and I each have different skill sets. That's really helped us grow organically."
And as the number of barrels increases and the brand spreads beyond Wisconsin, Liz and Joe are both committed to keeping the business' close-knit, family feel going strong. Because even on the challenging days—and there are challenging days—the Henrys agree that family is the reason for the business' success, which is something worth raising a glass.
"I'm very proud of the fact that this brand is really us," says Liz. "It's my husband, our sons, our family, but it's also the steps that we take to make sure it's a premium product. That authenticity is what elevates and motivates us every day."
---