1950-1959
Audley Glenn Lemmenes (BBA '59)
Lemmenes is the president of Faith Based Education, Inc., a Wisconsin-based nonprofit that he helped found in 2015. Previously, he spent time in a corporate management training program and also held a financial administration role at Trinity Christian College in Palos Heights, Illinois. That began a 35-year career in senior-level administration, including stints at the Museum of Science and Industry in Chicago and Alverno College in Milwaukee.
1960-1969

Richard E. Markos (BBA '64, MS '67)

Markos is upgrading and updating Markos Wholesale Apparel, which has been in business since 1901. In an effort to stay current in today's business landscape, Markos will improve the business' merchandise selection, shipping services, and customer service, but will keep the business a "going concern" by focusing on two things he and his family are known for: Quality merchandise and quality service.

Pete Barile (MBA '66)

Barile turned 80 last year and continues to run his two factories that manufacture seating for the hospitality market. The company added special recliners for fire departments last year. Due to its smaller size, the company can change direction while having a cup of coffee, thus addressing new market requirements long before its larger, slower-moving competitors. Barile is happy to report that business is fantastic.

Steve Cain (BBA '68)

Cain will soon be celebrating his eighth anniversary of managing the Midwest office of Fairfield Capital Group, LLC, a firm which consults with middle-market businesses that are interested in raising capital for equipment leasing purposes.
1970-1979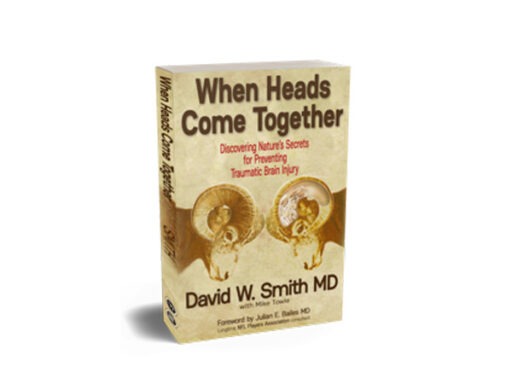 Neil Kosterman (BBA '72)
Kosterman provided editing and website support for the book When Heads Come Together, which was written by his business partner of 15 years and discusses the prevention of traumatic brain injuries. In addition, Kosterman also manages their three businesses.
David Nusbaum (BBA '72)
Nusbaum and Julie (Norman) Nusbaum celebrated their 50th wedding anniversary last June "by the light of the silvery moon".
William Rauwerdink (BBA '72)
Rauwerdink was elected chair of Michigan's 11th Congressional District at the state's Republican Party convention in February 2023. As part of this role, he will also serve on the party's state committee.
Carol Stotlar (BA '73, MS '78)
Stotlar and her husband sold their accounting firm, Stotlar & Stotlar SC, after 37 years in business. The two certified public accountants are still providing some services to a few clients, but plan to spend much more time at their vacation home on Hilton Head Island in South Carolina.
Doug Griese (BBA '75)
Griese served as the chairman of the Wisconsin Alumni Association board of directors from 2007 to 2008. In 2022, he was elected to the Green Lake and Duck Lake Association board of directors for a three-year term. In February 2023, he was also elected to the board of directors of the Fishtown Preservation Society in Leland, Michigan.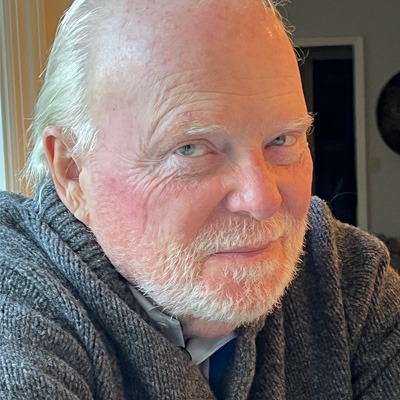 Michael Connelly (BBA '75, MA '76)
Connelly was the chief executive officer of Mercy Health, one of the nation's largest health systems, from 1994 to 2017. He's the author of the new book The Journey's End: An Investigation of Death and Dying in Modern America. In the tradition of author Atul Gawande, the book helps individuals develop a more accepting view of dying while teaching them what to expect from health care.
Steve Weber (BBA '75)
Weber was appointed to Med One Group's board of directors in September 2022. As an independent director, he also chairs the board's information technology steering committee.
David Nemschoff (BBA '76)
Nemschoff retired in 2019 after a successful career in banking and finance, which led him to the role of chief financial officer. He now teaches history, military history, and diplomacy at Long Island University. In addition, he serves on the boards of several nonprofit organizations. His book, Israel at the Brink: The Yom Kippur War, was published in 2022. Nemschoff lives in Manhasset, New York, with his wife of 40 years, Terri. They enjoy traveling and spending time with their children.
William Schultz (BBA '76)
Schultz has enjoyed volunteering in retirement as audit committee chair of the Wisconsin Evangelical Lutheran Synod and treasurer of Christian Life Ministries in the Twin Cities. He is also a Bible study leader for both youth and adult groups, as well as a member of the guest services team at NorthCross Lutheran Church in Lakeville, Minnesota.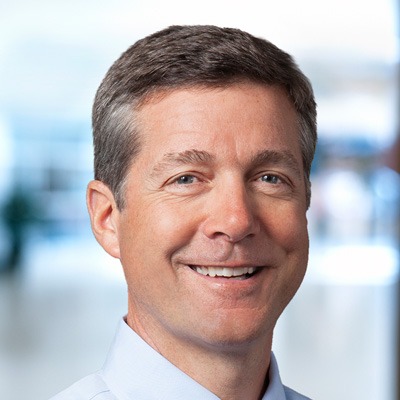 Mike Schroeder (BBA '79)
Schroeder was recently named chairman of private wealth management at Baird. He has served the firm for 37 years, and his passion for creating opportunities for students to explore careers in the industry continues to grow. Through Baird, he was a founding partner of the wealth management and financial planning program at UW–Madison, and he sponsored the launch of Baird Scholars in 2021. Schroeder is proud that these resources will support the next generation of professionals.
1980-1989
Roy Fischer (BBA '87)
Fischer has been successfully navigating high-tech sales for the past 26 years!
Ken Strmiska (BM '88, MA '90)
Strmiska founded Anovia Health with four other individuals in 2021. Anovia is an independent, unaffiliated primary care provider with five clinics throughout Wisconsin. Anovia partners with businesses to deliver a better primary care benefit and to provide the potential for significant downstream cost savings.
Scott K. Petersen (BBA '89)
Petersen recently completed a 40-hour training course as part of becoming a circuit mediator certified by the Florida Supreme Court. He is board certified in condominium and planned development law, as well as business litigation by the Florida Bar.
1990-1999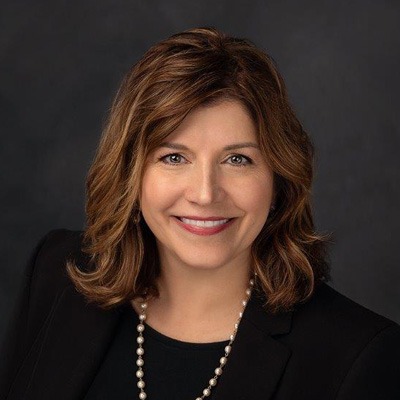 Amy Kluz Janke (BBA '90)
Janke recently accepted the role of chief financial officer at Wausau Supply Company, a manufacturing and distribution organization specializing in high-end building materials with 19 locations spanning the United States. She offers many thanks to UW–Madison for providing the excellent education that affords her opportunities such as this one! In her spare time, Janke continues to follow all things Badger.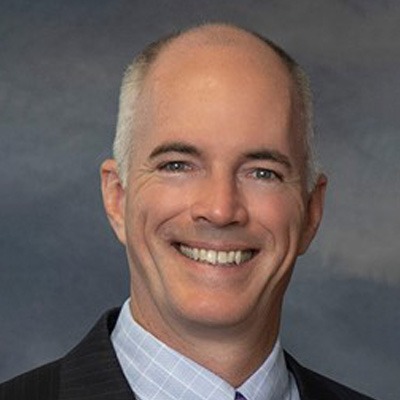 Michael Murray (BBA '90)
Murray is a senior vice president and senior investment consultant for the Murray Thomson Group of Baird. He's been a certified financial planner practitioner since 2002. Murray and his business partner, Gregory Thomson (BBA '91), advise clients on wealth management issues and manage their investment portfolios. The practice is focused on individuals and business owners in southeast Wisconsin, but the team has clients all over the United States.
Bruce Donald Campbell (MS '90)
Campbell has been working for the state of California as a visual analyst on an advisory team for the Department of Technology's broadband initiative. Before the pandemic, he worked for the state of Rhode Island as a visual analyst on an advisory board for the Public Health Office.
Charles Liedtke (MBA '90, PhD '97)
Liedtke presented his latest research paper, Advances in Horizontal Interaction, at the 14th annual Advanced Strategic Improvement Practices Conference in September 2022. Liedtke is the founder and president of the management consultancy Strategic Improvement Systems, LLC.
Charles Maxwell (MS '90)
Maxwell has traded contracts in futures markets since retiring from active military duty. During his free time, he combines his mechanical engineering interests with his master woodworking skills to create one-of-a-kind, gear-operated clocks. His clocks have been featured three times in the industry trade magazine Fine Woodworking. He is happy to announce that his most recent clock was published in the January 2023 issue.
J Evan Smestad (BS '91, MBA '04)
Smestad and his wife, Jodi Samuels (PhD '01), celebrated their 20th wedding anniversary this year, which included a Polar Plunge in Vancouver, British Columbia (brrr!). They were married in the Wisconsin State Capitol after Smestad's first semester at the Wisconsin School of Business. Samuels was his GMAT instructor who helped him get into the Grainger Center for Supply Chain Management. They returned to Madison over Thanksgiving to watch the Battle for the Axe from the comfort of the W Club. As a thanks to UW–Madison, they are endowing a scholarship to WSB. On, Wisconsin!
Heather La Freniere (BBA '92)
La Freniere co-founded the multi-strategy investment firm LAGO Asset Management in 2019 after more than 25 years working at larger financial institutions. Its series—LAGO Innovation Fund I, II, and III—provides senior debt to emerging, high-growth companies in the technology and consumer sectors. The firm also manages a growth equity fund to support similar companies. After three years, it now has 41 portfolio companies and 10 employees.
Craig Andler (BS '94, MBA '03)
Andler is excited to help lead a new startup that helps students discover their mental health superpowers!
Michael LaCour-Little (MS '95, PhD '96)
LaCour-Little has retired from Fannie Mae where he was senior director of economics in the Economic and Strategic Research Group. Previously, he was chair of the finance department at California State University, Fullerton, where he continues as a professor emeritus. An expert in real estate finance and related topics, LaCour-Little is available for consulting assignments including expert witness work, in which he has extensive experience. In addition, he has authored more than 40 peer-reviewed articles in academic journals.
Jen Levenhagen (BBA '95)
Levenhagen was recently promoted to regional vice president, professional services sales leader – high tech at Salesforce.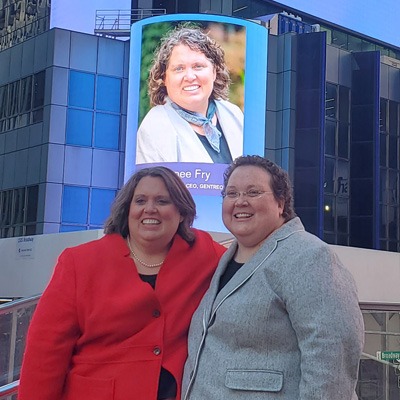 Julie Fry (MA '97)
Fry appeared on Morgan Stanley's Times Square billboard in New York City in recognition of completing the Morgan Stanley Inclusive Ventures Lab program. The lab works to accelerate growth by providing funding and guidance to technology-based companies led by underrepresented founders. Fry is also one of the founders of Gentreo, an award-winning online estate planning platform that makes estate planning affordable and accessible to all.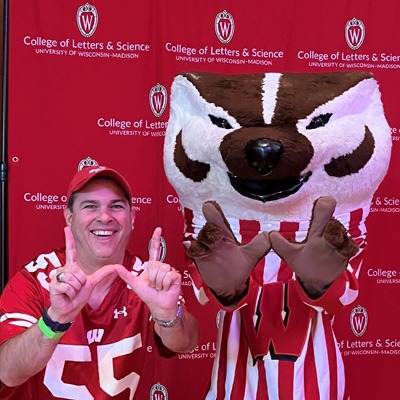 Jeremy Moungey (BS '97, MBA '02)
Moungey was promoted to lead the North American Workday Delivery Practice for Alight Solutions after working in the human resources and information technology industries for the past 25 years. Moungey will bring the same tenacity and energy that he had as a four-year member of the University of Wisconsin Marching Band! He currently resides in Carmel, Indiana, with his wife, Christina, and two boys, Miles and Oliver.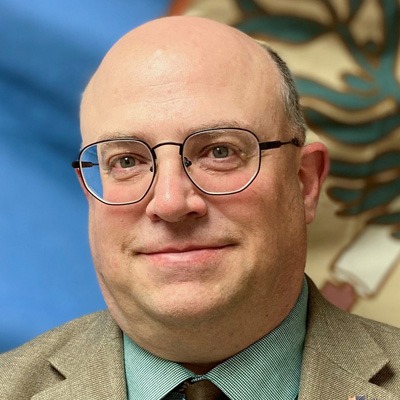 John Fischer (BBA '97)
Fischer has been named assistant secretary of the state of Oklahoma Commissioners of the Land Office (CLO). The CLO manages Oklahoma's School Land Trust, which has over $4 billion in assets and distributes over $100 million per year to public schools in the state. Fischer has been with the CLO since 2020 and most recently served as its director of commercial real estate.
Nino Dante Pedrelli (MS '97, PhD '99)
Pedrelli died on January 14, 2023, at his home in St. Louis Park, Minnesota. He was an instructor for several years at the Wisconsin School of Business and the James A. Graaskamp Center for Real Estate, where he taught a commercial real estate development course.
Reena Vokoun (BBA '98)
Vokoun is the founder and chief executive officer of Passion Fit. Recently, she launched a new corporate wellness program through her company. The goal of this program is to elevate organizational employee health, wellness, happiness, engagement, productivity, performance, work-life balance, and retention through ongoing education, group coaching, online courses, classes, special discounts, reporting, and more.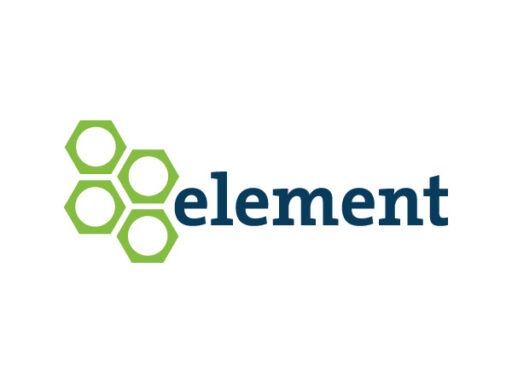 Kurt Johnson (BBA '98)
Johnson is happy to share his move to Element Fleet Management as the vice president and deputy chief financial officer. Johnson made this transition in November 2022 and had previously spent five years with The Toro Company. He has enjoyed learning a new industry, helping to lead the vehicle-electrification journey with clients, and having the opportunity to work with colleagues throughout North America, Australia, and New Zealand. Johnson says it's been a great way to start 2023!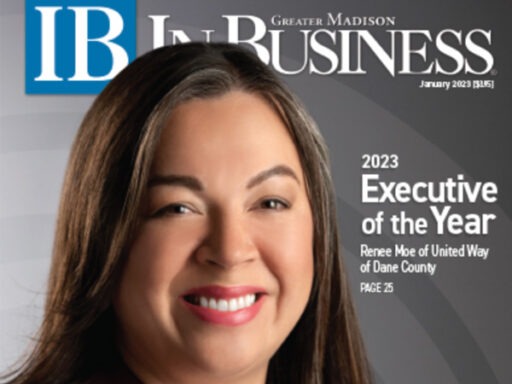 Renee Moe (BA '99, MBA '08)
"Congratulations to this year's Executive of the Year: Renee Moe, president and CEO of United Way of Dane County!"
—In Business magazine
@ibmadison
Photo by Shawn Harper
Scott Finkelmeyer (BBA '99)
Finkelmeyer relocated from Scottsdale, Arizona, to Carmel, Indiana, in July 2022 with his wife, Keiya Bell-Finkelmeyer (BS '96), and their 5-year-old dog, Bascom. Finkelmeyer is now the enterprise sales director for Coretechs.ai, a leading innovator in artificial intelligence software. Recently, he has also been guest lecturing on sales and sales leadership at the University of Arizona Eller College of Management.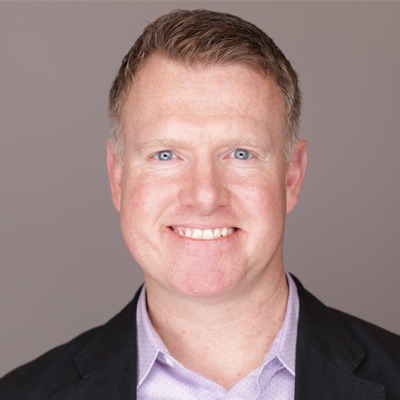 Clint Walkner (BBA '99)
Walkner is one of the founding and managing partners of Walkner Condon Financial Advisors, which was rated #1 for Wisconsin in CityWire's "50 Growers Across America" for registered investment advisor firms in 2021.
Jason Eck (BA '99, MS '01)
Eck recently finished his first year as head football coach for the University of Idaho. Finishing the season at 7-5, the Vandals had their first winning season since 2016 and qualified for the division's playoffs for the first time since 1995. The team also beat the University of Montana for the first time since 1999, returning the Little Brown Stein traveling trophy to Moscow, Idaho.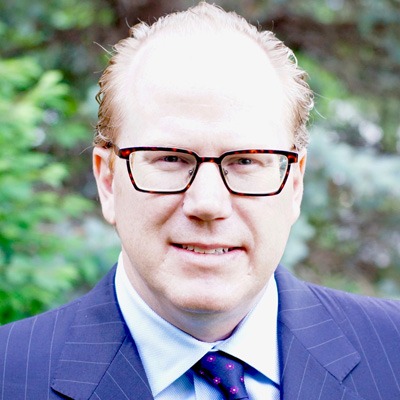 Jonathan London (BBA '99)
London was re-elected to the New Hope, Minnesota, city council. A full-time investment advisor, he was elected in November 2022 to his third four-year term as a city council member. He credits his time at UW–Madison for his ability to bring strong governance and renewed vitality to his city, where he has resided for nearly 40 years.
2000-2009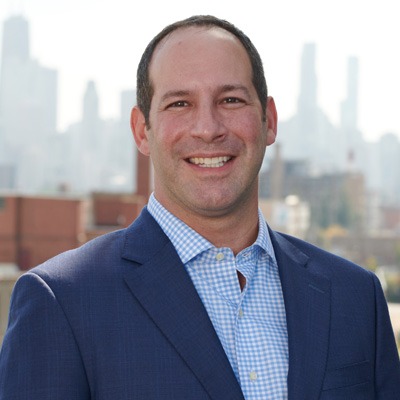 Brad Feldman (BBA '03)
Feldman is the senior managing partner at Interra Realty. In 2022, he had a record year in multi-family sales in Chicago, having sold over 25 buildings (totaling close to 600 units) with a total consideration of over $140 million. Feldman and his wife, Carrie, welcomed their second child, a baby girl, in March 2023.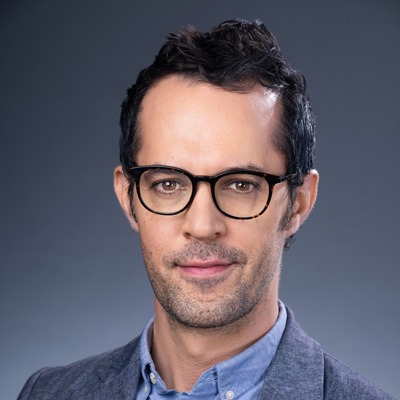 Joseph Dahari (BBA '04)
Dahari has taken the role of vice president of sales and business development at Bits of Stock. Previously, he was the head of sales at Fetch Rewards and the chief revenue officer at GrocerKey. Bits of Stock is the third venture capital-backed startup in which Dahari has held an executive role. Dahari also hosted the Badger Startup Summit in August 2022 to kick off Forward Fest.
Robert Thelen (BBA '06)
Thelen is the chief executive officer and co-founder of Rownd, a technology startup company that raised $2.2 million in seed funding to help companies radically improve their user onboarding rates.
Brandon Goetzman (BBA '08)
Goetzman was promoted to managing principal and co-head of the Equity Group at Blue Vista Capital Management in Chicago. He focuses on the firm's commercial real estate equity investment activities with a concentration on middle-market equity acquisition and development opportunities. Goetzman currently resides in Madison with his family, but still works out of Blue Vista's Chicago office.
2010-2019
Brandon P. Reiner (BBA '10)
Reiner has been elevated to partner in the construction and design law practice at Tannenbaum Helpern Syracuse & Hirschtritt LLP. Reiner's variety of experience throughout the lifecycle of construction projects and his understanding of the daily business operations of building owners make him a trusted advisor to clients. Reiner was also named a "rising star" by New York Super Lawyers from 2017–2022, and has been included in Best Lawyers: Ones to Watch in America since 2021.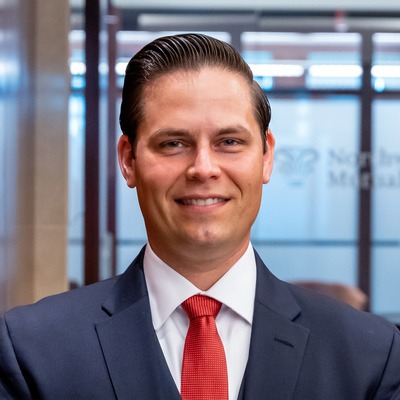 Bryan Brunken (BS '12, MBA '20)
Brunken has been working at Heckmann Financial in the planning department and was promoted to a lead advisor position. The company's mission is to flip the traditional model of financial planning by helping clients switch from having their investment results drive their life plan to enjoying a life plan that's the sole driver of their financial plan.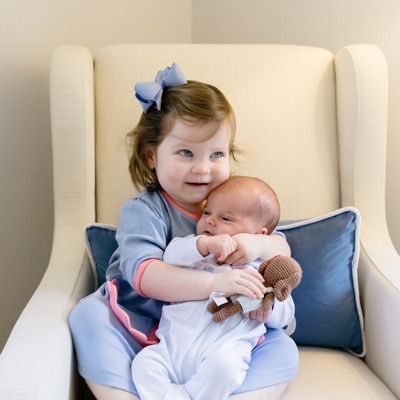 Kendra Armstrong McAdams (MBA '12)
McAdams and her husband, Scott, welcomed Davis Scott McAdams on September 29, 2022. He joins big sister, Sloan (2).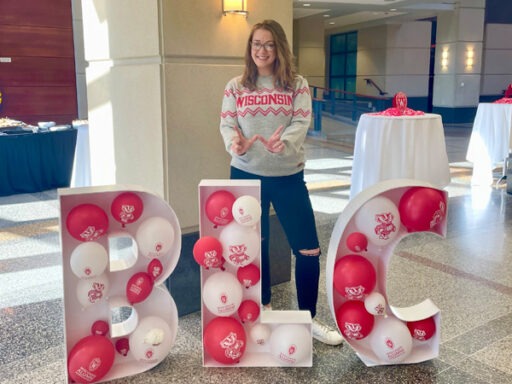 Katie Lorenz (BBA '12)
Lorenz was honored to receive a 2022 Forward Award from the Wisconsin Alumni Association. She was also elected president of the Chicago Badgers Chapter, where she is having a blast building the board, planning events, and growing the Chicago Badger community! Last but not least, she is thrilled to be serving on the Wisconsin Business Alumni Board! On, Wisconsin!
Andrew Maxfield (MBA '12)
Maxfield has played on all sides of the arts ecosystem, most recently as a successful composer. In 2022, his vocal music was premiered by top U.K. ensembles like The Gesualdo Six and Choir of Royal Holloway. His first symphony, commissioned by the Barlow Endowment for Music Composition, is being premiered by the Hillsdale College Symphony Orchestra in 2023.
Tyler Kennedy (BBA '13) and Wes Schroll (x '15)
Kennedy and Schroll won the Chancellor's Entrepreneurial Achievement Award in April 2023, which recognizes UW–Madison innovators and alumni who further the Wisconsin Idea through outstanding accomplishments in entrepreneurship. Co-founders of Fetch Rewards, Kennedy is the senior vice president of operations and Schroll is the chief executive officer.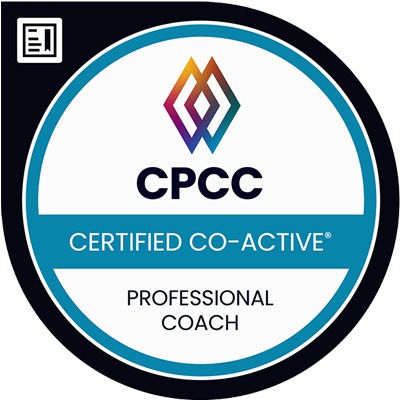 Jennifer Hoege (MBA '14)
Hoege is proud to announce that she completed her training and is now a certified professional co-active coach.
Sarah Mahon (MBA '15)
Mahon has been appointed to the role of vice president, Technical Practice Network global director for AECOM, a $13.5 billion global design firm ranked #260 by Fortune 500. AECOM's Technical Practice Network serves as a community of practice by connecting its technical people to one another and to resources they need for project resourcing and delivery to clients.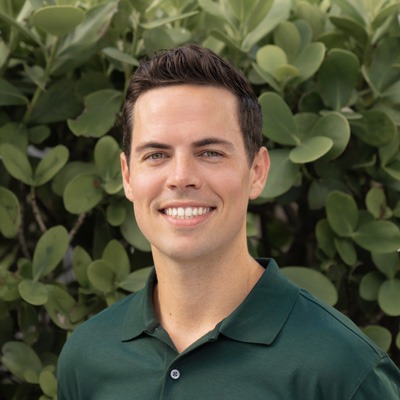 Quinn Thompson (BBA '16)
Thompson received the Thomas A. Costello Memorial Alumni Award in November 2022 for his efforts in student mentorship and recruitment. This award, which commemorates the legacy of the late Tommy Costello (BBA '19), recognizes a member of the Badgers in Finance alumni network who goes above and beyond to help others.
During Thompson's career at Guggenheim Partners, he hosted Badger students on company visits and created a pipeline to hire students for internships and full-time employment. He is a mentor to UW–Madison students and has returned to campus to speak with students about cryptocurrency. Thompson is currently the head of growth and capital markets at Maple Finance, an institutional debt capital markets startup.
Robert Broome (BBA '16)
Broome spent his post-graduate career working for bar brands like RXBAR and Clio Snacks. In 2022, he started his own snack bar brand, Mooski, which makes chilled oat bars dipped in chocolate. As Broome began building a team, he brought on Chelsea Sherman (BBA '15) as a part owner and leader of finance and supply chain.
Liz Christenbury (MBA '16)
Christenbury has worked in consulting and software sales at Deloitte and Salesforce, respectively, since her graduation from WSB. In September 2022, Christenbury launched GymNet Fitness, an online marketplace which connects people to nearby workout spaces.
Amy Walsh (BBA '16)
Walsh took a new role as indirect sourcing business lead with General Mills in October 2022. She is excited to join the General Mills organization!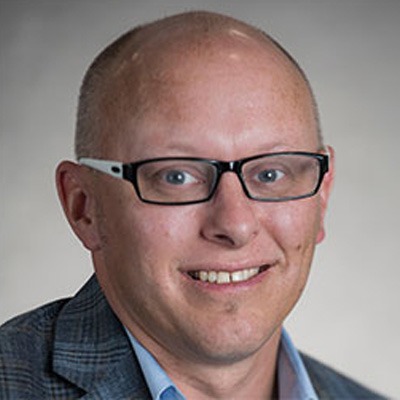 Mike Sweitzer-Beckman (MBA '17)
Sweitzer-Beckman was elected to serve as the president-elect of the Association of Fundraising Professionals Greater Madison Chapter in 2023, and as president in 2024. He just celebrated his sixth year working in the Office for Institutional Advancement at Edgewood College in December 2022.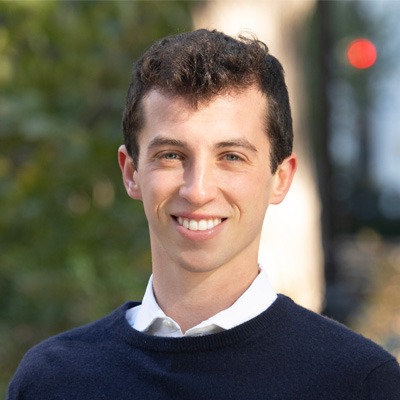 Jacob Dinetz (BBA '18)
Dinetz joined the startup brand Blank Street Coffee as its first real estate hire at the end of 2021. Since then, the company has raised its Series A, opened over 70 locations, and spanned across four global markets. It is now the largest specialty coffee shop on the East Coast by location count. In December 2022, Dinetz was featured on Commercial Observer's Top Young Professionals list. Receiving this award was an incredible honor for Dinetz and something he has wanted since joining the real estate industry.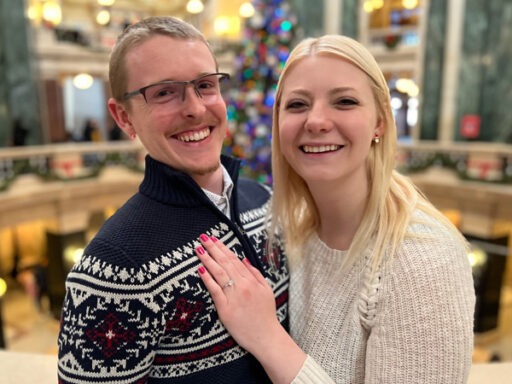 Paul Boyer (BBA '19)
Boyer celebrated his one-year anniversary as a Windows and application system administrator for the Wisconsin School of Business in December 2022. This position is the materialization of his dream job, and he looks forward to the new duties and challenges that emerge each day. In addition, he made the life-changing decision to propose to his best friend, Haley Tollison (BA '20). Boyer and Tollison are engaged to be married in October 2024.
2020-2023
Marina Bloomer (MBA '22)
"Breaking news! Stellar Tech Girls is on a TV near you! Tune in to watch me pitch to a team of Wisconsin moguls on 'Project Pitch It' Episode 1, Season 7! The show aired all over Wisconsin in March and April 2023."