Congratulations to the A.C. Nielsen Center Class of 2020 Graduates! This year's class has proven their smarts, their dedication and their ability to overcome anything. Each one of them is full of personality that will be missed around the Center. Get to know the Class of 2020 better below.
Rick, David, Dani, Emily, Bryson, Max, Ty and Paras: We're proud of all you've accomplished and are excited to see what you're going to go on to do.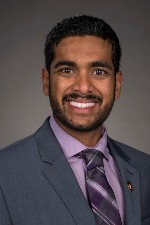 Paras Bansal:
Paras Bansal graduated from the University of Wisconsin-Madison in 2015 with a Bachelor of Business Administration in Marketing and Economics. After graduation, he accepted a role as a Merchandise Analyst for Kohl's Department Store, where he managed the inventory of the Men's Hosiery department, a business that totaled $140 million in annual retail sales. With a monthly budget between $10-15MM, Paras was in charge of allocating purchases of national sock brands and reducing total inventory in the 1,150 stores.
Paras is a very driven individual who focuses on continuous improvement and understands the growing need of technical expertise. In his spare time, he took online courses in SQL, Excel, and Tableau to become more well-versed in coding languages and building strong presentations. He is also not afraid of problems or mistakes. He believes that there are dozens of problems that exist in every working situation, and he diligently works to discover and solve each of those problems.
Outside of work, Paras does everything he can to stay active. He ran a marathon in 2017, and enjoys everything nature. He is an avid hiker, and over the summer, you can find him scouring every local coffee shop and beer garden in Wisconsin. While living in Milwaukee, Paras developed a passion for leading efforts to support the inner-city community and he regularly volunteered at the Milwaukee Rescue Mission. He also led an organization that brought over 150 volunteers to the rescue mission, a service team that was the largest in the shelter's history.
Paras' favorite memories from his time at Wisconsin include the 2019 tech trip to Seattle with the rest of the A.C. Nielsen team. He was very involved in GBA and Net Impact while here at Wisconsin. Paras spent his internship at General Mills and is excited to return for his post-MBA career.
Rick Cardenas:
Rick Cardenas graduated cum laude from California State University, Northridge in 2012 with a Bachelor of Science in Business Marketing and a minor in Economics. Shortly after graduating, he accepted a position at NUVOtv as an Office Assistant, working directly under the HR & Operations Manager and Executive Assistant to the CEO and COO. In this role, Rick gained a solid understanding of the interworking's of a TV network and contributed to numerous departments, including the Marketing team. In this period, Rick taught himself how to use Google Analytics to pull and analyze reports on NUVOtv's website. Most notably, his insights led the Marketing team to cut back on email marketing due to lacking performance on KPIs, resulting in additional capital for other advertising opportunities.
In 2015, Rick took a position as a Digital Coordinator at Mirror Digital, a thriving start-up in the digital advertising industry. Within six months, his hard work and initiative earned him a promotion to Digital Planner, where he led the development of social offerings. His focus was on custom social media influencer campaigns, where he was responsible for managing budgets and coordinating program executions. Rick was able to leverage his analytical skills by accurately forecasting budget spend, spotting network partners with efficient CPMs (cost per thousand impressions) and identifying social media spending trends that significantly profited the company in additional revenue.
Rick is a member of the Consortium and has been active in helping recruit other great Consortium students into the WSB. Rick spent his internship summer at Disney.
Outside of work, Rick has volunteered for numerous organizations, including the Ricardo Montalban Foundation, where he provided support to promote the Teen Digital Filmmakers Program. Additionally, he has volunteered for networking organizations such as The Advertising Society and The Counsel of Urban Professionals. In his spare time, Rick lifts weights, practices yoga, plays golf and collects 90's hip hop vinyl albums.
Dani Klunk:
Dani Klunk will earn her MBA with a focus in Marketing Research from the University of Wisconsin-Madison. Since graduating from Gustavus Adolphus College in 2016 with a major in Psychological Sciences, she has gained diverse experience in healthcare and research. Dani has worked in multiple facets of healthcare, including clinical research at Mayo Clinic and the Medical College of Wisconsin, as well as developing strategies for ambulatory services as an analyst for Health System Advisors. She is excited to pursue a career in marketing research to help companies better understand market trends and use data as a mechanism to build, grow, and innovate their organization.
While in the program Dani has particularly loved the External Advisory Board dinners and has been an active member of many organizations such as GBA, GMN, GWiB and Net Impact. Dani was also the 2020 recipient of the Janet Christopher-Bob Drane Award. She spent her summer internship at General Mills and is excited to return there post- graduation.
Dani is a Wisconsin native and has enjoyed living closer to her two sisters, who both live in Madison. In her free time, Dani enjoys running, cooking, watching the Packers and Badgers, and spending time with her golden retriever, Willow.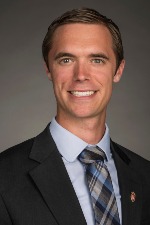 David Koser:
David received his undergraduate and master's degree in Civil Engineering from the University of Iowa in 2015. He moved to Madison to work as a Water Resources Engineer for Strand Associates, Inc. At Strand, David created comprehensive storm-water management plans for clients in Wisconsin and throughout the Midwest. He also wrote grant proposals, managed permit applications, and designed storm-water facilities. David plans to use his MBA to transition from engineering to marketing data analysis and strategy development. His career interests lie in the travel and tourism industries and non-profits.
David grew up in northern Illinois and enjoys swing dancing and hiking in his free time. He also volunteers with organizations such as AdMadison, the Madison Children's Museum, and the Madison West Coast Swing Club.
While here David's favorite event was the trip to Seattle meeting with tech companies in 2019. David is eager to get started on the rest of his career. He spent his summer at Lilly and will heading to Abbvie post- graduation.
Emily Litvak:
Emily Litvak graduated from UW-Madison in 2013 with a Bachelor of Science in Human Development and Family Studies and a minor in Criminal Justice. After graduation, Emily moved to Chicago and spent a year teaching in a preschool classroom. Wanting to get more involved in social services, Emily spent the following year serving a term with AmeriCorps at an anti-poverty organization called LIFT, where she trained and managed student volunteers and worked directly with clients to help them accomplish goals, such as finding housing and employment. Most recently, Emily spent three years working at Reading In Motion, a nonprofit organization focused on early childhood literacy. She began her time as the Program and Data Manager, and advanced into a Strategic Project Manager role where she gained valuable experience in data analytics and process improvement, impacting decision making across the programs, sales and development teams. Pairing this experience in data analysis and organizational strategy with Emily's interest in psychology and human behavior motivated her to explore a career in marketing research, and eventually led her back to UW-Madison to pursue her MBA.
Outside of work, Emily served on the auxiliary board of the Chicago Literacy Alliance, where she worked with other young professionals to help fundraise and plan events for the organization. In her free time, she plays recreational soccer, travels as often as possible, likes trying new restaurants, and enjoys cheering on the Badgers.
Emily had a great summer at Adobe for her internship but will be staying in the Midwest at SC Johnson post-graduation. Emily is a 2020 recipient of the Badger Spirit Award for all her hard work in the A.C. Nielsen Center and the entire WSB. She is well deserving of the award and has made a great impact, especially with recruiting of the next MBA class.
Maxwell Maiken:
Max Maiken graduated from Beloit College in 2010 with a Bachelor of Arts in Economics. Music had always been a large part of his life so after graduation, he began working for the Beloit Janesville Symphony Orchestra (BJSO) and soon after the Beloit International Film Festival (BIFF) where he was the joint office manager. During this time, he chaired the Symphony's Youth Engagement and Community Outreach Committee, and with BIFF Max created a film series event in conjunction with Beloit College's Help Yourself program to involve at-risk youth in filmmaking.
Seizing an opportunity to perform abroad, Max moved to Brazil to tour and record with several bands and taught English as a Second Language on the side. Upon moving back to the States, Max landed a job at a Fine Arts Center in Arkansas where he worked on entertainment, educational, and community programming. Max then returned to the Midwest where he assisted in founding a media production company and continued to work with BIFF in its new efforts to collaborate with the Hollywood Film Festival. Max assumed the role of Executive Director of BIFF, leading it to see its largest film audience and economic footprint in the festival's history. During his time in the arts, Max has used relevant data to creatively tell the story of an organization in order to gain support of grant funders, donors, and sponsors which sparked an interest in pursuing a degree that emphasizes analysis of consumer insights.
Outside of work, Max continues to enjoy playing saxophone and occasionally jams with friends, family and work groups. When not playing, he enjoys traveling and cooking, especially for a Brazilian churrasco
Max had a great summer at Danone in New York and will be returning there post-graduation.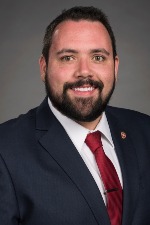 Bryson Smith:
Bryson Smith graduated from Brigham Young University – Idaho in 2013 with a Bachelor of Science degree in Communications with an emphasis in Advertising. He found his passion for marketing research during his undergraduate experience, working at a student-run ad agency as the department head of account planning. During this experience, he led a team of researchers and gathered customer insights through research for clients and the agency.
Following graduation he pursued his love of marketing research, which landed him a position as a researcher at KLAS Research, one of the world's leading healthcare information technology research firms. In this role, he excelled at meeting research targets and building relationships with C-Suite executives at large hospital networks. He was quickly promoted to a report development role where he mastered data display and analysis techniques, creating charts and formatting industry reports, which was KLAS' core product.
After a year and a half on the report development team, Bryson transitioned to the marketing department where excelled at a wide variety of marketing activities. Eventually the opportunity presented itself to create a new role that combined his skills and experience with customer insights, data analysis, and marketing strategy. Bryson blazed a new path in the company as a customer insights manager, developing metrics to shed new light on company initiatives, while simultaneously conducting multiple primary research studies to better understand the KLAS core customer and their relationship with the company. Months of work and data from interviews, focus groups, surveys and analytics were combined and presented to the executive team, recommending several key areas for improvement. His lasting legacy was establishing a research framework, allowing the company to measure customer satisfaction and value of KLAS products and services, a first in the 20-year history of the organization.
Outside of work Bryson enjoys spending time with his family, camping, kayaking, travelling, watching college football, going to the movies and mastering the art of smoking meats.
Travelling to Seattle was one of Bryson's top moments of his MBA. Bryson spent his internship summer at General Mills and will be returning for his post-MBA career. He is excited to do innovative work and create new things that people love.
Tyler (Ty) Vaughn:
Tyler (Ty) Vaughn is excited to join the Wisconsin MBA class of 2020 with a concentration in Marketing Research. A Texan born and raised, Ty went to Texas Tech University and earned his bachelor's degree in Marketing in 2015. Upon graduation, Ty began a three-month internship with Southwest Airlines, where he served as an intern for the Customer Intelligence team. In this role, Ty assisted in planning the logistics for Southwest's major marketing research project, assisted in data collection and analysis, and delivered key findings to upper management on a variety of different projects.
After the internship ended, Ty went on to join United Airlines as a member of the social media team. In this role, Ty not only had the opportunity to be on the social media front lines of a Fortune 200 brand, but also was responsible for interpreting social analytics and analyzing insights to uncover the main topics of engagement with United Airlines customers.
A lover of travel, Tyler has traveled to over 10 countries and all over the United States. He also wishes to take a more active role in understanding and defeating the stigma surrounding mental health and depression. He is excited to join an incredibly talented and smart network of consumer insights enthusiasts and future business leaders.
Ty spent a successful summer at Pepsico and is looking forward to returning to his native Texas at Pepsico full time post-MBA.
---