Congratulations Matt, Liz, Justin, Sarah, Sara, Ian, Chelsea, Shuo, and Chantell!
Your hard work has paid off and you are now officially MBAs. To celebrate, each member of the first year class, the class of 2022, picked a graduate to profile. They spoke, virtually or in person, in depth about everything from hobbies to the trials and tribulations of the past two years.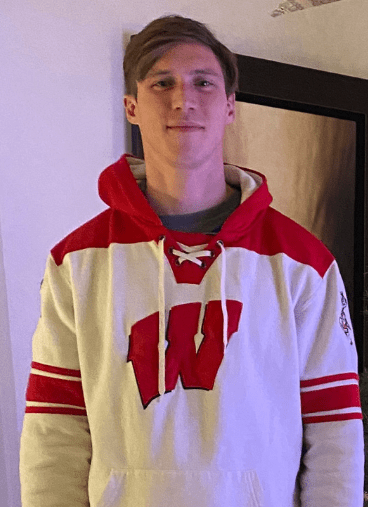 Justin MacPherson
Justin MacPherson earned his Bachelor's degree in Business Administration from Loyola University Maryland in 2010. He started his career as a Research Analyst for NCC Media, a national TV advertising sales company owned by Comcast that specializes in geo-targeting across multi-system operators in the US. During his three years there, he gained experience with media placement and Nielsen Ratings data. His career then took him to Ipsos and then The Nielsen Company, where he worked as a Research Manager for five years. In this role, he developed strategic partnerships with multiple top Fortune 500 companies in the Quick-Service Restaurant, Specialty Retail and CPG segments. Justin then took an Associate Director role at Phoenix Marketing International where he gained international brand experience within the Brand Effect group.
Justin decided to start the MBA program to help him transition to the client side and enhance his knowledge in analytics and qualitative research. His favorite part of the MBA program has been twofold: the specialization model and his peers. While in the program, Justin worked as a TA for Marketing Management 300. His skills and experience landed him a summer internship with Procter & Gamble, where he worked as a Consumer & Market Knowledge intern in feminine care. Justin secured a full-time offer and is excited to be returning to P&G upon graduation to work in media execution within feminine care.
In his free time, Justin enjoys staying active with soccer, the gym, and being outdoors (hiking, biking, and kayaking). In September 2020, the start of his second year in the program, Justin married. His family will now be moving to Ohio as Justin returns to P&G.
Ian Hooper
Ian Hooper received his Bachelor of Fine Arts in Jazz Performance from Temple University in Philadelphia in 2011. After graduation, pairing his passion for music and desire to help, Ian taught guitar and piano to inner-city children who came from diverse families and didn't have opportunities to learn music. He travelled extensively around the world, and while in Taiwan, fell in love with the country. Ian went back to Taiwan where he worked as an English teacher and studied Mandarin for a year at a Tzu Chi University.
After Ian came back to the US, he started working in the restaurant industry. While creating new products as a lead chef in the prepared foods and catering department, he became interested in the current market trends and evolving consumer preferences. Ian's natural curiosity about the world and the cross-cultural knowledge led him to the A. C. Nielsen Center for Marketing Analytics & Insights at the University of Wisconsin – Madison.
Outside of work, Ian spends his free time listening to music and playing jazz and cooking Korean dishes with his wife.
He had a great summer at Danone for his internship and he is excited to return there post-graduation.
Liz Steiner
Liz Steiner graduated with her Bachelors of Arts in Communication with an emphasis in photography from the University of Wisconsin-Green Bay in 2008.  Her post-graduation roles include marketing for McGraw-Hill Education as well as a manager for the Chicago-based non-profit American Library Association. founded Steiner Marketing Solutions, a consultancy specializing in marketing and operations consulting for small businesses in the Chicago area. Her positive impact continues to be felt exponentially at these organizations. Liz completed her MBA Summer internship at plant-based ingredient pioneer firm Roquette, headquartered in Lestrem, France. 
In her free time, hobbies include photography, DIY, interior design, and spending time with family, friends, and her cat Kevin.  She is also a registered Yoga teacher and avid traveler. She's visited 17 countries, including a scenic trip through Ireland visiting Dublin, Galaway and Ballycastle (where Game of Thrones was filmed). Liz has also completed 25 half-marathons in 25 different states, notably the Queen Bee Half Marathon in Cincinnati and a scenic night race in Las Vegas.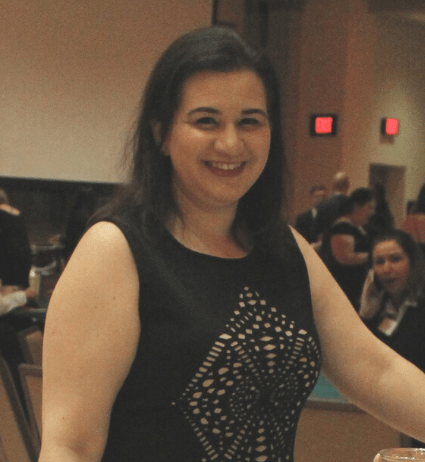 Chantell
Hernandez
Chantell Hernandez graduated from Florida International University in 2015 with a Bachelor of Business Administration in Marketing, a Marketing Research & Analytics certificate, and a French Language & Culture minor. Upon graduation, she joined Smart Revenue as an ethnographer, collecting observational reports and survey data for several brands, most notably for the launch of SamsungVR. After some time, Chantell joined the Trade Marketing team at Hasbro for their Latin American Export Markets. As Trade Marketing Coordinator, she oversaw retail activations in 15 different countries and remotely managed a team of regional consultants and retail merchandisers. Her experience at Hasbro allowed her to plan and execute brand campaign initiatives, work hand in hand with agencies, and learn what it takes to bring a product to market. 
Chantell is a Forte and Consortium Fellow, as well as a Consortium Co-Liaison. During her time at the Wisconsin School of Business, she also the Co-President of Graduate Women in Business and Co-President of Diversity in Business. She led events like a salary negotiation workshop for Graduate Women in Business and facilitated community building among her classmates by closing the communication gap with events for Diversity in Business. One of her favorite traditions at UW-Madison is the Arts Showcase & Talent Show during On Wisconsin, which showcases students' talents and dedication to the program.
For her summer internship, Chantell worked at Dell Technologies in the NA Servers, Storage & Networking CoC and is excited to return upon graduation as a Business Management & Planning Advisor to begin her post-MBA career. 
Outside of work, Chantell loves technology and is quick to grasp new tools. She has built her own PC, frequently dabbles in new software and programming languages, and loves playing video games in her free time. As a native Floridian, she also loves trying new food, cooking, and traveling to tropical places.
Sarah Link
Sarah Link graduated from UW-Madison in 2015 with a Bachelor of Arts in Communication Arts and History. After graduation she accepted an associate role at Los Angeles media agency, Canvas Worldwide, on the digital investment team where she worked on a major automotive account. Her excellent work in media campaign execution and budget management led her to quick back-to-back promotions from associate to strategist and then senior strategist.
Sarah's interest and expertise in communication extends beyond application in her day-to-day work. She enjoys sharing her communication skills with others in and outside of work, as she led digital training initiatives at Canvas and volunteered as an English literacy tutor at Beverly Hills Literacy Center. This interest in communication and experience in analyzing data to inform media strategies is what inspired Sarah to return to UW-Madison for her MBA in Marketing Analytics and Insights.
During her time in the MBA program, Sarah served as the Graduate Marketing Network President and Food & Wine Club Communications Chair. She also held a graduate assistantship in the College of Letters & Science Center for Academic Excellence, graduate teaching assistantship for an undergraduate marketing course, and completed an internship with Danone as a graduate marketing analytics intern.
As a double badger, Sarah is an avid Badgers, and Packers, fan. When she's in Madison and not cheering on the Badgers, you can find her playing with her dogs, at dog parks, and enjoying the outdoors. When she's not in Madison, she's spending time with friends in family in Minnesota and the West Coast. Her favorite part of the MBA program has been the connections she's made with her classmates and faculty, as they navigated everything from in-person social events, a global trip to India and even a transition to remote/hybrid learning together. She's looking forward to moving back to Los Angeles and pursuing a career in marketing insights/analytics after graduation.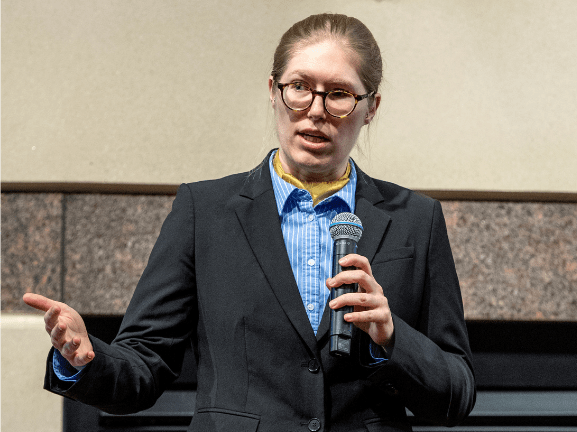 Chelsea Johnson
Chelsea Johnson graduated magna cum laude from Lawrence University in 2014 with a bachelor's degree in English and Environmental Studies. With a strong passion of bringing the net impact to the community, Chelsea joined non-profit and healthcare organizations as a communication manager. During the time, she had great exposure to multiple facets of marketing such as audience research, content creative, website design and re-branding. Realizing the power of consumer insights in the whole marketing process to build better products, Chelsea decided to pursue a career in consumer insights and chose A.C. Nielsen Center in UW-Madison as a promising start in her journey.
Chelsea is a kind-hearted and active person in social activities. She acts as a board member in Net Impact Club to keep making sustainable values to the community. She also usually comes out as a pioneer to connect members in A.C. Nielsen Center with each other. She never misses any opportunity to help people and she is always here for reach out!
Chelsea had a great summer at PepsiCo and will be returning to there post-MBA with her ongoing values to benefit consumers, businesses and the public good.
Sara
Klunk
Sara Klunk is pursuing her MBA in Marketing Analytics and Insights at UW-Madison. Prior to joining the program, she worked at WPS Health Solutions on their business strategy team. There, she led strategic planning sessions and furthered initiatives to execute the strategies outlined. Some favorite projects included forming a new health insurance subsidiary and developing an enterprise purpose statement. As she was exposed to various areas of the business, Sara realized that she wanted to hone in on the heart of every strategy: the consumer. This is what ultimately led her to pursue her MBA at UW. 
Sara's favorite memory is from early on in her MBA experience: the marketing trip to India, where she got to experience the culture for the first time. She got to meet with marketers at the agency The Minimalist, which creates thought-provoking ads, often involving current world issues such as global warming. She found their ads to be inspiring and the team to be welcoming – a perfect way to kick off the trip. 
During her MBA, Sara has used her strategy skills to excel academically and professionally. She is also organized, a clear communicator, and curious – qualities that earned her first place in the GMN and Ignite case competitions, and made her an excellent president of the Graduate Business Association (GBA). Last summer, Sara interned at S.C. Johnson, where she worked on an insights project for the Glade brand. Her excellent performance earned her a full-time offer at S.C. Johnson, and as such, Sara will soon be moving to Milwaukee with her fiancé. 
Outside of work, Sara has enjoyed the nice weather by going running, and is perfecting the art of the homemade pizza, as well as working on wedding planning and preparing to move to Milwaukee.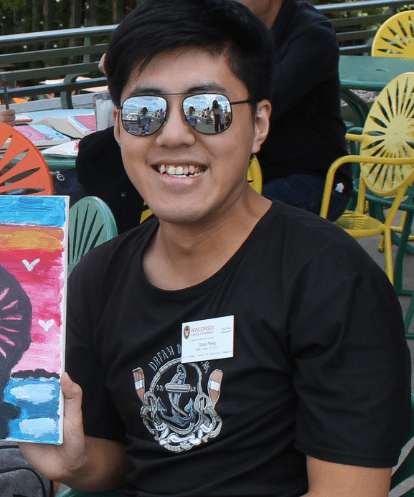 Shuo
Feng
Shuo Feng graduated from the University of International Business and Economics with a Bachelor of Arts in Business English. Upon graduation, he accepted a role with GM & Associates as a consulting assistant. In this role, he gained a basic understanding of the function of consulting and how specific industries are impacted by various factors. After three months, he was sent to provide support to consulting projects. During the 6 months at GM & Associates, he also authored reports for clients to improve efficiency in decision-making and translated policy and industry information and reports for both the company and all its clients.
Following this role, Shuo secured a position as the secretary of the President of the Chinese Racing Pigeon Association, a national non-profit organization. During his time at the organization, Shuo managed working relationships with more than 100 subordinate organizations. He further honed his analytical and research skills through the development of an online platform and app for the association, which resulted in a 150,000 increase in userbase in one year.
Being skilled at operations, internal management, cultural insights, and qualitative research; Shuo participated in various projects during his time at UW-Madison to further strengthen his quantitative marketing research skills. 
Apart from work Shuo keeps a healthy lifestyle, working out about 2 hours a day. He enjoys spending weekends with friends and staying active through sports and chess. After his MBA he plans on returning to China and contributing to an ambitious firm to utilize his critical and analytical thinking skills that will deliver key business insights and drive high-impact change.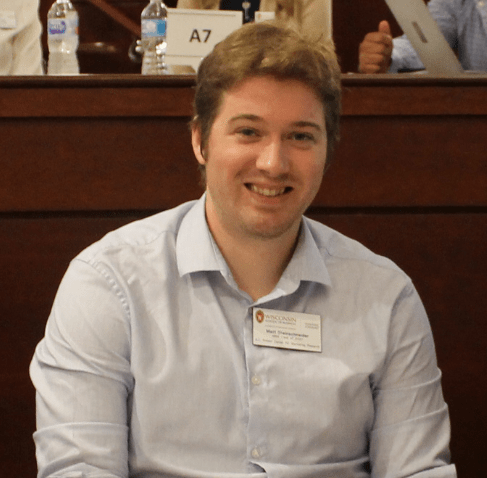 Matt
Steinschneider
Matt Steinschneider graduated from Vassar College in 2014 with a Bachelor of Arts in History. After graduating, Matt worked for New Resources Group, a small business in Bridgeport, Connecticut that sells water and energy conservation products used by utilities and consumers across the US. As a Digital Marketing Associate, Matt focused on new pricing strategies and improved supply processes. As a result, he helped grow sales on Amazon by approximately 63% in three years. He also helped increase online traffic to the company website by approximately 90% in two years. Working in this small business environment exposed Matt to a variety of invaluable experiences, from sales and customer service to fulfillment and supply chain management. Looking to increase his abilities in marketing and business, Matt ended up joining the UW Madison MBA program.
Matt brought his experience to the program, along with his endearingly curious manner, always looking to learn more about new concepts and possibilities in marketing and business. This desire to engage in discussion fed into him being selected for the Communication Chair position of the Graduate Marketing Network, where he served as the organization's liaison between the board and the members of the program.
These skills attracted the attention of American Family Insurance, who offered Matt a position as an intern for the summer of 2020. This started a lasting relationship between Matt and AmFam, with Matt continuing to work for the company throughout the 2020 fall semester. Matt also worked on a marketing consulting project for AmFam as part of the spring 2021 marketing consulting practicum. In the spring of 2021, Matt's commitment and effectiveness for AmFam was rewarded with a full time position offer upon graduation where he will continue being a major asset for the company.
Outside of the program, Matt is passionate about fencing, and coached fencing from 2014 to 2017, growing a YMCA fencing program in Westport Connecticut from a handful of athletes in 2014 to about 35 athletes in 2017. In terms of hobbies, Matt enjoys fencing, reading German language literature, studying Mandarin, and running.
Congratulations again to the Class of 2021! We look forward to seeing your future successes. Thank you to Olga Coffee, Gladis Guerrero Gee, Mackenzie Jahn, Nicole Monarrez, Eli Sonkin, Ngoc Tran, Bilal Usman, Amelie von Below, Daniel Waller, Logan Butson, and Jason Lee for your work on putting this piece together!
---