When you hear marketing, you may think advertising. You may think product, price, place, promotion. You may think of those four words, plus processes. Maybe you wouldn't know what to immediately associate with marketing because it's always evolving. One institution at the forefront of this is the A.C. Nielsen Center for Marketing Analytics & Insights. I had the privilege to sit down and talk one-on-one with the Center's director, Kristin Branch.
Readers likely have varying relationships with a University, behind and in front of the desk, but few of us, if any, have experienced being the director of an Academic Center at a large University. So, I asked Branch to give a 30,000-foot overview of being the director of the A.C. Nielsen Center:
"I've been the director for 14 years. My main job is to run the Center, and the Center's main goal is to educate students, primarily MBAs, in the field of marketing research, consumer insights, [and] marketing analytics. [We teach] about how to discover why consumers do what they do, buy what they buy… a lot of this is orchestrated by connecting students with industry, giving our students the chance to learn and be inspired by industry directly. I facilitate all of those employment and mentoring connections and learning experiences."
"In the field of" has particular relevance within the Wisconsin MBA program. In contrast to a general MBA, a Wisconsin MBA is founded on a specialization model in which MBAs choose one of multiple specializations around which their MBA experience is tailored. Branch explains why she's proud of this model:
"The specialization model gives students a chance to go deep, both in academics and with their industry connections. They have better career success because they're able to focus on the skills that career [field] needs to be successful. That focus and depth gives students a leg up when they compete against their peers in their career."
And hiring partners take notice. Branch continues, "One of my favorite quotes: 'I come to Wisconsin to get students with deep Consumer Insights knowledge, and, if I can't get someone, I can go to a general MBA program and get a smart overall Marketing student, but, with Wisconsin MBAs I know they're already trained on Consumer Insights, and will be successful in the career path.'"
Many schools allow marketing concentrations, what makes the Wisconsin MBA one-of-a-kind?
"WSB takes it to the next level. Each specialization center has a director that's worked and had a career in the industry. Every department has tenured professors. The fact that we have two marketing professionals, Mike Judge and myself, that have worked in fields of marketing, and whose job is to advise and teach our students, that's what set's Wisconsin apart."
But what about people making the decision of whether to pursue an MBA? Programs come in many formats to cater to different needs of potential students. Those who wish to maintain a full-time job may choose an evening MBA, executive MBA, or from a number of other flexible MBA programs that exist. Then, there's the Full-Time MBA (what's often referred to by the term "MBA"). I asked her biggest piece of advice for someone considering earning their full-time MBA:
"The number one thing I always say is, getting a full-time MBA is a tremendous gift for yourself. The friends you make, industry connections you make, it dramatically changes the career trajectory. You get to focus on you and who you want to be and what you want in your career, in a way that you can't do when you're 18 or in your career working. I'm excited for students doing the full-time MBA. I did the full-time MBA years ago and it was a tremendously life-changing experience…and one of the reasons I like working here. I got to have those incredible experiences, and now I get to pay it forward."
The Wisconsin MBA is structured as a two-year program, and it evolves between the first semester and graduation. I asked for her take on how the program changes along this arc:
"The most obvious answer is the classes. Your MBA core classes are concentrated in year one, then the second year is more specialization classes. The more important arc is the arc that I see in student development, their professional trajectory. When students start the program their first year, students may think they like Analytics but don't know if they fit into it. Then when they get back from their internship, they've grown so much… Then when I talk to them as alums… I love seeing that professional/career development within their experience as an MBA."
What's Kristin's biggest piece of advice for MBAs as they progress through the two-year program? "I would say, focus on your learning. I mean all types of learning: classes, career networking, friends… all of it is the learning you need for your career. All of it is a puzzle that makes your career what it is. If students are not able to give that focus, they may not have as transformational of an experience."
The conversation came full circle when I asked what her proudest moment was, as the Director of the A.C. Nielsen Center: "My two favorite days of the year: One, when I see a student that we've admitted, accept their admissions offer. Seeing that match happen and knowing what is in store for them is phenomenal. The second is when I see that same person get the job or internship they want. To see them choose that MBA program, then discover the job they want, then prepare, then land that job or internship. I feel a lot of pride because I know how meaningful that is for the student. One year I saw a student who just got the internship she wanted, and when I saw her, she jumped up and gave me a big hug. That was a vivid moment. Not all students are that bold… but I know it means a lot to students and I appreciate having the chance to be a part of that."
I also really wanted to know how she adapted the A.C. Nielsen Center to match a marketing industry that's always evolving. The A.C. Nielsen Center is immersed in the cutting edge of marketing, but how does she keep up with the always-changing landscape:
"This is a really fun part of my job. I did both my undergrad and MBA studies in marketing. I worked in marketing. A large part of my job is to stay relevant and make sure we're kept up on the latest industry trends. Board meetings are our way of hearing what's going on in the industry. And reading marketing news for trends."
But, staying current is only one part of the equation. Beyond that, there's also adapting curriculum within the A.C. Nielsen Center to reflect the industry. She pointed to a few examples of how this is done successfully:
"We stay abreast of what UW is offering as well as what we should be offering. We are also constantly looking at the broader trends. Data Visualization, Experimental Design, [and] Data Technology are three new classes we've recently added to our degree plan."
Kristin teaches the Current Topics in Marketing Analytics and Insights course and a Marketing Consulting Practicum. She explains, "The Current Topics class teaches emerging topics and showcases how the industry applies current approaches. There isn't a set curriculum for this class—it is designed to make sure the students are exposed to the latest topics. The Consulting Practicum class we added a couple years ago was in response to industry asking us to have students learn about consulting with the guidance of being within a classroom. Students love the experience as they get to apply all that they have learned in their MBA in one last learning experience before they graduate."
As the interview was about to conclude, I asked for her insight on one finer point… what's the future of marketing?
"We definitely are seeing marketing get more analytical. There's so much data. The importance of decisions is so huge, and companies want that data to provide insights for better decision making. They need to know how to take a business question and translate it to an analytical one so that the insights are impactful. That's where our MBA program comes in. Our MBAs, they excel at looking at data and turning it into actions and insight. That's a skill that's desperately needed in the industry.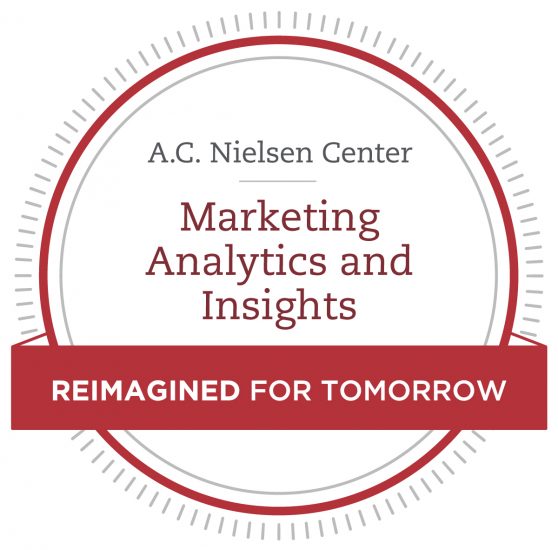 Also, consumers are getting more control. They have more opinions about why they buy what they buy, do what they do. Marketing is more crucial to long-term success."
Now I ask you again, what do you think of when you hear the word marketing? Think of evolution, of the latest and greatest. Think of success. Think of Kristin Branch and the A.C. Nielsen Center for Marketing Analytics & Insights.
---