More than 500 real estate alumni, friends of the University of Wisconsin-Madison program, and students gathered in Madison to share friendship and laughter while bonding over a common passion for real estate during the Wisconsin Real Estate Biennial Conference from September 13-15. The event kicked off with a golf outing at University Ridge followed by a reception and dinner at the Edgewater Hotel, a Friday conference, many networking opportunities, and a Badgers football game at Camp Randall.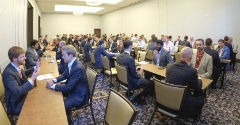 Prior to dinner on Friday, the students participated in a speed networking event aimed at exposing undergraduates to more experienced real estate professionals and strengthen the tie between individuals in industry with students hoping to build a career in real estate. Alumni provided context and advice for students who are in the process of building their real estate skillsets.
For students, the speed networking event continues to be one of the most influential and valuable parts of the Biennial as it strengthens our network of real estate professionals and develops growth in younger Badgers. Joshua Kim, a real estate undergraduate student, remarks, "The alumni are so generous in spending time with us, and it was such an excellent opportunity to learn about different roles and opportunities within the industry."
New to this year's agenda was a unique event developed by, and for, women, the Ladies Tea. This event provided a platform for female alumni and students to connect and share ideas on how to increase the influence of women in real estate.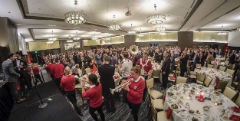 Annie Trucco, Co-Founder of a new student organization called Women in Real Estate (WIRE), said the event, "put an emphasis on making sure the few women that are part of the real estate program have a community to lean on." WIRE was started a year ago and brings in women speakers on a regular basis to expose more female business students to real estate while fostering a community of support for women pursuing a career in this industry.
On Thursday evening, alumni and students gathered in the Grand Ballroom of the Edgewater to enjoy a meal together, share in conversation, and enjoy entertainment from internationally-renowned mentalist, Oz Pearlman. Bucky Badger joined the festivities as well and led the marching band in The Fifth Quarter to conclude the evening.
The conference sessions on Friday included speakers from across the country who discussed various topics such as geopolitical risk, the future of retail in the U.S. and capital markets, along with a founder's panel emphasizing entrepreneurship in real estate.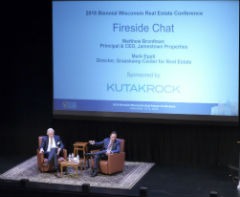 At the luncheon, Tim Riddiough, Real Estate Department Chair, gave an update on the state of the program. Mike Shannon, Chairman of KSL Capital Partners, was also presented with the Wisconsin Award. Instituted by the late Professor Jim Graaskamp, the award recognizes the successes and contributions of an individual to the real estate process. Each award recipient has demonstrated an ability to successfully integrate both a business and social ethic within the real estate process. A networking reception closed the conference, and some alumni stayed for the Badger football game on Saturday.
By providing a fun educational venue to keep connections strong between alumni, students and faculty, the Biennial Conference is one of the most impactful events hosted by the Wisconsin Real Estate Alumni Association (WREAA).
---