TWO NEW GENEROUS ENDOWMENTS PROVIDE STABILITY AND OPPORTUNITY
New Directorship Endowment: A group of 11 Wisconsin Real Estate alumni and friends came together to create an endowed directorship for the Graaskamp Center Director position currently held by Mark Eppli (PhD '91, MS '84, and BBA '83), an experienced and highly regarded professor and administrator who joined the Graaskamp Center in 2018.  In addition to supporting the Directorship, these funds will provide stability and give the center a clear strategic advantage by ensuring funds are available for innovative applied learning activities for the Program's record 538 real estate undergraduates among other initiatives.
Nathan Brand Sr. Endowed Chair in Real Estate: Alumnus Nathan (Nate) S. Brand, Jr., MS, '85, chief executive officer of Brand & Associates, made a generous gift to establish an endowed Chair in the Wisconsin Real Estate Program in honor of his father, Nathan F. Brand, Sr.
WISCONSIN REAL ESTATE PROGRAM IS CONSISTENTLY RANKED AMONG THE BEST BY U.S. NEWS & WORLD REPORT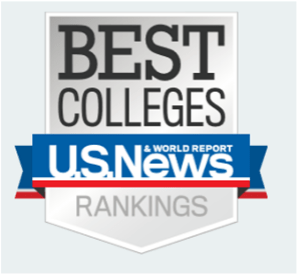 #1 Public Real Estate Program; and #2 overall among approximately 67 undergrad real estate programs in the US.
#3 Real Estate MBA and the Wisconsin Full-Time MBA is ranked #1 by for its return on investment for graduates earning $100,000 or more.
RECORD ENROLLMENT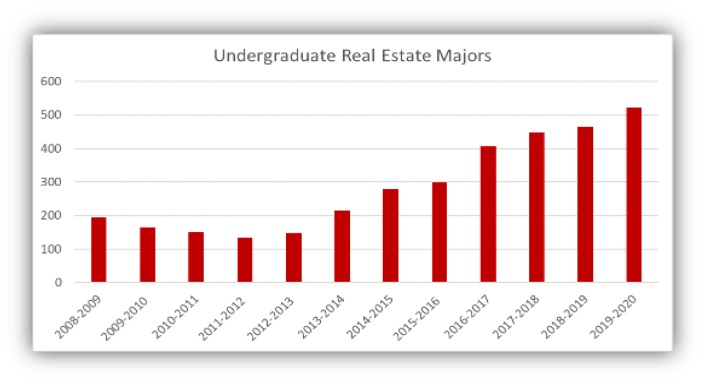 Record Undergraduate Enrollment

:

This year's undergraduate real estate enrollment was at a record high of 537, making real estate the third largest major at the WSB. The Real Estate Process course (RE306) had 589 students enrolled which is a record number and remarkable level of interest. Most real estate courses are filled or nearly filled to capacity.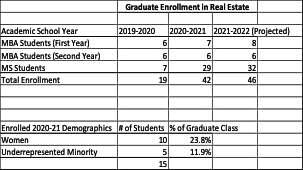 Strong enrollment for 2020 MS and MBA Programs:

32 students were enrolled in the MSRE Program (29 attended with several Covid deferrals) and 12 in the RE MBA in the 2020-2021 academic year.  We expect over 40 graduate students for the fall 2021. The graduate Real Estate Program has the highest female student enrollment since 2005.
REAL ESTATE MS IS LAUNCHED IN FALL 2019
The Graaskamp Center returned its roots to expand its current portfolio of academic offerings by re-activating the one-year Master of Science in Real Estate (MSRE) in the fall of 2019. Almost 30 students are currently enrolled and with strong enrollment already for Fall 2021. The MSRE degree offers the full breadth and scope of the real estate process ranging from real estate finance to urban economics and market analysis, offering students a holistic view to become the next generation of real estate leaders. Students can select the general Core Real Estate MS, or select more focused tracks specializing in specific areas of real estate investment:
Core Real Estate MS Track
Applied Real Estate Investment Track (AREIT)
Real Estate Private Equity Investment (REPE) Track
NEW PRIVATE EQUITY TRACK LAUNCHED IN FALL 2020
A new Real Estate Private Equity (PE) Track was launched this fall. Designed as a one-year track within the Real Estate MS and MBA Programs, student teams make investment recommendations in a variety of private investment funds, thereby learning to structure investments across a range of property types, regions, and investment vehicles through a unique alumni equity fund. Irgens Executive Director Michael Brennan is leading the 12-credit program along with support from Graaskamp Director Mark Eppli. We are grateful to the Wisconsin Real Estate Alumni Association (WREAA) for its unwavering support in making this unique initiative become a reality.
"We believe that we have the best real estate curriculum and the best applied and academic team to deliver the best private equity learning experience globally.  The Private Equity Track responds to industry needs and provides our graduate students with targeted expertise and real-world skills in real estate. We are extremely excited about the new real estate private equity track, the future of the Graaskamp Center, and the Wisconsin Real Estate Program."
– Mark Eppli, Graaskamp Center Director
---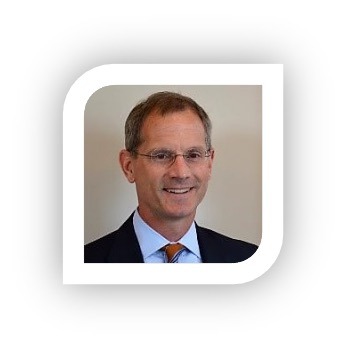 "Our work to create the PE fund evidences our commitment to helping the Program differentiate itself from other top-flight real estate programs around the country and around the globe.  Our goal is to help create a program that is the industry thought-leader, offers real estate solutions to some of the world's problems, and whose students are sought after for not only their real estate knowledge, but also their character." 
– Jim Roemer (BBA '87), WREAA President
---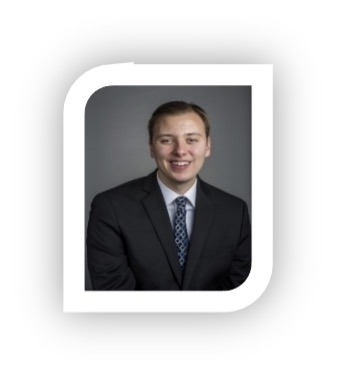 The greatest benefits of being in the Private Equity Program are being able to interact with and learn from industry luminaries. The Private Equity Program's investment committee is filled to the brim with subject matter experts from across the country. Getting the opportunity to learn from their experience is priceless.
– Sam Jagodzinski, MS '21
---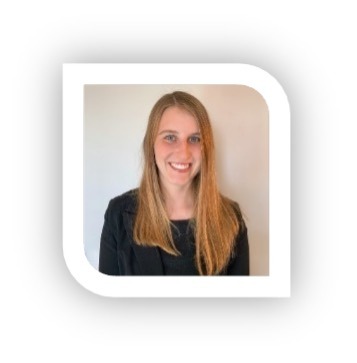 The Private Equity Program is providing us invaluable experience by allowing us to look at deals through the varying viewpoints of a group of students, industry professionals, and professors.
– Caroline Anne Kroner, MS '21
---
REFOCUSED UNDERGRADUATE REAL ESTATE MAJOR: SKILLS TO MEET INDUSTRY NEEDS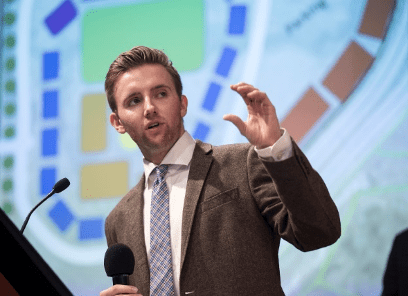 Graaskamp Center Director Mark Eppli led an in-depth review of the undergraduate curriculum and co-curricular activities with members of the teaching staff. The committee mapped the curriculum and made important recommendations for the real estate major to achieve better programmatic alignment with industry needs:
Defined program objective as "Teach students to comprehensively underwrite commercial real estate"
New course sequencing that builds from introductory to advanced real estate concepts across semesters
Revisions in course content that include refreshed and required Excel and Argus course
THREE TALENTED FACULTY JOIN THE WISCONSIN REAL ESTATE PROGRAM
Dr. Lu Han, Stanford Ph.D.
Dr. Dayin Zhang, U.C. Berkeley Ph.D.
Dr. Asad Khan, University of Illinois Ph.D.
DYNAMIC LEARNING EXPERIENCES THAT GO BEYOND THE CLASSROOM
Wisconsin Real Estate students strive to be the best in both curricular and co-curricular activities. The program offers a wealth of opportunities to develop real estate experience and leadership through participation in classroom and outside-the-classroom activities.
Innovative curriculum and unique applied learning experiences. In addition to the new Real Estate Private Equity Investment Track, the existing Applied Real Estate Investment Track (AREIT) allows teams of second-year MBA and Masters students to actively underwrite, invest in, and manage a real estate investment trust (REITs) portfolio.
Global Focus. In January 2020, Center graduate students participated in a global study trip to Abu Dhabi and Dubai and immersed themselves in a rapidly changing built environment abroad. Graduate students also travel to New York for the annual Global Real Estate Markets Conference, Denver and Miami for the Real Estate Club, among other local and regional tours and site visits.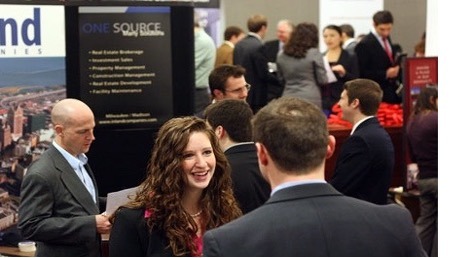 Real Estate Club (REC) and Women in Real Estate (WIRE) blend learning and fun outside of the classroom.


Through speaker series and field trips, students in WIRE and REC have the opportunity to not only learn from industry speakers, but also to network with prominent UW alumni in the field, take on leadership roles, attend field trips, with an added bonus of forging friendships that can last a lifetime. The club's success is largely due to generous alumni donations of time, talent, and financial support.
REC Fall and Spring Career Fairs. The Real Estate Club now hosts a Fall Career Fair in addition to the regularly scheduled Spring Career Fair. Over 70 employers and 200+ students connected to discuss internships and jobs. Both WIRE and REC also successfully transitioned to virtual career fairs during the pandemic.
Real Estate Mentor Program is going strong

. The Graaskamp Center's Real Estate Mentor Program matched over 75 real estate students (undergraduate, MS and MBA) with alumni and board members ranging from recent graduates to veterans of the field working throughout the country.
Case competitions put students' skills to the test. Pre-COVID, our students participated a record number of 11 case competitions the U.S. and Canada. Due to the global pandemic, our students are participating in virtual case competitions this year.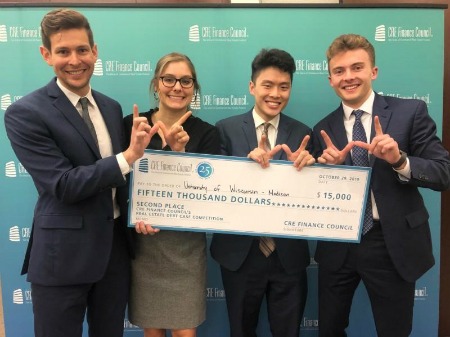 2019-20 Case Competition Awards:
2nd place – 2019 Ryerson "Expand Your Empire" Case Competition for BBA students
2nd place – 2019 UNC Development Case Competition for MBA students
2nd place – 2019 CREFC Real Estate Debt Case Competition for MBA & BBA students
Industry associations connect students to professionals: Our students attend industry conferences such as ULI, NAREIT, NAREIM, REITweek, REITworld, PREA, ICSC and NIC.
INDUSTRY CONNECTIONS: BEST-IN-CLASS LIFELONG LEARNING OPPORTUNITIES
As part of our commitment to furthering the real estate profession as a whole, the Graaskamp Center facilitates learning and engagement through thoughtful collaboration and partnerships with industry and community professionals on topics critical to the commercial real estate, housing, and urban land economics. Below are just a few of our key events.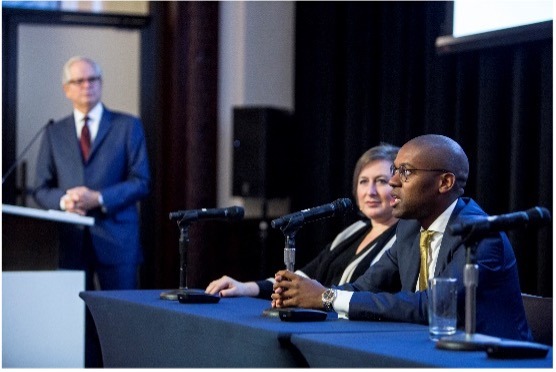 Annual Global Real Estate Markets Conference at the New York Stock Exchange
For the past nine years (except 2020), the Graaskamp Center hosts a global real estate conference at the New York Stock Exchange. MS, MBA and Global Real Estate Masters students attend have the unique opportunities to network with global real estate industry professionals and attend site tours of some of the most iconic commercial real estate assets in New York City. Attendance: 200+
Fall Board Dinner in NYC and Spring Board Dinner and Conference in Chicago: High-level board dinners and conferences feature leading industry speakers who address issues including broad-based macroeconomic real estate issues to the fussy details of real estate transactions. As global leaders in their field, Center members share best-practices for resolving human resource, investment, and urban environment decisions. These events also provide great opportunities to for board members, alumni, students and faculty to connect with one another. Attendance: 150+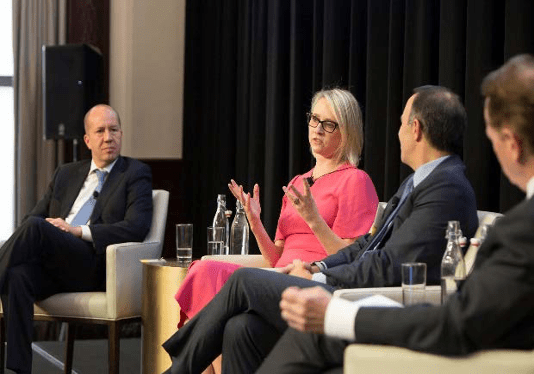 Graaskamp on the Road Roundtable Luncheons: The Center hosts four invitation-only discussions in key cities with Board members, alumni and guests in smaller, intimate settings. In 2019, forged new industry connections around the country. Attendance at each event: 40+/-
Annual Wisconsin Real Estate & Economic Outlook Conference
This annual conference addresses issues critical to the real estate and housing industries with a special focus on affordable housing. The conference features an impressive array of industry thought leaders, including recent speakers such as Charles Evans, President of the Chicago Fed and Sam Khatar, Chief Economist of Freddie Mac, Chris Herbert, Director of Harvard's Joint Center for Housing Studies, Laurie Goodman, Vice President of Housing Policy, Urban Institute. Attendance: 170+
The Walker & Dunlop Innovator Award is presented annually on behalf of the Real Estate Club and the Center to individuals who embody the spirit of the Wisconsin real estate tradition in innovation. This award is generously sponsored by Walker & Dunlop, which includes a $10,000 graduate scholarship on an annual basis. The 2021 Award recipient is Goldie Wolf-Miller, founder of the Goldie Initiative which is dedicated to inspiring the next generation of women leaders in real estate, currently two graduate real estate students are Goldie scholarship recipients. Attendance: 100-150
Graaskamp Center Virtual Leadership Series. Until we can meet again in person, board members, alumni and friends have been able to connect with us with via our monthly Virtual Leadership Series featuring the industry's top talent. The series has been well-received with attendance ranging between 60 and 150.
Mark Eppli Raises the Visibility of the Wisconsin Real Estate Program
Since Mark Eppli joined the Graaskamp Center as Director in 2018, he has expanded the Center's visibility with the real estate industry. A frequent keynote where he presents on a range real estate and macroeconomic topics at conferences hosted by the Graaskamp Center, ULI, NAIOP, Wisconsin REALTORS Association, Federal Home Loan Bank of Chicago, among others. Eppli also provides consultation and board experience to the Wisconsin Board of Commissioner for Public Lands, the Associates for Commercial Real Estate (a diversity and inclusion initiative he founded in 2004), and other community groups and organizations.
Mark Eppli interviewed George W. Bush, 43rd President of the United States and founder of the George W. Bush Presidential Center, at the 2019 Federal Home Loan Bank of Chicago Annual Management Conference.
---