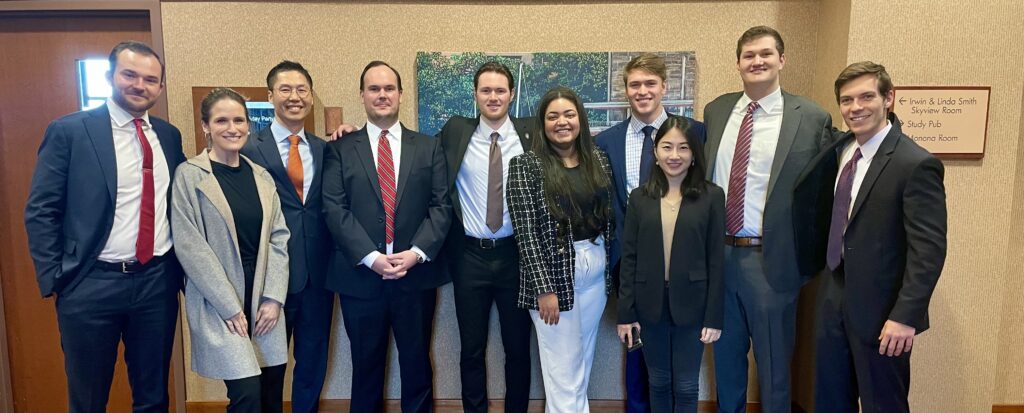 On Friday, January 27th, the AREIT Red and White teams gathered with AREIT advisory board members to present their winter updates regarding their portfolios and actions taken since they last met at the fall board meeting.
Over the course of the fall semester, the AREIT program presented weekly stock pitches and firm valuations to build their portfolio of real estate investment trust (REIT) stocks, while closely monitoring economic conditions and portfolio attribution through weekly discussions. Throughout the semester, the teams transformed their portfolio from a combination of cash and the Vanguard Real Estate Index Fund ETF (VNQ), the initial portfolio holdings, into their own portfolio of hand-picked stocks, which is supposed to resemble the MSCI US REIT Index. The teams took a calculated approach to determine what sectors of the index they should over/underweight and which stocks in the index that they should or should not hold.
Aside from closely researching the REIT market, students also took two trips to New York City and San Francisco. In New York, students attended the Graaskamp Global Real Estate Market Conference and met with Morgan Stanley and Basis Group. In San Francisco, students attended the Nareit REITWorld conference, which allowed students to meet with REIT management teams, large investors, and buy/sell-side analysts through private meetings with the management teams of REITS in each of the student analysts' respective sectors. Lastly, students organized calls and happy hours to engage with board members, alumni, and industry professionals to discuss market conditions and gain valuable advice.
Both teams presented economic and real estate outlook updates.
Economic conclusions include:
The inflation rate is slowing down. It gives the Fed room to further downshift the pace of rate hikes.
Though the labor market is cooling, job reports are still much higher than the Fed's target. Rates will stay restrictive for some time.
Higher capital costs will likely continue in 2023. Investments and refinancing will be more expensive.
An environment of macro-uncertainty will lead to lower tenant demand for space, and slow transaction activity in the Real Estate market.
Real estate sector conclusions include:
Property fundamentals are expected to soften from historically high levels as demand for space decreases across most sectors.
Uncertainty in the capital markets will begin to slow as clarity with Fed rate hikes takes hold. Price discovery will work its way out of the market in 2023.
REITs closed out the year down 24% (vs -18% S&P). Returns are the second worst on record behind 2008. After a tough year in the REIT market, valuation adjustments have likely been substantially priced into the current market and returns are expected to trend positively in 2023.
Private values are down 13% since their recent peak. Distress the in the market will accelerate private price declines due to higher refinancing and floating-rate debt costs.
The Red team's investment strategy focuses on value investing. They are positioning their portfolio to overweight sectors that demonstrate resilience through times of uncertainty with necessity-based demand, lower economic sensitivity, and defensive and consistent growth. Their largest sector overweights include strip centers, industrial, residential apartments, and data centers, and their largest sector underweights include self-storage, residential-specialized, hotels, regional malls, and office.
The White team is focusing on a combination of growth and value investing. They are positioning their portfolio to overweight sectors either that have fundamentals suited to weather times of economic uncertainty or have strong projected growth relative to their peers. Their largest sector overweights include healthcare, industrial, specialty, and residential, and their largest sector underweights include hotels, regional malls, office, and triple net.
Each team highlighted five to six stocks with which they have great conviction in. The Red team focused on Healthpeak, STAG Industrial, Alexandria Real Estate Equities, Life Storage, and Essex Property Trust. The White team discussed Brixmor Property Group, Equity Residential, Vici, Ryman Hospitality Properties, Prologis, and Community Healthcare Trust.
Looking ahead, the AREIT teams will engage in portfolio management throughout the spring semester in an attempt to generate positive returns over the MSCI US REIT index. They will continue to monitor the economy, real estate market, and track the performance of their holdings. To generate positive returns, they will update their valuation models and target stock prices, select and execute new trades, and look for new investment opportunities. They will continue to engage with Graaskamp and AREIT board members, former AREIT members, and other industry professionals.
The teams will return to the Fluno Center on Friday, April 28th to present their results at the AREIT Spring Board Meeting.
---