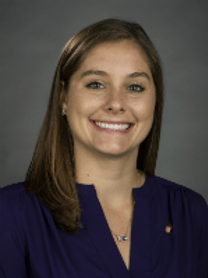 Carolyn Kane, a second-year MBA student in Real Estate at the University of Wisconsin-Madison, recently received the prestigious Commercial Women in Real Estate (CREW) Network Foundation Scholarship.  The scholarship program supports future female leaders as they pursue university-level education that will lead to careers in commercial real estate. Each student will receive $5,000 USD for tuition and books, a paid internship opportunity during the summer of 2021, a complimentary 18-month CREW Network student membership, and a complimentary registration to the 2020 CREW Network Convention, to be held virtually Sept. 15-17.
Kane has an impressive track record of experience and academic excellence. A 2017 undergraduate from Denison University in Ohio, some of Kane's highlights include being a Dean's List recipient, a Scholar Athlete, a four-time Academic All-American and a two-time Division III National Champion in swim and dive. Her work at RED Capital Group in Columbus, Ohio, gave her extensive multi-family lending and underwriting experience. She currently interns at Link Logistics Real Estate, Blackstone's industrial operating platform, which has exposed her to the acquisitions and asset management side of the industry. In 2019, Kane was also recognized as a Goldie Scholar.
Kane says, "I am extremely grateful to be selected as one of the CREW Network Foundation scholars. The opportunity to connect with other women from CREW who are so passionate about real estate and helping other women to be successful in their roles inspires me to become a leader in the industry one day. I am thrilled to learn more about the industry, meet new people, and grow as an individual."
Kane was the only student from Wisconsin who was awarded the scholarship. Commercial real estate tends to be a male-dominated industry but the lack of diversity in real estate has never swayed Kane in her goals. Rather than seeing it as a challenge, Kane said that she views the gender divide as a motivator. Her mother is a strong leader in the field, which Kane grew up admiring and what ultimately shaped her hopeful outlook for the future of women in real estate.
---