Conference Slides and Photos
Download the 2019 GREM conference slides
See photos form the 2019 event
Program Overview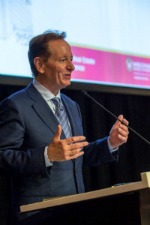 More than 130 board members, alumni, students, and friends of the Graaskamp Center for Real Estate gathered at the Four Seasons NY for the Graaskamp Center's fall board dinner on October 30. After a lively networking reception, guests heard an in-depth keynote presentation by Bill Schwab, Former Global Head of Real Estate at the Abu Dhabi Investment Authority (ADIA) on how investment markets are evolving and how leaders can adjust investment thinking. From the dinner keynote to the final CEO panel, the breadth and depth of the discussions covering the global real estate markets helped attendees walk away with a much clearer picture on the current state of the real estate market both domestically and globally.
On October 31st, the Graaskamp Center, Toll Brothers and Sidra Capital hosted the 9th annual Global Real Estate Markets Conference which once again attracted a capacity crowd at the New York Stock Exchange. Irgens Executive Director Michael Brennan kicked off the conference with welcome remarks, followed by Robert White, Founder and CEO of Real Capital Analytics. Real estate thought leaders discussed shared insights and wisdom on the following panels:
Global Investor Interest in U.S. Real Estate
Global Debt Markets – Growth and Innovation from Various Sides
Alternate Residential Housing: Freedom or Stability?
CEO Conversation: A View from the Top
In addition to the panel sessions, real estate graduate students once again had the privilege of touring the floor of the New York Stock Exchange, which was a was a real highlight of the trip. In addition, the GREM, MBA and AREIT students immersed themselves in the New York City real estate markets during in three unique development tours. From the student perspective, the Graaskamp Center's fall board events in New York City served as yet another reminder of why he Wisconsin Real Estate Program is a world-class program – the opportunity to connect with and learn from some of the most talented and passionate leaders in the industry.
---