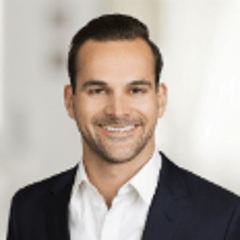 On June 18th, the Graaskamp Center hosted a virtual event with keynote speaker Lukas Hartwich of Green Street Advisors to discuss COVID19's impact on real estate and the industry outlook for the future. Irgens Executive Director, Michael Brennan, thanked guests for tuning in as a continued effort to collaborate and keep in contact with alumni and board members during the global pandemic.
Brennan then introduced Lukas Hartwich of Green Street Advisors, a leading independent research and consulting firm for the commercial real estate industry in North America and Europe. Hartwich is the head of the lodging and health care sectors at Green Street and has been an integral member of multiple sectors of the company since 2006.
Macro Backdrop
Hartwich begins by analyzing different demand drivers such as GDP and employment in order to generate their forecasts on the overall economy. From the graphs depicted, we see GDP growth has seen a 6% decrease in 2020 while the overall GDP in the second quarter is expected to drop 10% below pre-COVID levels. As charted, Green Street does not predict GDP levels to return to pre-COVID levels until the third quarter of 2022, a slightly more pessimistic outlook than the consensus view.
Job growth, or lack thereof, is an essential metric that provides a great picture of the overall economic health. Hartwich does not predict unemployment levels to return to pre-COVID record lows (3.5%) for a very long time and estimates unemployment to remain above 10% through the end of 2020.
When analyzing the market's overall opinion, we see fluctuating responses. On June 18, the S&P 500 Index was fairly optimistic of the recovery and was rising back towards pre-COVID levels. On the other hand, treasury yields fell dramatically and have remained at extreme low levels due to the bond investor community's pessimistic outlook of the economy.
Hartwich then transitions into supply and gives an in-depth analysis of how each sector within the industry is responding to the pandemic. While overall supply growth will be lower in the coming years, we see some sectors that are expected to come out of the pandemic fairly unscathed. The industrial sector has taken only a minor hit and, according to Green Street, could potentially even see an increase in demand depending on e-commerce penetration. One sector that Green Street and Hartwich believe will hold steady and even grow in demand is senior housing, a surprise to many investors. Despite fears over the effect COVID19 has had on many senior living centers, Green Street predicts demand to rise in coming years as developers will recognize the lack of supply and meet this need.
Fundamentals
A topic of initial concern in the industry when the economy shut down was whether or not tenants would be able to meet their rent payments. This concern has been met with good news as most sectors are trending above expectations and are collecting rent at normal ranges around 90%. Retail, however, is continuing to suffer and the pandemic has caused even more distress on a sector that was already under pressure.
A metric that Green Street uses, called M-RevPAF, combines the changes in market occupancy with the changes in market rent. This metric allows for increased accuracy when comparing forecasts and estimates of revenue across property sectors. Using this metric, we see sectors such as lodging (-27%) and malls (-20%) hit the hardest from the initial effect of the pandemic.
When looking at M-RevPAF growth over the next 5 years, Green Street sees sectors like industrial (+18%), manufactured housing (+21%) and senior housing (+7%) increase, while sectors like malls (-20%) and office (-8%) decline. NOI growth per sector produced similar results, with lodging NOI in 2024 still remaining 15% below pre-COVID levels.
Valuation
On average, Green Street believes that property prices are down 11% from pre-COVID levels. Compared to the public market, Green Street is far more optimistic, especially in sectors like office and senior housing where the public perception currently is fear of the virus and questioning the need for office space. When analyzing returns and adjusting for risk, Green Street projects average overall sector return at 6% on an unlevered basis. Hartwich explains how CRE's returns of 6% today are slightly below high yield bonds (7%) and slightly above investment grade bonds (4%).
Looking at signals from the public market, we see REIT's today on average trading at a slight discount and premiums on sectors such as industrial and manufactured housing skyrocket. Hartwich explains that, while investment grade bonds are depicting real estate should appreciate, high yield bonds give the opposite signal. With the REIT market slightly negative, Green Street sees this as evidence towards a slight decline in asset values over the next twelve months.
In closing remarks, Hartwich touched on the work from home movement and its domino effect on certain industries. Surveys show that productivity is high and both employer and employee value the increased flexibility and are embracing the work from home. This, of course, is not good for office demand, but will lead to increases in technology-oriented real estate such as data centers and cell towers. Working from home will lead to the suburban real estate market having an advantage over urban, as one of the leading factors for urban living is the commute to work which will have less importance if employees are working from home more frequently.
---