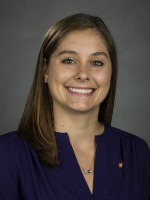 Carolyn Kane, a first-year MBA student in Real Estate at the University of Wisconsin-Madison, has an impressive track record of experience and academic excellence. A 2017 undergraduate from Denison University in Ohio, some of Kane's highlights include being a Dean's List recipient, a Scholar Athlete, a four-time Academic All-American and a two-time Division III National Champion in swim and dive. Her work at RED Capital Group in Columbus, Ohio, gave her extensive development and acquisition analysis experience. Her latest accomplishment: being recognized a Goldie Scholar.
The Goldie Initiative was founded in 2007 by Goldie B. Wolfe Miller, whose name is well known in Chicago. Miller established herself within the real estate industry as an entrepreneur, and sold her own firm in 1998 after closing $3 billion in commercial real estate deals. Now, aside from being recognized as the former owner of the largest female-owned commercial real estate firm, Miller is making an impact on the future of women in the business. The goal of The Goldie Initiative is to prepare the next generation of women in the real estate industry to be successful leaders in their field – one that is run predominantly by men.
Miller is also a Board Member of the James A. Graaskamp Center for Real Estate. Through The Goldie Initiative, women like Kane are awarded a scholarship, exclusive networking opportunities and the ability to participate in a mentoring program with current industry leaders.
Kane was one of 23 women recognized in the 2019-2020 class of Goldie Scholars. The program accepts applicants from nine schools in the Chicago area, UW-Madison included, and has several requirements. The women who apply must demonstrate academic excellence and intensive work outside of the classroom, as well as submit essays, recommendations, and go through a personal interview. Beyond the scholarship, Kane said, it was everything else that was important to her.
"Just to see women around me so passionate about real estate and helping other women in the field to be leaders in their roles and to be successful, it lights a fire in me to be successful in my field, especially since it's male dominated," said Kane. "I want to do well in school and not settle for just any job."
Kane was the only student from Wisconsin who was awarded. Commercial real estate tends to be a male-dominated industry but the lack of diversity in real estate has never swayed Kane in her goals. Rather than seeing it as a challenge, Kane said that she views the gender divide as a motivator. Her mother was a strong leader in the field, which Kane grew up admiring and what ultimately shaped her hopeful outlook for the future of women in real estate.
"I'm just not scared to be myself within the industry. In my first career, it was all men. I would be in a board room with 20 men and myself," Kane said. "Rather than it being a challenge, I think it's actually a really good thing. If you are yourself and you work hard and are successful, it's a great way to stand out and be memorable in the business. It's all about heart and intelligence."
---