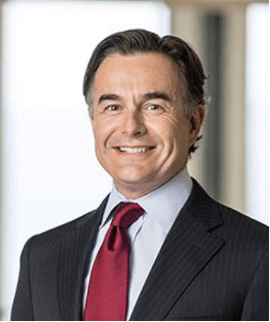 We are proud to welcome Peter Kaye, Managing Partner, Rockwood Capital to our Board of Advisors. His industry insight and experience will be a valuable addition to the Graaskamp Center for Real Estate as we work to maintain our position as the global leaders in real estate education.
Describe your current position and what an average work day is like for you.
I'm currently a Managing Partner at Rockwood Capital. Rockwood is a privately held Investment management business with approximately $10b of assets under management. Myself and three other partners serve as the management committee of the firm, largely responsible for setting and executing the strategic direction of the firm. In addition, I co-head portfolio and asset management and am responsible for the investment activities in our separate accounts with investors/clients.
What does the world need from real estate professionals today?
Creativity, humility and collaboration. Our business is very entrepreneurial, people should have the freedom to think creatively with new investment strategies and new asset level design and concepts. It can't be done in a vacuum, however, so the ability to understand the importance of teams and collaboration ultimately can deliver a better investment outcome.
What do you enjoy most about being in the real estate profession?
I think the tangible nature of our business has always attracted me to it. I really enjoy seeing a new project developed or renovated that enhances the quality of the user experience. I've been in the business for a few decades now and I also enjoy seeing and studying how cities evolve over time (why, what and how they change). Fundamentally understanding 'city evolution' is where we see investment opportunities in our business.
In your view, what is the biggest opportunity in commercial real estate today?
Great question! I think the answer to that can depend on your investment horizon and whether you are a short term or long term investor. We invest primarily in office and residential (and retail to a smaller extent), so from that lens and in the short term we are currently seeing some disruption in the markets as an unfortunate result of the pandemic. This disruption should create some interesting buying opportunities over the coming months at significant discounts to pricing earlier in the year. In the long term, we remain bullish on (1) multifamily and (2) creating state-of-the-art new "healthy mixed-use" environments and buildings that cater to environmental and health trends in society (sustainable materials, clean air, open space as an amenity, mix of uses, etc).
What advice would you give to young professionals starting a career in real estate?
From my perspective as an Investment Manager, I would offer two things:
(1) your learning never ends. Always challenge yourself to learn and innovate
(2) Depending on your passion, get involved in as many deals as possible above all else. This serves as a base for you to explore and innovate new opportunities later in your career, and builds a wealth of experience at a young age.
What are you look forward to as a new member of the Graaskamp Center Advisory Board? The community. The caliber of the Board and Student body is second to none and I hope to build some new relationships as part of it!
---