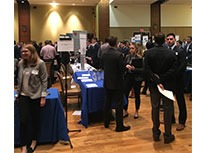 On September 16th, over 200 students attended the Real Estate Club's first Fall Career Fair. The Real Estate Club, one of UW-Madison's largest student-run organizations, hosted the event at Union South. The event was filled to capacity with 45 employers throughout the country. The career fair gives companies an opportunity to connect with and recruit over 200 undergraduate, MBA, and MS students from one of the world's top-ranked real estate programs. During the two-hour fair, students leveraged their classroom knowledge when communicating with industry employers, in hopes of securing an internship or full-time position in the coming months.
The night started with heavy hor d'oeuvres at large sit-down tables for a relaxed dinner allowing students and faculty a chance to connect and socialize. Then, students moved to the Varsity Room where booths were set up for each company. The career fair consisted of two hours of resumé-swapping, networking, and learning more about employment opportunities. Greg Reed, Associate Director of the Grasskamp Center, was pleased with the result, saying, "The fair was very successful. Companies enjoyed meeting our great students, and I'm sure many students got leads for internships and jobs."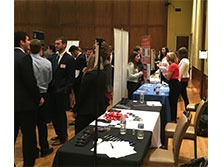 Every sector of the real estate industry was represented, from asset management and brokerage, to development and lending. Current students had an opportunity to explore and engage with companies through their representatives. Many company representatives were excited to participate because of the strong reputation of the Wisconsin Real Estate program at both the undergraduate and graduate levels.
The career fair was executed by the Wisconsin Real Estate Club, and it provided real estate students with a well-structured and career catalyzing event. The students would like to give special thanks to the Wisconsin Real Estate Alumni Association, the Graaskamp Center for Real Estate, and countless alumni out in the field. The career fair is an excellent opportunity to find internships and entry level positions. This fall's career fair was a success; but if you missed it, you have another opportunity to attend the next Real Estate Club Career Fair in the upcoming spring semester.
Companies represented this year included:
Black Creek Group
BMO Financial Group – BMO Harris Bank
CenterSquare Investment Management
CIBC
Crow Holdings
CUNA Mutual Group
Dominium Development and Acquisitions
Eastdil Secured
Envoy Net Lease Partners
Equus Capital Partners, Ltd.
EverWest Real Estate Investors
EY LLP – Transaction Advisory Services
First Industrial Realty Trust, Inc.
Fitch Group
Freddie Mac – Multifamily Division
Greystar
Greystone& Co., Inc.
Hammes Partners
Heitman
Hines
Horizon Develop Build Manage
Inland Real Estate
IRC Retail Centers
JLL
Johnson Financial Group
KeyBank – Real Estate Capital
KPMG LLP
Magnolia Capital
MLG Capital
MSP Real Estate, Inc.
Northwestern Mutual
PACE Equity, LLC
Retail Properties of America Inc.
Revantage Corporate Services
Rialto Capital
Ryan Companies US, Inc.
Singerman Real Estate
Stream Realty Partners
The X Company
U.S. Bank
U.S. Department of State
USAA Real Estate
Waterton
Wells Fargo – Commercial & Wholesale Banking
---