We are delighted to announce that alumnus Nathan (Nate) S. Brand, Jr., MS, '85, chief executive officer of Brand & Associates, has made a generous gift to establish an endowed Chair in the Wisconsin Real Estate Program in honor of his father, Nathan F. Brand, Sr., who passed away in April 2019 after bravely battling cancer.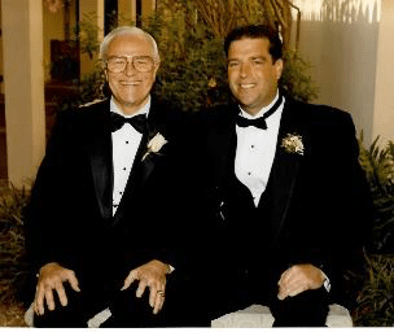 Nate, Sr. is remembered for a variety of successful business and real estate interests, but what was most important to him was his family and knowing that his financial knowledge and attention to detail provided security for his many employees and helped create success for his business and investment partners.
Nate was not only a father to his son, he was his mentor, confidant, business partner and best friend. "I thought that honoring my father with a named Real Estate Chair in the Wisconsin School of Business would be something he would really like and treasure. I had the great privilege of attending and graduating from the Wisconsin School of Business, twice, including a MS degree in Real Estate when the legendary James Graaskamp oversaw the top program in the country. I truly admired my father's success as a real estate developer and operator and I aspire to be like him each day."
"We are deeply appreciative of Nate's generosity and vision," said Tim Riddiough, Department Chair and Graaskamp Center Academic Director. "The Nathan F. Brand Chair in Real Estate will help us retain and build our world-class faculty, which is key to retaining the excellence, visibility and impact of the Wisconsin Real Estate Program. Our Program, currently the #1 ranked public real estate program in the world by US News & World Report, is strong today and will be strong tomorrow because of the involvement and support of alumni and industry leaders like the Brand family."
Nate was philanthropic throughout his lifetime and his pattern of generosity mirrored his approach to family and business — thoughtful, pragmatic and targeted towards young people. The organizations he supported included the Overture Center, Madison Children's Museum, Wisconsin Chamber Orchestra, and UW-Madison athletic scholarships. Over the past 15 years, many young persons have received generous four-year scholarships from a fund he established through the Rotary Club of Madison.
"My father and mother instilled in me the importance of philanthropy" said Nate, "and I am so proud to have the opportunity to carry my father's legacy forward by establishing this Chair in his honor. "
Nate F. Brand with his granddaughters at Camp Randall.
---