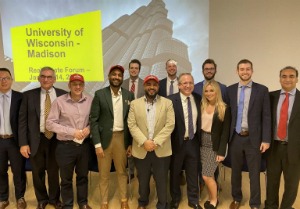 Over winter break, 10 Wisconsin Real Estate MBA students traveled to Abu Dhabi and Dubai for a 10-day study tour to gain real-world experience and insights into the political, legal, economic, and cultural dimensions of doing business abroad. During our visit, we met with brokers, planning authorities, money managers, developers, investors, lenders, attorneys, and alumni to gain first-hand insight into these emerging real estate markets. We also packed in some cultural highlights, including a camel ride through the Dubai desert.
The first stop on the tour began in Abu Dhabi, United Arab Emirates (UAE). Abu Dhabi is the government hub of the UAE and we enjoyed visiting the notable Sheikh Zayed Grand Mosque Center and the Emirates Palace. The first meeting was in Abu Dhabi with Tom Arnold, head of global real estate with Abu Dhabi Investment Authority (ADIA). ADIA is the world's second largest sovereign wealth fund, and while the fund does not report portfolio metrics, third parties estimate funds to be close to $1 Trillion.
Following the day in Abu Dhabi, we traveled to nearby Dubai, the economic hub of the UAE and a glimmering city surrounded by desert sands on three sides. Upon arrival, we immediately noticed the massive-scale highways lined with high-rise apartments and the streets filled with businessmen and tourists.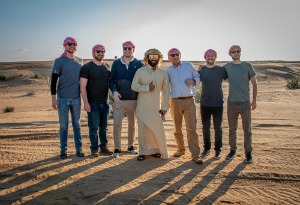 In our first meeting, Ernst and Young employee and Wisconsin Alumni, Stewart Kirkham, led a series of presentations and a panel discussion. Simon Newberry, Managing Director of Urban Analytics, UAE, provided an insightful presentation on Dubai and Abu Dhabi real estate markets for investments from urban statistics' perspectives. The team has learned from his hands-on experience in UAE markets with interesting examples about published economic and demographic reports as well as market surveys. According to Mr. Newberry, prospective investors to these markets should consider tactical approaches with more art than science on demand forecasting to minimize potential risks in an attempt to realize their investment returns.
Our next meeting in Dubai was held at the Dubai Financial Center with Al Tamimi & Company, the top law firm in the Middle East, where we learned about the developing history of property law and legal practice in the Middle East. Our hosts provided fascinating background on the evolution of laws governing real estate development and free zones.
Next, we met with the leasing office of one of the top developers in the country, DAMAC Properties. DAMAC has an estimated $6.67 Billion USD in assets under management, with approximately 27,400 homes delivered and 35,000 more in planning and progress. We toured DAMAC Hills, a luxury community complete with villas, apartments, and hotels. Amenities include Trump International Golf Club Dubai, nearly 4 million square feet of park space – including gardens and lakes, a skate park, stables, soccer field, tennis courts, and more. Further amenities to the site include popular food trucks, Jebel Ali School, salon and cleaning services, as well as shuttle service to the Mall of the Emirates.
While in Dubai, the group also visited the Meydan Racecourse, which is part of the 200-million-square-foot Meydan City development. Meydan translated in Arabic is "meeting place," and includes a marina, a five-star hotel, two race tracks, and a Grandstand that includes another hotel, corporate suites, and a horse racing museum. The track opened in 2010 and is a vision of His Highness Sheikh Mohammed bin Rashid Al Maktoum, the Ruler of Dubai.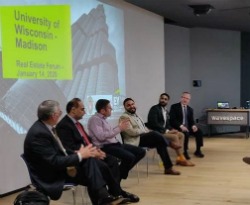 The following day, our group met with the residential sales and leasing team at Emaar Properties, one of the largest real estate developers in the UAE. According to Emaar, leasing and sales demand has been strong for their residential product in the area immediately surrounding the Burj Khalifa, the tallest structure in the world. Units with views of the Burj Khalifa and its surrounding water features demand a significant rental premium. Emaar also described their newest ultra-luxury master-planned community, Dubai Creek Harbor, whose focal point will be the 3,000+ foot-tall Dubai Creek Tower. Dubai Creek Harbor is set to complete in multiple phases through the 2020's.
Finally, we visited JLL's location in Dubai where we met with their research team, including Dana Salbak and Faraz Ahmed. They gave us a presentation on the real estate fundamentals ungirding the Dubai real estate market, and some of the challenges they face in collecting data there. This provided a fascinating contrast to our experience in US real estate markets, and gave us an interesting perspective on the market forces shaping the market.
Visiting these markets, which have grown enormously in the last couple decades, was a fascinating opportunity to immerse ourselves in a different region and culture, as well as dynamic real estate market with ever-changing macro and microeconomic conditions. We are grateful to have had the opportunity to delve deeper into each market and enjoy the many cultural excursions in Abu Dhabi and Dubai. We're also very appreciative of the support of the James A. Graaskamp Center for Real Estate and Arif Qureshi for his tireless work to make this trip a success.
---