Please join us in congratulating our passionate team consisting of Evan Gorder (MBA 2021), Carolyn Kane (MBA 2021), William Han (BA 2020), Michal Von Schledorn (BA 2020) (pictured left to right, below) for placing second at the 2019 CRE Financial Council Real Estate Debt Case Competition, among a formidable field of 12 top MBA/BA schools in the country. This is our first time participating in a debt competition, which makes this achievement truly extraordinary.
They prepared methodically in the week prior to the case, worked tirelessly for 7 days, gave an outstanding presentation and were excellent ambassadors of the UW-real estate program. This case competition was an excellent capstone learning opportunity that fused classroom learnings with work experiences. In addition, students built strong relationships with their teammates, networked with industry professionals and learned new skills that will allow them to hit the ground running as they start their careers in real estate finance.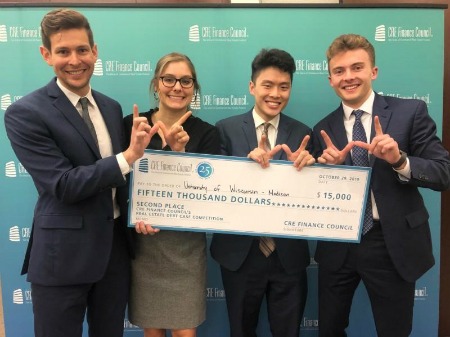 The team developed a refinancing proposal for their bank's underwriting committee for an office and industrial property in Chicago, IL. Their proposal included underwriting of cash flows (lease by lease analysis), determining lender risks, mitigation strategy for risk with covenants and terms, balancing borrower desire for max cashout while generating appropriate risk-adjusted returns for the bank. The team embodied the key components of a successful debt underwriting team, working well together under stressful conditions, the ability to make decisions without ego and complementary skills.
Final Results
1st UNC-Chapel Hill
2nd Wisconsin School of Business ($15,000 prize money)
3rd University of Pennsylvania Wharton
Other participants: Columbia University, Florida State University, Georgetown University, Northwestern University, New York University, Rutgers, University of Chicago, University of Texas – Austin, Yale University
This competition was added this year thanks to a generous donation by David Kim from Bascom Group.
---