Earlier this year Stephen Jarchow decided to pick up and reread "Graaskamp on Real Estate." Almost 30 years after Jarchow had helped organize and edit Professor James A. Graaskamp's work into one of real estate's most iconic books, he still found the content relevant and valuable.
So Jarchow turned to Michael Brennan, the Irgens Executive Director of the James A. Graaskamp Center for Real Estate, who agreed to share the cost of reprinting Graaskamp's work.
"The reviews indicated that the book is considered one of the best books on real estate ever written," said Jarchow, the Chairman of Here Media Inc. and Regent Entertainment Inc. "My main goal is to make Professor Graaskamp's work available to as wide an audience as possible at an affordable price."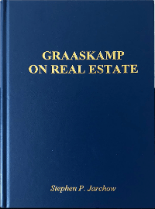 With the collaboration of Jarchow and Brennan, "Graaskamp on Real Estate" were sold ($65 for softcover and $95 for hardcover) at the Wisconsin Real Estate Biennial Conference on September 13-15 in Madison. Additional books may be purchased at graaskamponrealestate.com. Copies will be given to members of the Graaskamp Center's Board of Advisors, and approximately 30% of proceeds will be contributed to the Graaskamp Center.
Jarchow met Graaskamp in high school when he was selling cokes at University of Wisconsin football games. Graaskamp, who was paralyzed by polio at age 17, lived across the street from the stadium and would sometimes sit outside in his wheelchair watching the crowds.
He took Graaskamp's course as an undergraduate and studied under him while simultaneously working toward a master of science in real estate and going to law school.
"My favorite memory of Jim is teaching Real Estate Equity Investment, the best course I ever took, and regaling the class with anecdotes, case studies and witty observations on real estate and the human condition," said Jarchow, who received his BBA, MS and JD from UW-Madison.
As his career developed, Jarchow would speak to Graaskamp's classes and when Graaskamp died in 1988, Jarchow compiled his former professor's work into a book that sold out immediately when it was published three years later.
Now he hopes Graaskamp's legacy and teachings will be a reference for another generation of real estate professionals.
"Many times in my career when I would grow discouraged with some reversal or problem, I would think of him and realize I had no right to be frustrated," Jarchow said. "He dealt cheerfully every day with more than most of us will ever have to contemplate."
Please help us get the word out about "Graaskamp on Real Estate" by sharing information with your colleagues, industry associations and other Wisconsin Real Estate Alums. Approximately 30% of the proceeds go to the Graaskamp Center.
---