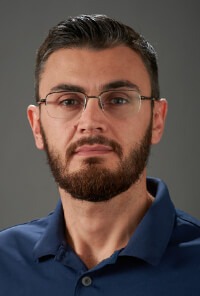 Joe Raffiee is now an Assistant Professor at the University of Southern California (USC) but was inspired to become a researcher while working toward his MBA at University of Wisconsin-Madison. He graduated with an MBA in Entrepreneurial Management in 2010 and immediately entered the UW doctoral program where he graduated with a Ph.D. in Management and Human Resources from the Wisconsin School of Business in 2016.
Raffiee became interested in entrepreneurship because he knew he wanted to start a business but had no idea what industry he wanted to be in so he came to Madison. During his MBA, Raffiee took Professor Jon Eckhardt's Emerging Entrepreneurship Theory and Research Ph.D. Seminar class and discovered his passion for research. This propelled him to apply for the doctoral program. He mentioned that the entrepreneurship management specialization was a perfect prequel to the Ph.D. saying, "Research is similar to entrepreneurship but with much less risk." In his current role at USC, he can research almost anything he chooses. Just like any entrepreneur, he has to have an idea for his research, investigate information on the topic, and then create a plan to execute it.
While focusing on his doctoral program, he always looked to the Weinert Center for guidance. "The Weinert Center was always super supportive of me…John Surdyk was always around to help with anything with my research. Dan (Olszewski) as well. When I was done with my MBA, I had six more years and it was like I had a second home here." He also spoke about his graduation in May where each student was asked to write a thank you or personal story to read aloud during the event. Looking back, he said, "I specifically thanked Janet Christopher and John Surdyk. What I said is that they simply know everything there is to know about everything and they are always there to help." The Weinert Center has built a strong sense of community and the professors' and faculty's' open door policy is part of the reason why UW-Madison is among the top universities for venture capital backed entrepreneurs.
Being in the Weinert Center and around entrepreneurship, he learned the tools that make someone a successful entrepreneur. He learned to be creative, understand the right questions to ask, and became more resilient to the potential of failure. All this helped him as he worked on his final Ph.D. dissertation.
His dissertation focused on the impact of employee turnover on firm performance and specifically on how clients reacted when employees that they had a relationship with left for another company in the same industry. He found that often many clients followed the employee to their new firm and that when the employee left to start their own business, the client was even more likely to follow. His research shows how important it is for entrepreneurs to network and develop strong bonds and relationships throughout their career. He also offers a tip to businesses about how to retain clients, "The more specialized your employees are, so that could imply greater division of labor or more difficulty in replicating expertise elsewhere…that embedded clients with the firm."
Raffiee offered up another interesting fact for entrepreneurs who are deciding whether to stay or quit their current jobs. He and one of his Ph.D. colleagues found through research that people who start their new venture while still employed at another company are 33% less likely to fail. For example, Steve Wozniak was still working at HP when he started creating Apple computers. Individuals who are still working are often able to test the waters with their new endeavor before they commit, leading to a decreased fail rate.
Without the Weinert Center, Raffiee would have never been able to make those important connections with the professors that led him to become a successful researcher. His number one takeaway for aspiring entrepreneurs is, "Think very carefully about what you're doing before you go for it." I assure you that anyone leaving the Weinert Center programs will take that advice to heart.
---